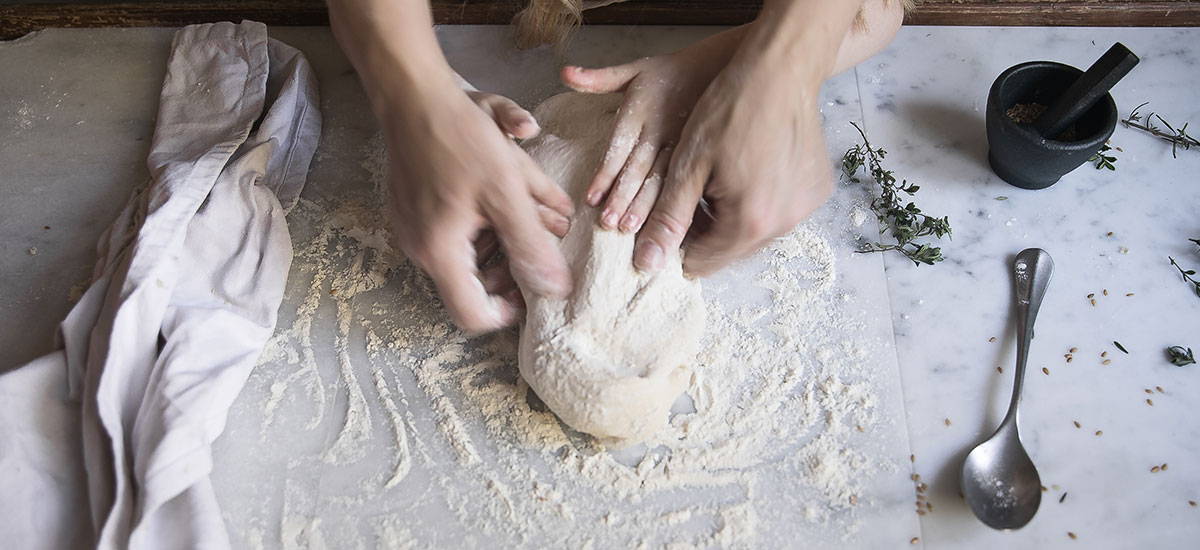 MADE BY MAMMAS: IN CONVERSATION
After meeting in a coffee shop whilst pregnant with their first children, Georgia and Zoe quickly became firm friends and in a weird twist of fate, found out they were also living on the same street! After their babies were born, they soon realised the resources online for non-judgemental support, advice and love through parenthood, were quite slim. The google searches were getting scarier and scarier, and it was at that point that they knew they wanted to create a safe space for parents to refer to and feel really looked after. A place where no question was a silly one, somewhere to feel like no one was judging them and to feel what they were going through, everyone else was going through too, and Made by Mammas was born.
So, it was no surprise they were at the top of our list to discuss family legacies and how to involve children in the kitchen...
---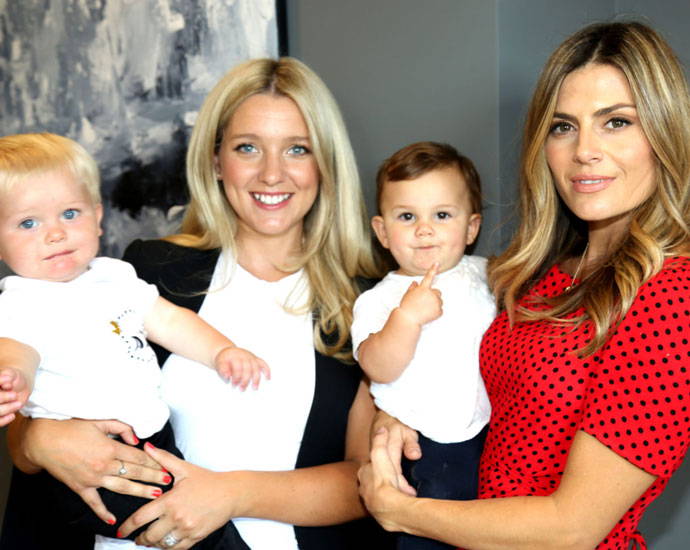 What are some of your first memories of being in the kitchen?
Zoe : My father who sadly died seven years ago, was the cook of the family. He spent a large part of his life working and living in incredible places all over the world. Brazil, Kenya, Argentina, Portugal, Australia and was even in the desert, in Dubai, for many years during the 70's. He brought all the recipes he'd learnt along the way into his cooking for us. We ate a lot of fresh fish, curry's, homemade pizzas, delicious pasta dishes and on a Sunday, he'd always do his famous chicken roast with the best crispy potatoes done in goose fat. Those Sundays were my favourite part of the week, we'd all sit down, talk nonsense and eat till we'd pop. Such happy memories.
Georgia : I used to spend a lot of time at my grandparent's house, my Nan loved cooking big breakfasts for all of us. Her sauté potatoes were the absolute best!
What tips or traditions do you hope you pass down to your children?
Zoe: I think a big meal on a Sunday is a really lovely thing to do. Even now, with the kids being so young, we try and do this as a rule. I also want to pass down my love of fresh food. I'm not the woman to spend hours in the kitchen but I love cooking quick, tasty, simply meals that don't take forever.
Georgia: I think eating together is key. I love cooking but I think the most important part is who you're eating with.

What is your go-to recipe?
Georgia: I don't think you can go wrong with pasta. I'd probably eat it everyday if I could. I do a tuna pasta dish which has tinned soup in it, it sounds gross but it's a family favourite!
Zoe : My Asian salmon with spicy stir fry veg...it's delicious and takes 15 minutes from start to finish!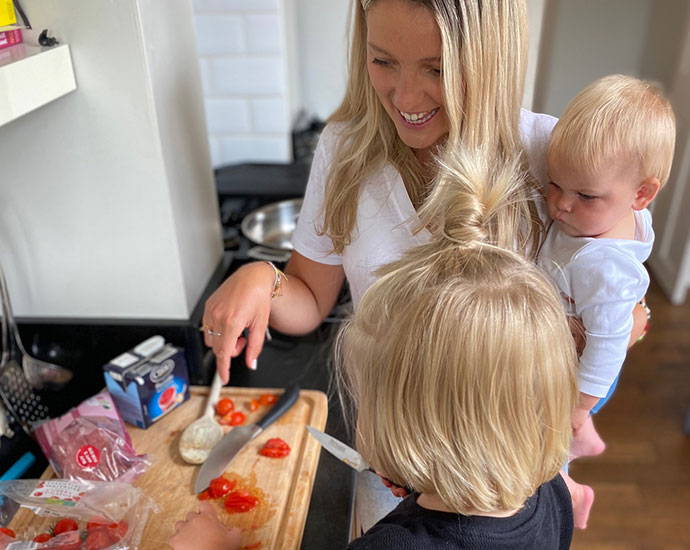 ---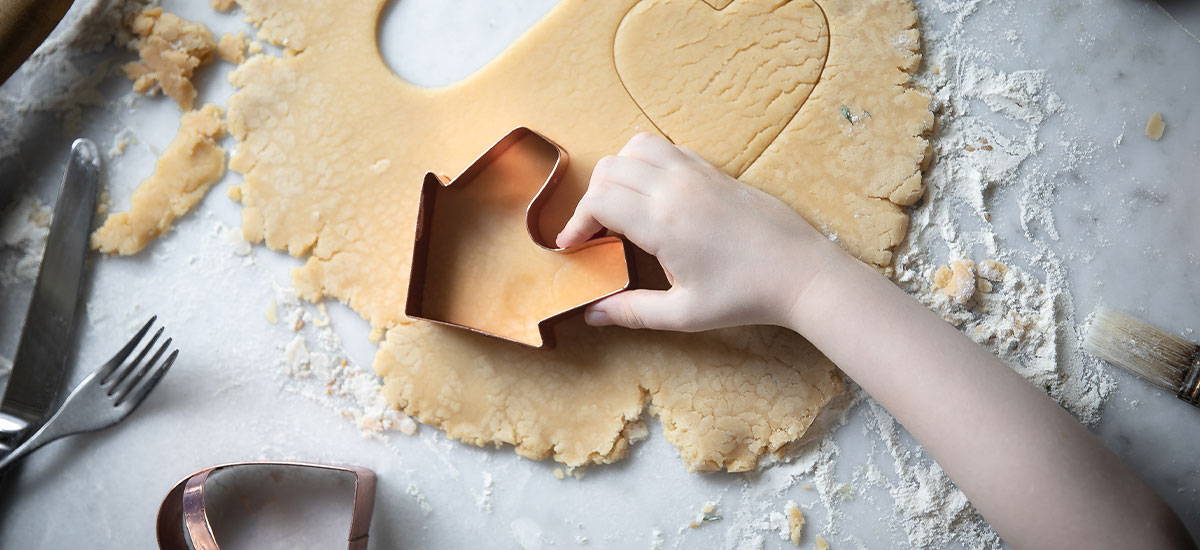 Home is where the heart is' is a phrase we've associated to our Signature knives and other collections – which items from the range have you enjoyed using in your kitchen?
Georgia: Chopping can be one of the worst things about cooking if you don't have a good set of knives, it makes such a difference when they are super sharp!
Zoe: For me it's got to be the frying pan...I've been using a rubbish pan for the last three years, burning everything and having to spend hours scrubbing it afterwards! My husband says my scrambled eggs have never tasted this good!

What are your top tips for involving children in the kitchen?
Zoe: Get them involved where you can. Ask them to pick things from the fridge, like the broccoli or the mushrooms and then buy some child friendly knives online so they can chop them up. Take them to the supermarket and ask them to identify things around the shop, like the bananas, apples etc. Let them watch you cook the food, if safe, they can stir the dishes too. Get them to try and taste everything too.
Georgia: We always try and eat 'family style' so the kids can add things to their plate. I ask my eldest to help me prepare the little accompaniments, chopping tomatoes, mashing avocado etc.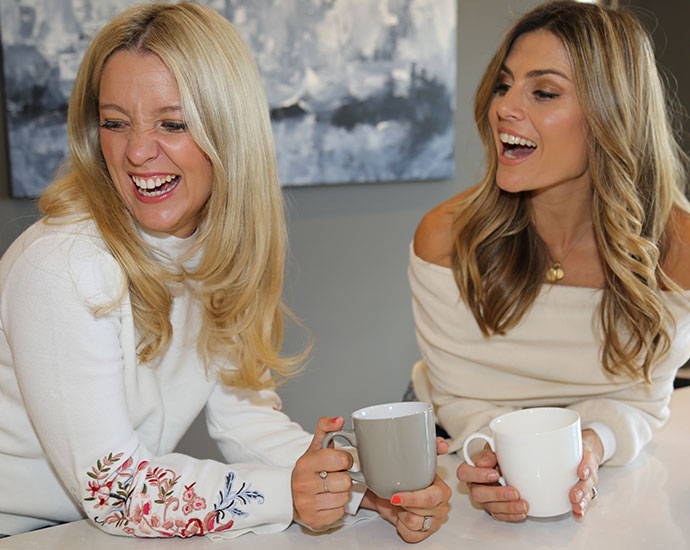 What is your favourite celebration and opportunity to make memories?
Zoe: Mine is Christmas in Kenya, where my mum lives. It's my favourite place in the world, a place that holds so many memories for me as a child and somewhere that I feel my dad everywhere. Our kids love it too. Running on the beach, playing in the sand, chasing the dogs, feeding the monkeys at breakfast...it's raw, unfussy and breathtakingly beautiful.
Georgia: For me anytime the whole family is together. My husband and I spent a lot of time living away from our family and it didn't matter what the celebration was, when we all finally got together it was special. Now we get to spend more time with the family, I love the summertime and eating alfresco.
What Signature product would you love to pass down to your children?
Zoe: The chopping board and home chef set. There is something about wood that makes me feel really emotional! I love the idea of them chopping things up in the kitchen, chatting to their friends, whilst drinking a glass of wine like I do.
Georgia: I think the Campden Casserole. My great grandparents passed dishes down to my mum and it feels really special when we use them knowing how long they've been around and how many generations have used them.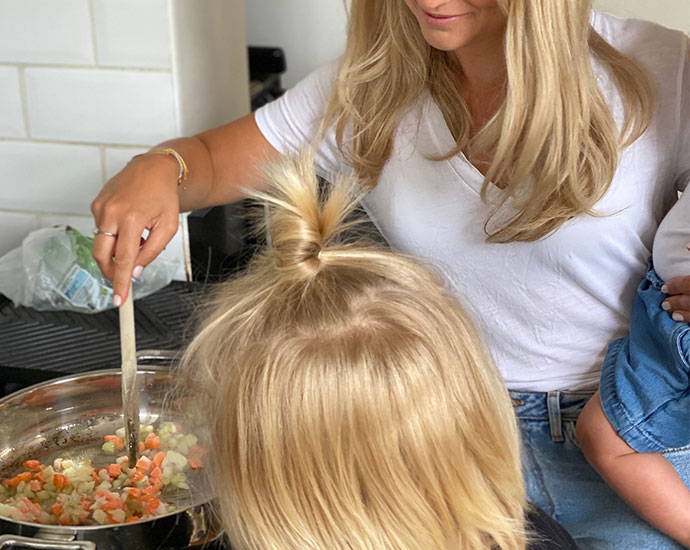 ---