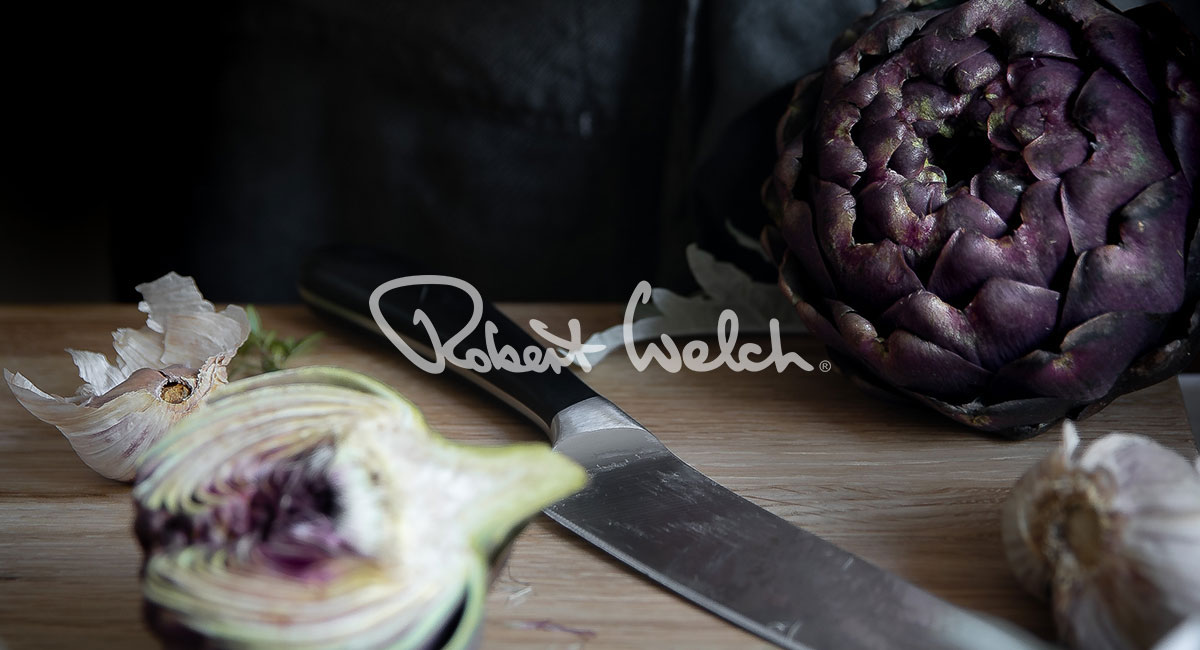 TESTED BY PROFESSIONALS, DESIGNED WITH METICULOUS DETAIL
THE SIGNATURE KNIFE RANGE
Our design legacy began more than 65 years ago. In that time we have been a part of the day-to-day, the special occasions and the memories created in kitchens across the world.
The Signature collection translates this legacy into functional, efficient and stylish products. In designing Signature knives, we wanted to create a range of the best kitchen knives for the various daily tasks in the kitchen as well as providing the solutions and tips for you to keep them at their best at home.
Each kitchen knife is designed for purpose and practicality, to be useful in everyday preparations and made to a standard that will last over generations.
When making your choice of knives there are there are a few things to look out for, starting with the quality of the stainless steel. All Robert Welch knives are made from specially hardened, high-quality, German stainless steel and have a Japanese-style 15° blade edge for superior sharpness and lasting edge retention over time.
The feel, the weight and the comfort of the knife in hand are important for ease of use: a specific highlight of the Signature knife is its ergonomically shaped handle designed for comfort, balance and to minimise fatigue.
A closer look at the construction of each knife reveals the true robustness of the design, a fully forged knife offers durability as well as being easy to clean and maintain.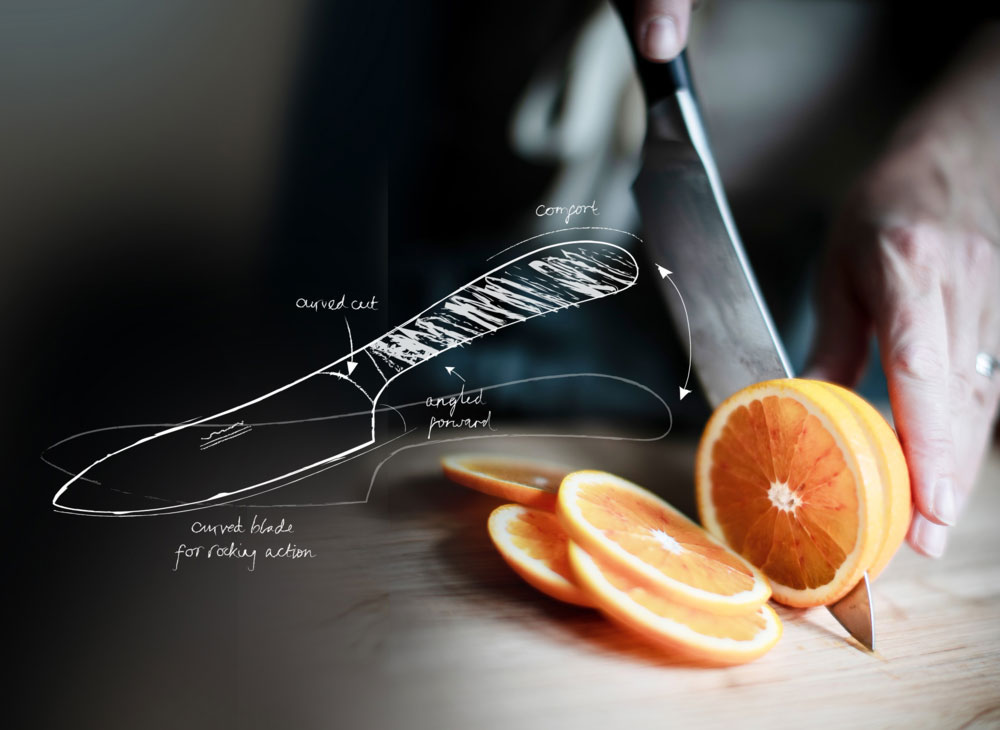 THE ANATOMY OF A SIGNATURE KNIFE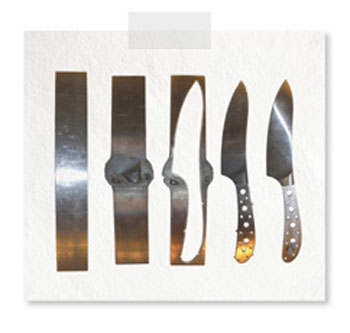 Forged from a single piece of stainless steel, which is heated and compressed to create the knife's bolster, the knife shape is then stamped out in its entirety.
This removes the need for soldered parts which can become weak. The result is a fully forged knife.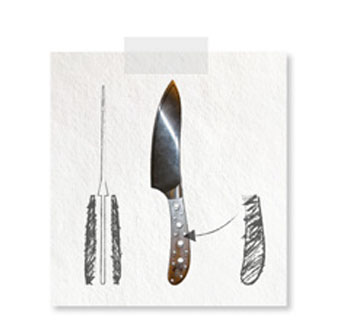 A full tang means that the stainless steel piece runs throughout the entire length of the knife, from the tip to the end of the handle, ensuring strength and durability.
The handle is injection moulded through and on to the tang to become integral to the knife's overall strength. Its smooth, ergonomically shaped form provides comfort and balance in the hand.
Choosing the perfect kitchen knife for the task at hand makes preparing a meal easier. When you know how to pick the best knife for the job, it allows you to keep control and slice, chop, dice or cut consistently which helps food cook evenly and improves the look, texture and flavour of a finished dish.
We've grouped our knives into categories according to 'use' to make it easier to select the right knife for its required purpose.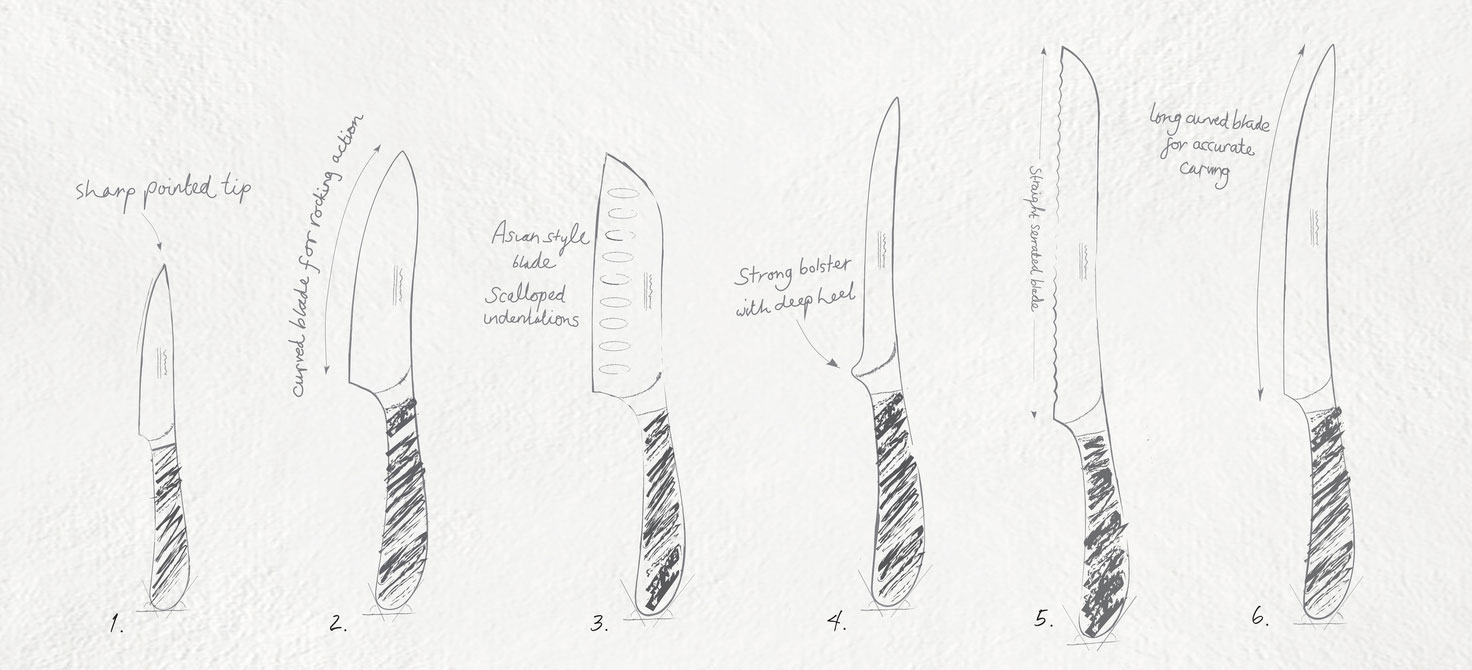 A paring knife is good for small intricate work in the kitchen, as well as trimming, slicing, peeling or scraping fruits and vegetables of all sizes.
Cook's knives are a multi-purpose kitchen tool, and a great starter knife if you are only intending to buy one. Each knife set we offer includes one. A cook's knife is the ideal choice for preparing meat, hard vegetables, herbs, nuts, and salads and is a great all-rounder to start a collection.
A Santoku knife is ideal for consistent dicing and slicing – the scalloped hollows on the blade push food from the blade ensuring that it doesn't stick.
A flexible utility knife is ideal for filleting fish, meat or poultry, whilst a good boning knife for preparing raw meat should be rigid.
A range of knives with specially adapted blades. Our bread knife with serrated edge ensures straight neat slices, and our 30cm slicing knife, whilst not a cake knife, is the perfect knife to split a sponge
A serrated knife is the go-to knife for slicing foods with a hard outer crust, such as salami or avocado.
A carving knife has a long, curved blade for ensuring delicate slices of meat, poultry and fish in a single slice. Pair a carving knife and fork for the perfect tools to expertly serve a Sunday lunch in front of guests.
GETTING THE MOST FROM YOUR KNIVES
It's important to protect your knife blades by using the appropriate knife storage, this will keep them at their sharpest when you come to use them. Other tips to keep your knives at their best include: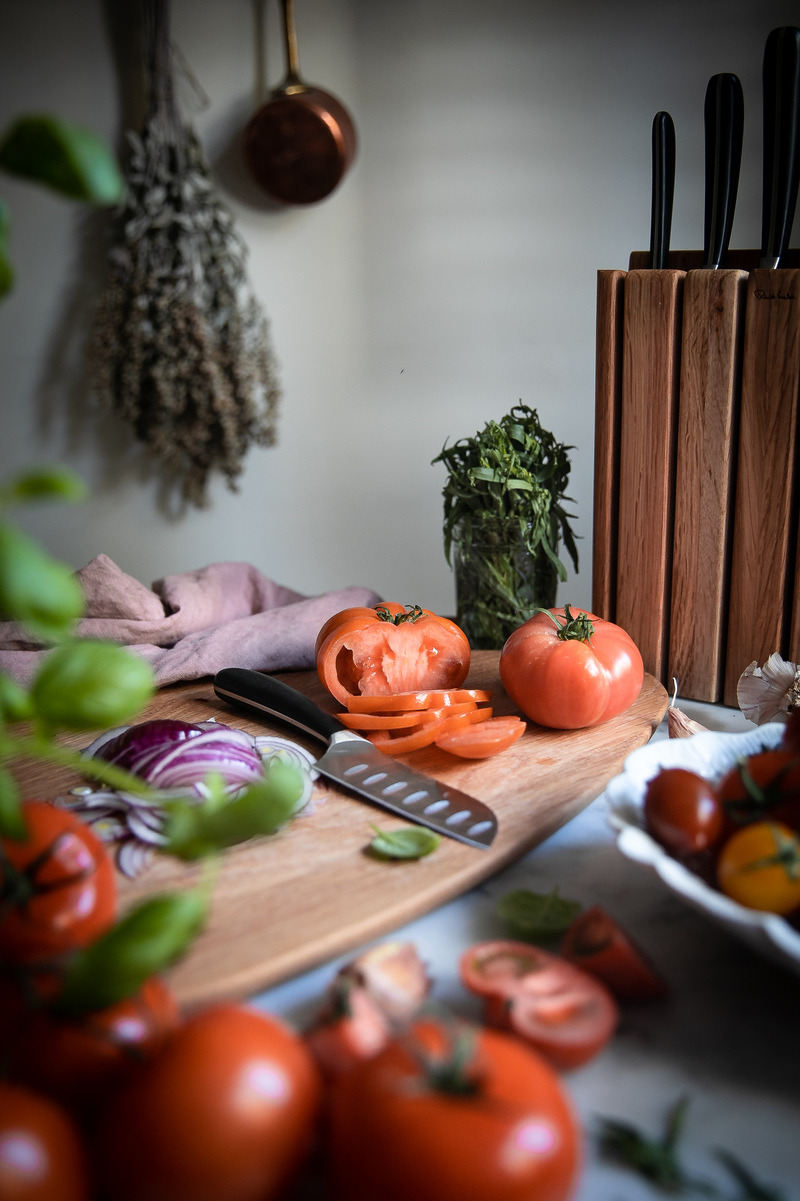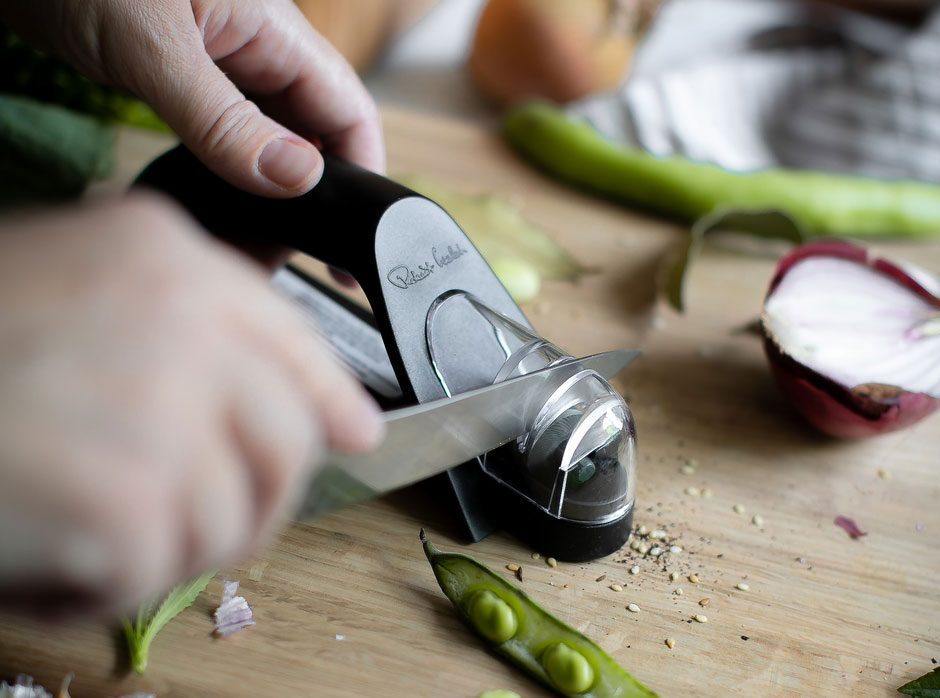 • To ensure your kitchen knives are always sharp when you come to use them, we recommend you hone your knife blades regularly, to realign the exact 15° edge angle for the perfect cutting edge.
The Robert Welch knife sharpener, please take a moment to view our useful video for best results
• Storing your knives in a knife block reduces friction on the knife edge and damage to your knives, and ensures they're always close to hand when you need them
• Knives should be washed carefully by hand and dried immediately using a soft cloth.
• Use an acrylic or wooden chopping board (do not use a glass or marble chopping surface as this will damage the blade edge)
• A sharp knife is a safe knife - use a light touch and let the knife edge do the work for you
• Always use the back of the blade of your cook's knife or Santoku knife to scrape food off the chopping board
CHOOSE THE RIGHT KNIFE SET TO ENHANCE YOUR KITCHEN
A SELECTION OF KNIFE BLOCK SETS AND EXTRAS