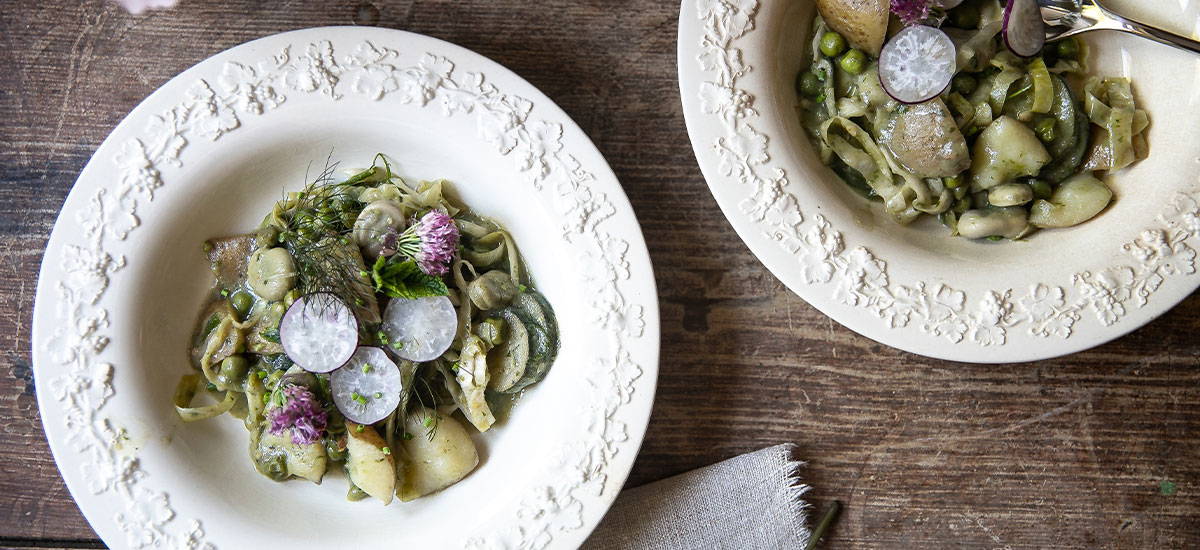 This is a lovely recipe to use up any homegrown vegetables from the allotment or those bought at the farmers market! Adapt accordingly with whatever you have to hand.
Fresh herbs lift this stew, particularly mint and fennel fronds give it a lovely flavour, although use sparingly so as not to over power.
Although this is a very easy recipe, the trick is not to overcook the greens. Aim for al dente when cooking the courgette, peas and beans.
---
COOKING TIME:
20 minutes prep + 25 mins cooking
---
- 200g new potatoes, chopped into quarters
- 2 large spring onion or 4 small spring onions, sliced
- 150g fresh or frozen peas
- 150g fresh broad beans, podded
- 1 medium courgette or 3 mini courgettes, sliced
- Zest and juice of half a lemon
- 900ml vegetable stock
- 1 - 2 tbsp olive oil
- 2 tsp pesto
- A handful of thinly sliced/ shredded greens ( cabbage/kale/spring greens/chard etc)
- A handful of seasonal fresh herbs ( fennel, parsley, mint, thyme, tarragon, chives etc )
- Edible flowers to serve ( chive, thyme, watercress, rocket etc )
- Sliced radish to serve
- Seasoning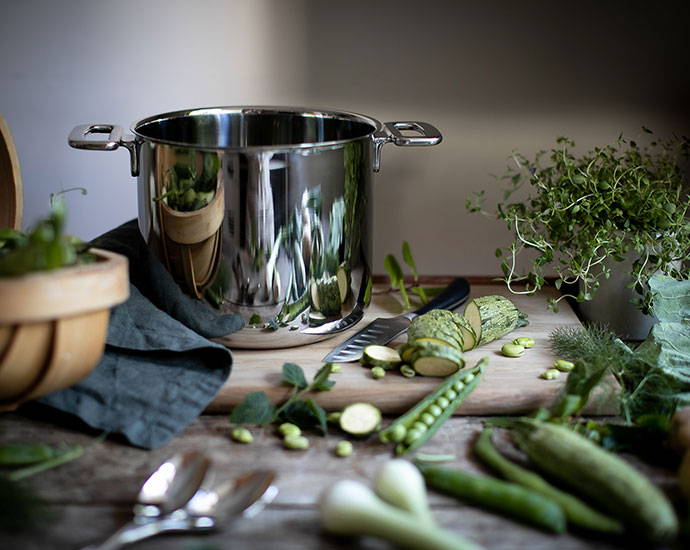 - Heat the oil in a heavy based pan and add the spring onions and potatoes. Saute gently for a few minutes. Add the stock and bring to the boil then reduce the heat and simmer for 15 minutes or until the potatoes have softened and cooked through.
- Add the peas, beans and courgette to the pan and simmer for a few minutes. Add the shredded greens and continue cooking for 1 minute. Stir through the lemon juice and zest and the pesto. Take the pan off the heat and leave to stand for a minute or so with the lid on.
- Meanwhile, finely chop the herbs. Mix into the stew just before serving. Add seasoning to taste.
- Serve in dishes and top with some herbs, radish and edible flowers. Serve with crusty bread.
NOTES
- This recipe is open for adaptation depending on the ingredients you have to hand.
- Add more stock to make this with more of a soup consistency. You may find it more palatable to chop the vegetable even more finely for this. Alternatively, reduce the amount of stock and this becomes a great alternative to mash potato to serve as a side to joints of meat.
- Any green pesto will impart a lovely flavour, whether homemade or shop bought. Wild garlic pesto gives it a delicious strong garlic flavour, whereas basil pesto will have a more subtle taste - add more or less to suit your palate.
Recipe from Sarah Hemsley | A Slow Gathering 2020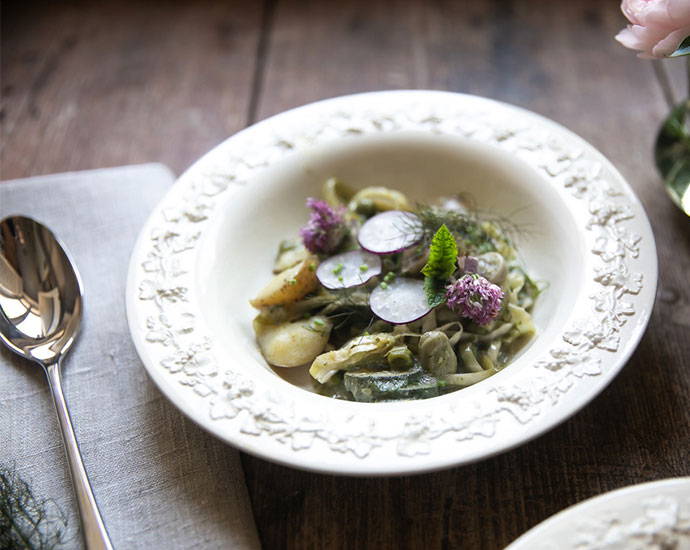 ---