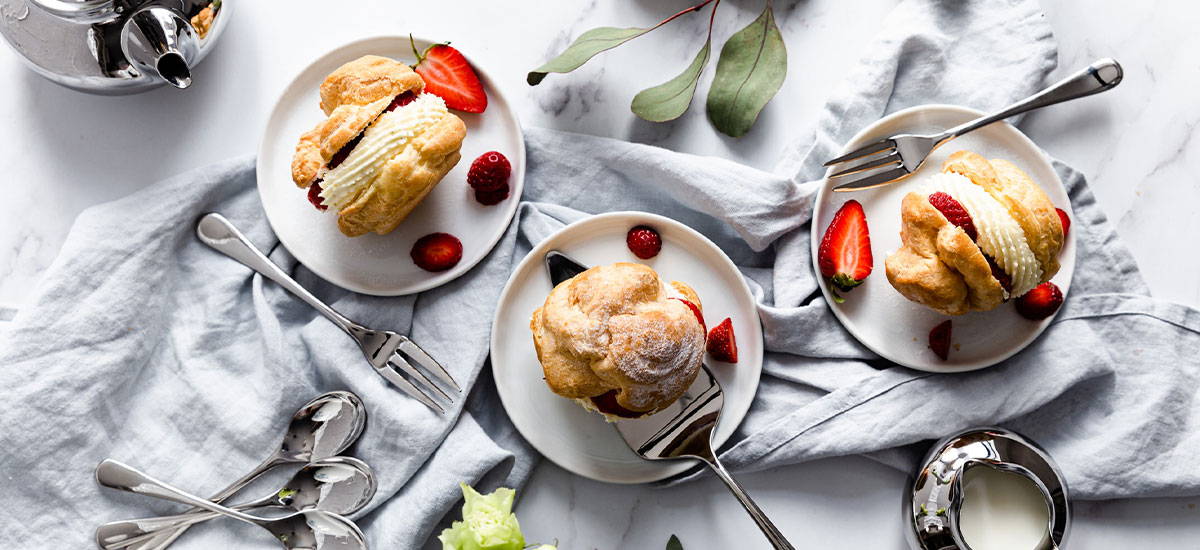 The classic summertime duo of strawberries and cream make this choux bun recipe a delightful take on an English afternoon tea. The delicate yet delicious morsels will convince your guests thinking you have perfected the art of pâtisserie!
Effortlessly slice the choux buns for filling using our 12cm serrated utility knife. Present the finished buns on our elegant Drift cake stand and serve using the Radford Bright patisserie set to give your dish that professional edge.
For the choux pastry:
- 50g butter
- 125ml water
- 75g flour
- 2 large eggs
For the strawberry & cream filling:
- 500ml double cream
- 30g icing sugar
- 1 vanilla pod (seeds scraped out)
- 200g of fresh strawberries (sliced)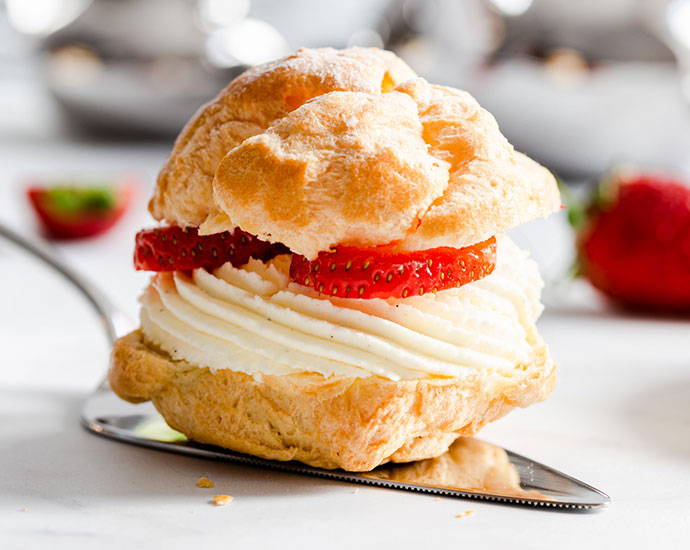 1 - Line a large baking tray with baking parchment and heat the oven to 180°C (fan).
2 - Place the butter and 125ml water in a medium saucepan over a medium heat and allow it to melt.
3 - Bring it to the boil, then take off the heat and tip in all the flour. Using a wooden spoon, beat the flour in until it comes together and the mixture has formed a ball. Cool the mixture for about 5 minutes, then beat in eggs, until smooth and glossy.
4 - Using couple of spoons or a piping bag, spoon the mixture on the baking tray in 8 equal size buns. Bake for 30 minutes until risen and golden brown. Take out of the oven and allow them to cool.
5 - Using an electric mixer, beat the cream, icing sugar and vanilla until it forms stiff peaks.
6 - Slice the buns in half, then spoon or pipe some of the whipped cream inside one half. Add some sliced strawberries and top with another half of the bun. Enjoy!