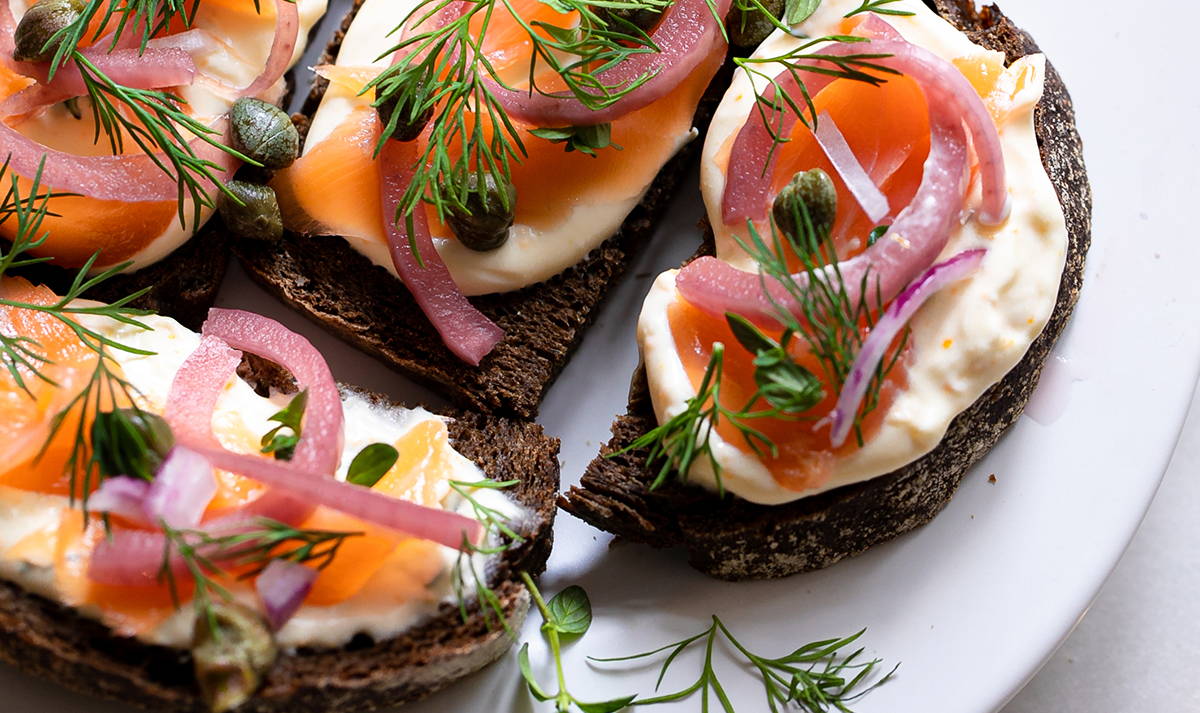 SMOKED SALMON TARTINES WITH HOMEMADE PICKLED RED ONIONS
These Smoked Salmon Tartines make an impressive Christmas party canapé and the zing of the pickled red onions is mouthwatering. They are the perfect savoury finger food or great as a simple breakfast or brunch dish too.
A delicious vegan version of the tartines can be made simply by substituting the creme fraiche for cashew or coconut cream and the salmon for slices of fresh fig or thin slices of cantaloupe melon.
The homemade pickled red onions work well in this recipe, but also make a wonderful accompaniment to Smörgåsbord selections, cheese boards or charcuterie sharing platters. They can also be used to liven up sandwiches or burgers, as a side for curries and stews, or mixed into salads. An unopened jar will keep for up to 6 months. Once opened, keep in the fridge and use within 2-3 weeks.
Jars of pickles make a thoughtful homemade Christmas gift. Just increase the quantities to make more jars to give away as gifts and present them with pretty labels, tags or with one of our 12 Days of Christmas decorations.

Prepared for us by @aslowgathering Sarah Hemsley.
PREP TIME:
10 minutes, plus time to make pickled red onions (a day in advance if possible)
1 loaf of rye bread sliced thinly into 6 - 8 slices (or blinis or crackers)
100g creme fraiche
Zest of 1 orange
Small bunch of fresh thyme
Small bunch of fresh dill
150g smoked salmon
1-2 tbsp capers
2-4 tbsp pickled red onion (either shop bought or homemade)
Olive oil
For homemade pickled red onions 
2 - 3 red onions, skins removed, halved and thinly sliced
300ml apple cider vinegar
1 tbsp golden caster sugar
1 tsp coarse sea salt
3-4 bay leaves
1 tbsp black peppercorns
1 tsp coriander seeds
1 tsp fennel seeds
2 sprigs fresh rosemary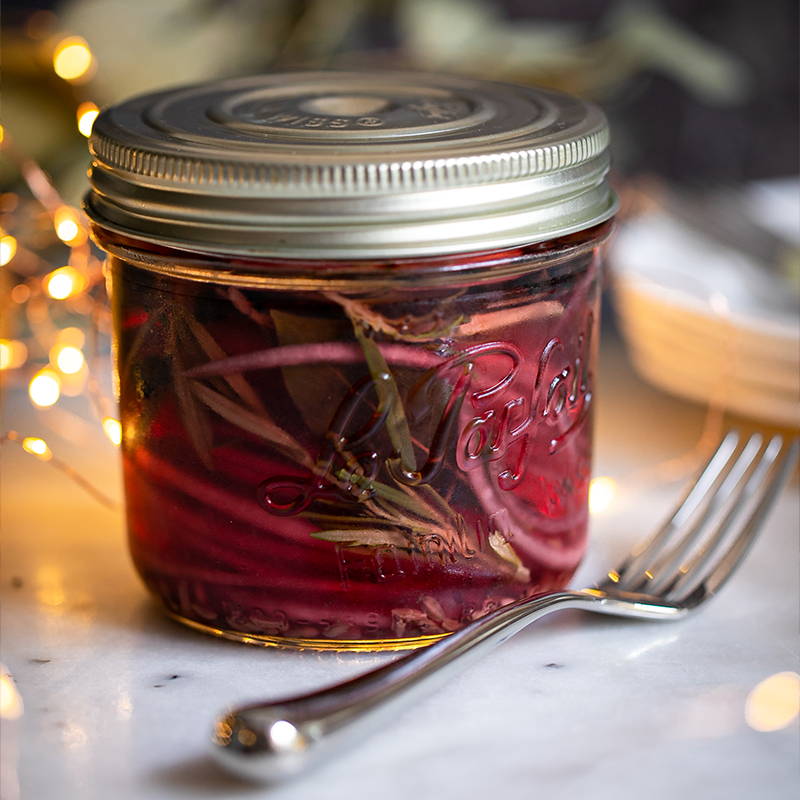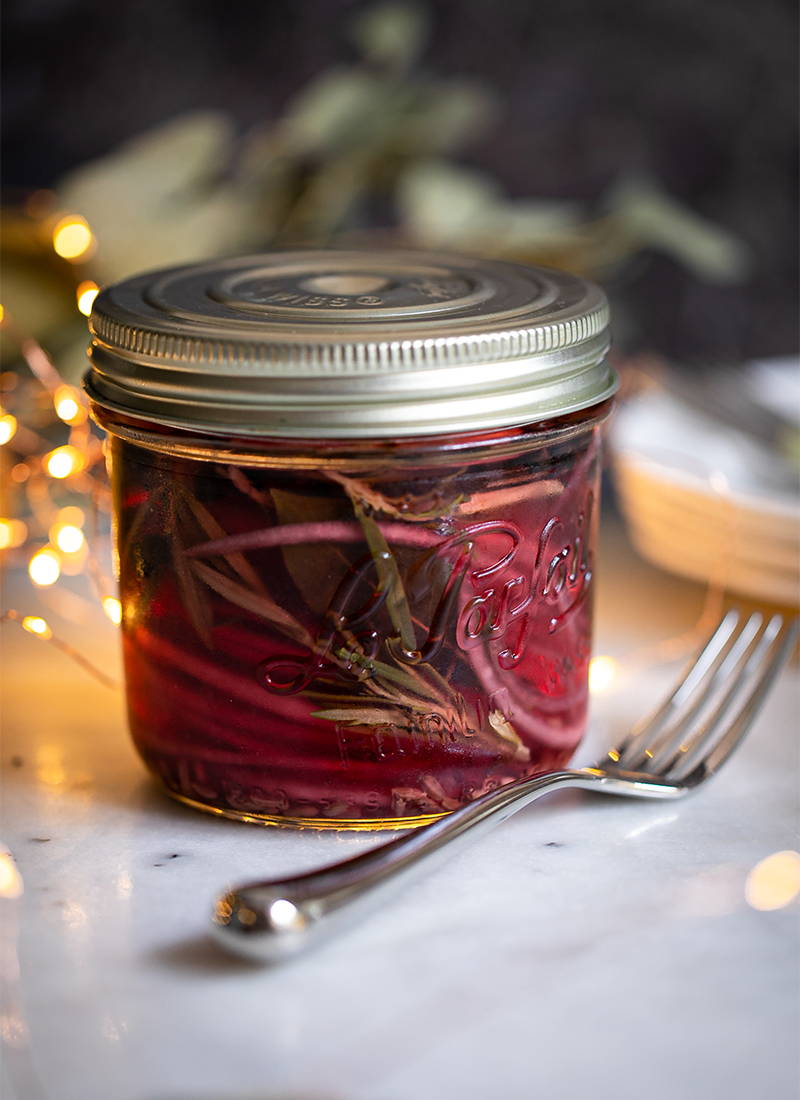 To make the pickled red onions
1 - Sterilise a 500ml jar, or several smaller jars, by removing all rubber and metal seals and washing with hot soapy water. Rinse but don't dry the jars, instead place them upside down on a baking tray in a preheated oven at 160-180°C for 15 minutes. Alternatively run the jars through the dishwasher on a hot wash.
2 - In a pan, gently heat the vinegar with the sugar until the sugar has dissolved.  
3 - Tightly pack the onion slices, bay, rosemary, coriander, peppercorns and fennel seeds into the jar. Sprinkle over the salt then carefully pour over the warm vinegar.  
4 - Place the lid on the jar and allow to cool. When cool, leave to chill in the fridge for a few hours or overnight. An unopened jar will keep for up to 6 months. Once opened, keep in the fridge and use within 2-3 weeks.
1 - Lightly toast the rye bread slices and cut in half.
2 - In a small bowl mix together the creme fraiche with the orange zest and a handful of fresh thyme leaves.
3 - Spread a spoonful of the creme fraiche mixture over the toasted bread slices.
4 - Split the smoked salmon into small pieces and place a few on top of each toast. Add a pickled onion ring or two over the top with a few capers and garnish with a few sprigs of fresh thyme and a frond of fresh dill.
5 - Place on a large platter and lightly drizzle a little olive oil over the top. Serve immediately.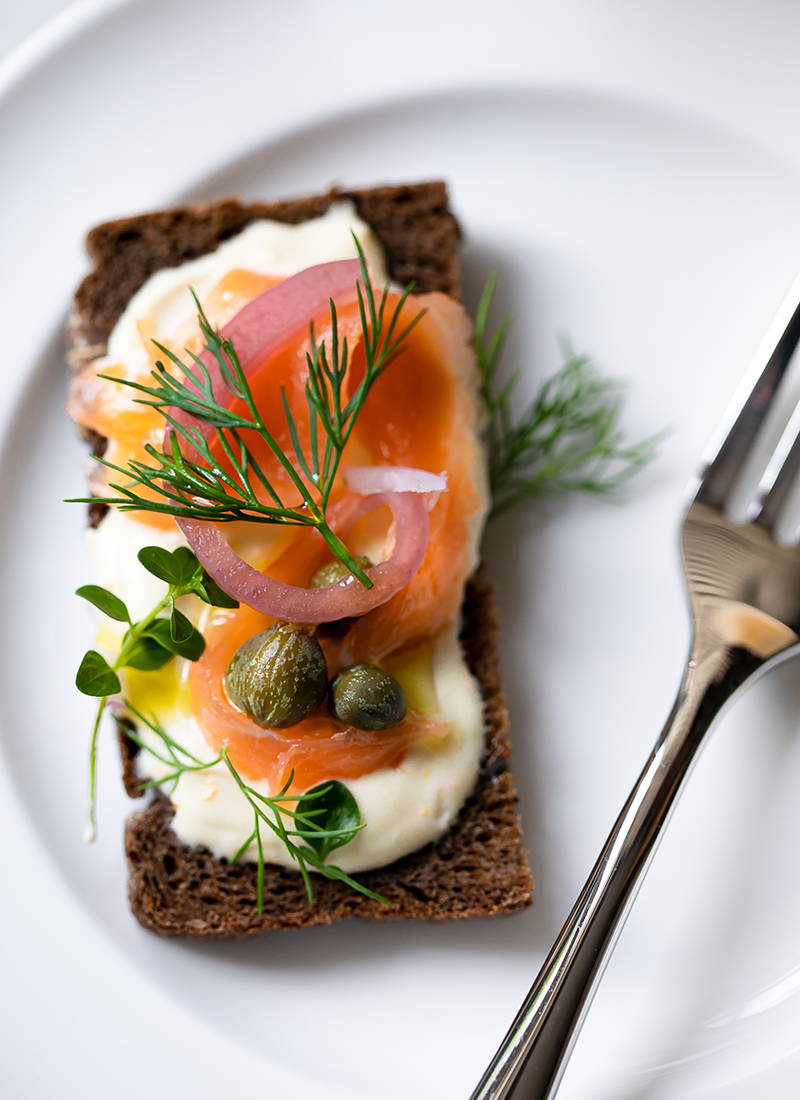 Make enough smoked salmon tartines for a party by increasing the quantities or cutting the bread slices into quarters and making bite size canapes. Also perhaps substitute the bread for blinis or crackers.