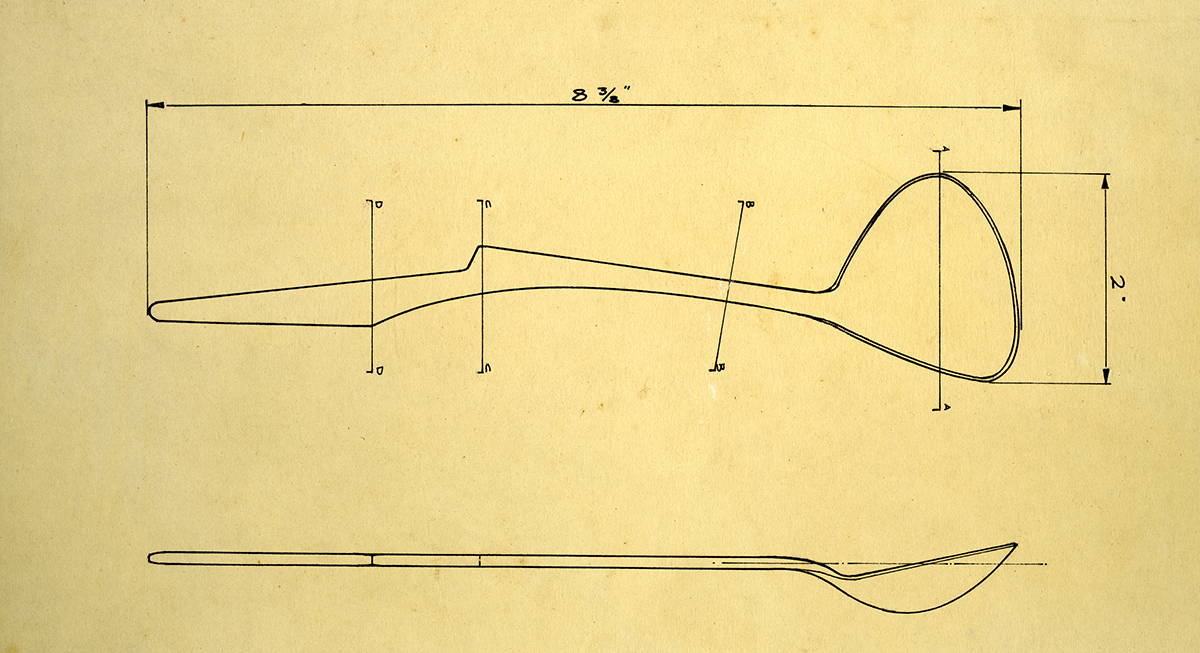 ---
LEGACY AND FUTURE: EVOLUTION OF CUTLERY
---
In January 2021, the Cutlers' Company launched a new annual design competition to create a set of contemporary cutlery; consisting of a knife, a fork and a spoon. Alice Welch is amongst the panel of judges, and Robert Welch Designs are delighted to support this initiative which will ultimately produce an extraordinary snapshot of British design in the 21st Century and offer designers of the future a chance to explore the delights of making such intimate everyday objects. To find out more, visit the Cutlers' Company website.
The Cutlers' Company is one of the most ancient livery companies in the City of London, having received its first Royal Charter from Henry V in 1416. This is the inaugural contest, the 1st of 95 annual competitions, concluding in 2116 as the company marks 700 years.
The competition is open to students currently on, or recently graduated from (3 years or less) any art, design or crafts course, at any college or university, studying at undergraduate, post-graduate or equivalent level. Applicants must be living in the UK for the duration of the competition.
To mark the competition we take a look back at how some of Robert Welch's most enduring cutlery patterns – Alveston (now RW2) and Radford – began with what he considered to be a design mistake.
Mid-century modern as a movement in the history of design began as early as 1933, but reached its height post-war (1945-1965) as designers reassessed everything around them and began trying to synchronise the natural and manmade to create an optimistic new look. The term was first used to describe the trend in the mid-1950s. The aesthetic was functional beauty - elegant, sculptural simplicity with an occasional touch of pop culture whimsy - and the philosophy was affordable design for the average homeowner.
Robert, already cautious of fashion, felt that some areas of design benefitted from this sort of scrutiny and push towards originality, and others did not. However he wasn't immune to the appeal of experimentation.
In 1959 he created three new sets of cutlery, hand-made in silver, for a competition in America: the International Silver Corporation of Meriden, USA wanted to attract new talent and offered generous prize money.
---
---

---
1959, Robert Welch's competition Cutlery prototypes (1 to 3) now part of a collection at Goldsmiths' Hall, London
As soon as he had sent the experimental designs Robert regretted it, considering the entries to be self-indulgent: 'I realised that experiments in other areas had worked well enough, but the same principles did not necessarily apply to cutlery design.' Welch, R. (1986) Hand & Machine, p.126. He produced three designs, each comprising a knife, fork and spoon. It is likely they only survived because of the permanence of the material he made them in; all three sets were bought by the Worshipful Company of Goldsmith's for their permanent collections. At one stage Robert Welch attempted to reacquire the cutlery so he could dispose of it, but luckily for us he was unsuccessful.
Following this foray into the imaginative, Robert returned to his central design ethos - economy of form, priority of function. He set about resolving the mistake, with what he hoped would be a design that would stand the test of time. Designers of this period were often influenced by Scandinavian design, both in look and philosophy, and we know this to be true of Robert Welch. However as part of his development process in the early 1960s he also researched the long history of cutlery, including the origins and evolution of knife, fork and spoon, which each began their lives separately and only combined into the set we now know in the late 17th century, up to English cutlery of the mid-Georgian period.
He unofficially launched his new pattern in Sheffield in 1963, at the end of a lecture he gave on Designing Cutlery on the third day of a five-day cutlery course for retailers, organised by the Council of Industrial Design. His original notes and slides are preserved in the Robert Welch Design Archive and include some fascinating historical facts. Did you know, for example:
The handle of a spoon was originally held in the palm and only started to flatten and lengthen as the fashion for neck-ruffs grew.

Forks were once considered sinful and decadent implements associated with devilry, and were thought an improper replacement for bringing solid food to the mouth with fingers or bread.

Until the 17th century knives were sharp, with a pointed tip, and were used for hunting as well as to eat with - by skewering food to pass it to the mouth. Later, with the acceptance of the fork, table knife blades took on a rounded end as it was no longer considered good manners to skewer food in this way.

Shortly after the individual items of cutlery joined forces, those who could afford it would have carried their own set of cutlery in a box called a 'Cadena'. It was only during the Georgian period that it became customary for wealthy hosts to place a knife, fork and spoon on the table by their guests' laid plates.
---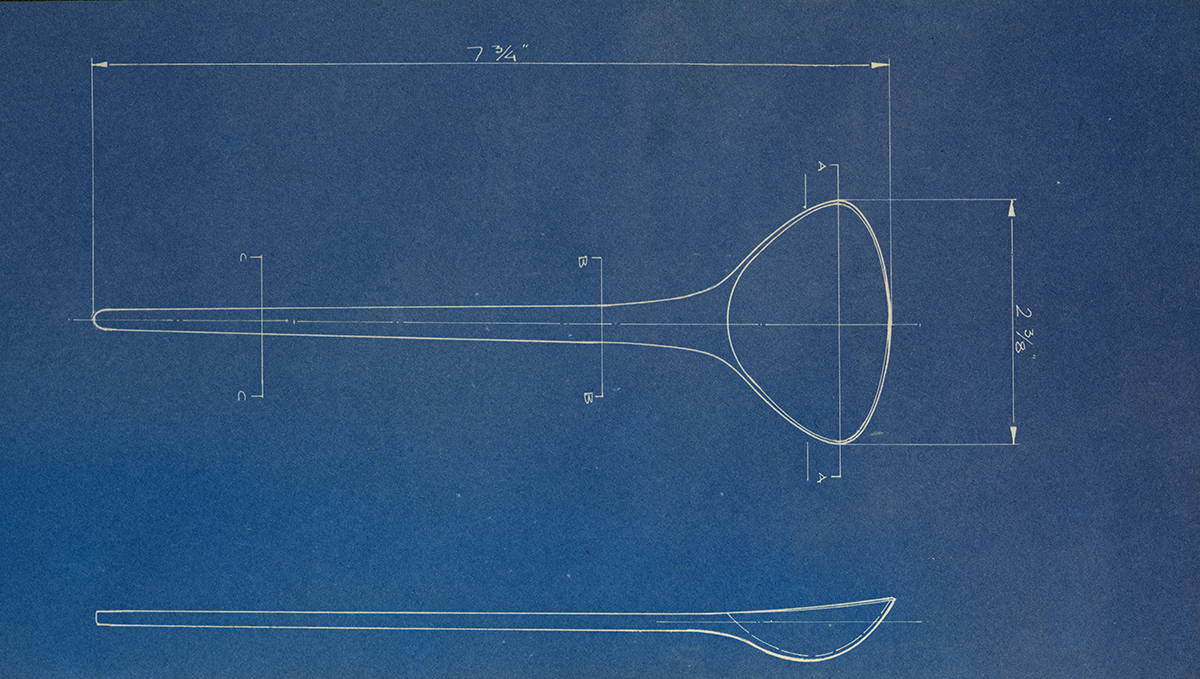 ---
Robert Welch finished his historical review of the knife, the fork and the spoon by revealing his new 'classic' design, Alveston, and finished with the following:
'In my opinion the English contribution to modern cutlery design should not even attempt to be extremist (…) One of the criticisms of modern cutlery like so much modern furniture is that it is not comfortable to use. This is one thing that we should (…) remedy. It is unlikely that one would buy an expensive chair without sitting in it, so potential purchasers of cutlery should have a meal, preferably rare roast beef with all the trimmings before they commit themselves to a pattern.' Robert Welch, Designing Cutlery, 11th September 1963 A new sales technique perhaps? Revolutionary design, Robert felt, should be so not because it was new but because it was better. It could be said, nearly 60 years on, that RW2 remains one of the very best.
---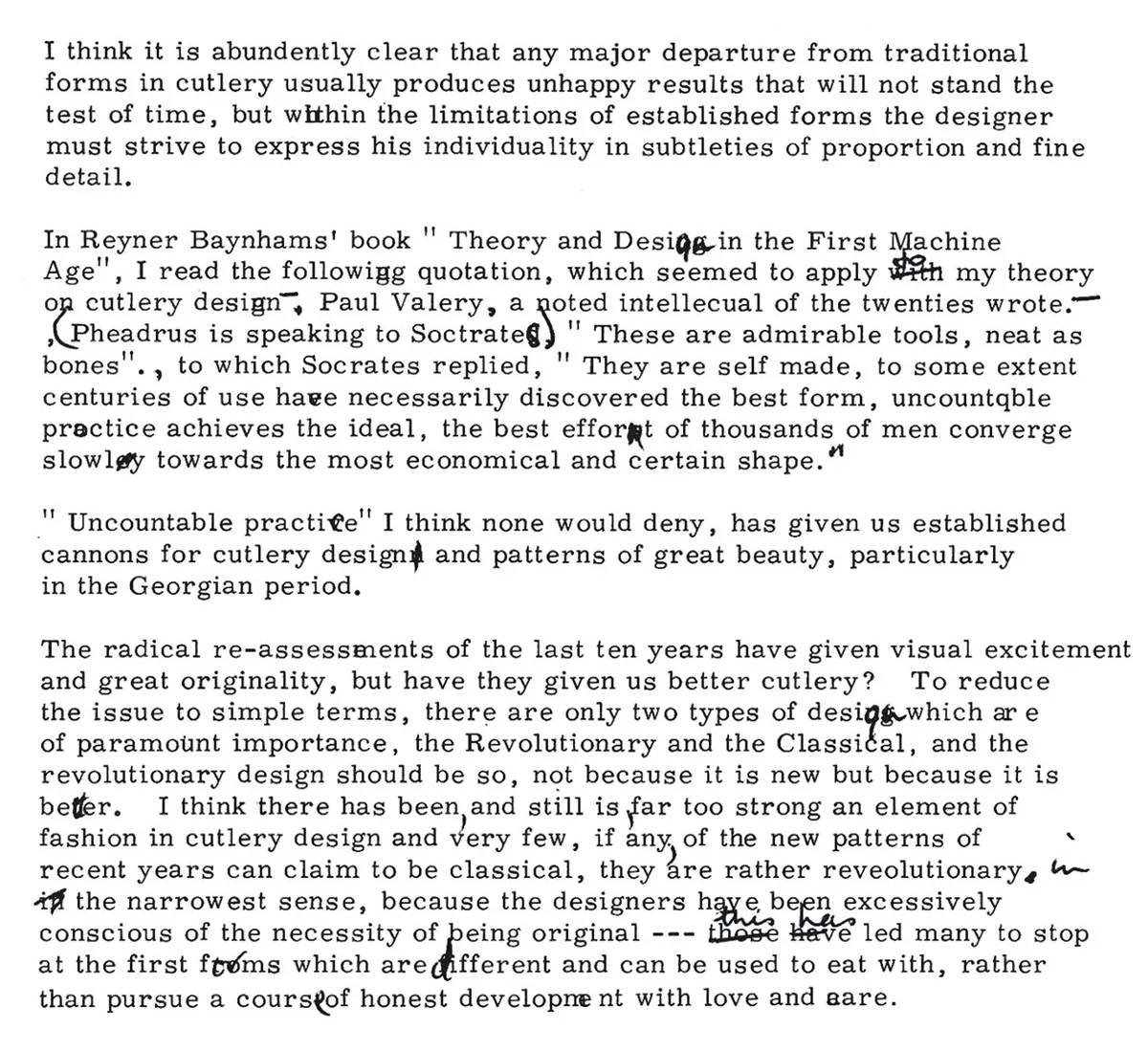 ---
Section from Robert Welch's notes for: Designing Cutlery, presented 11th September 1963
A later pattern which came from a similar examination of what came before is Radford, actually an evolution of Premier, a pattern originally designed in 1984. Premier was designed as a modern equivalent to the shape and weight of Georgian cutlery.
During the 1970s the workshop were asked on several occasions to hand-make replacement knives, with silver handles and stainless steel blades instead of ivory handles and carbon steel blades, to relate as closely as possible to customers' existing Georgian spoons and forks. The knives in Georgian canteens were less likely to survive as long as the rest of the pieces, either they were made with bone or ivory handles, or of a hollow silver handle made in two pieces and then joined and filled with a cement, resin or sand to hold the blade in place.
---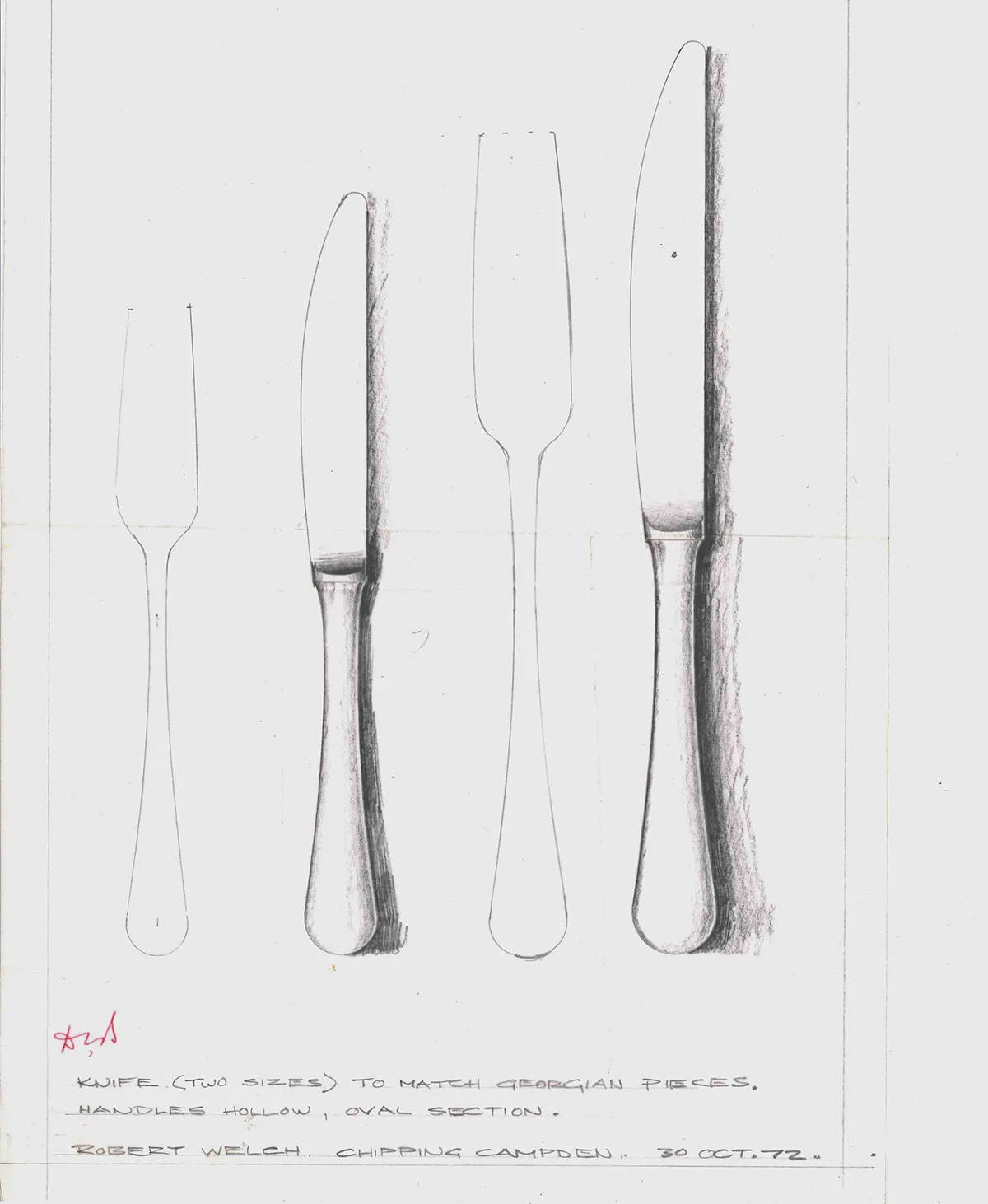 ---
John Limbrey, 1972. Knife (two sides) to match Georgian pieces. Handles hollow, oval section.
The frequency of requests for replacement silver knives led onto the design of this new pattern which was made in Sheffield and available in solid silver, silver plate and stainless steel. It was distributed via Courtier Cutlery, which later became Villeroy & Boch.
---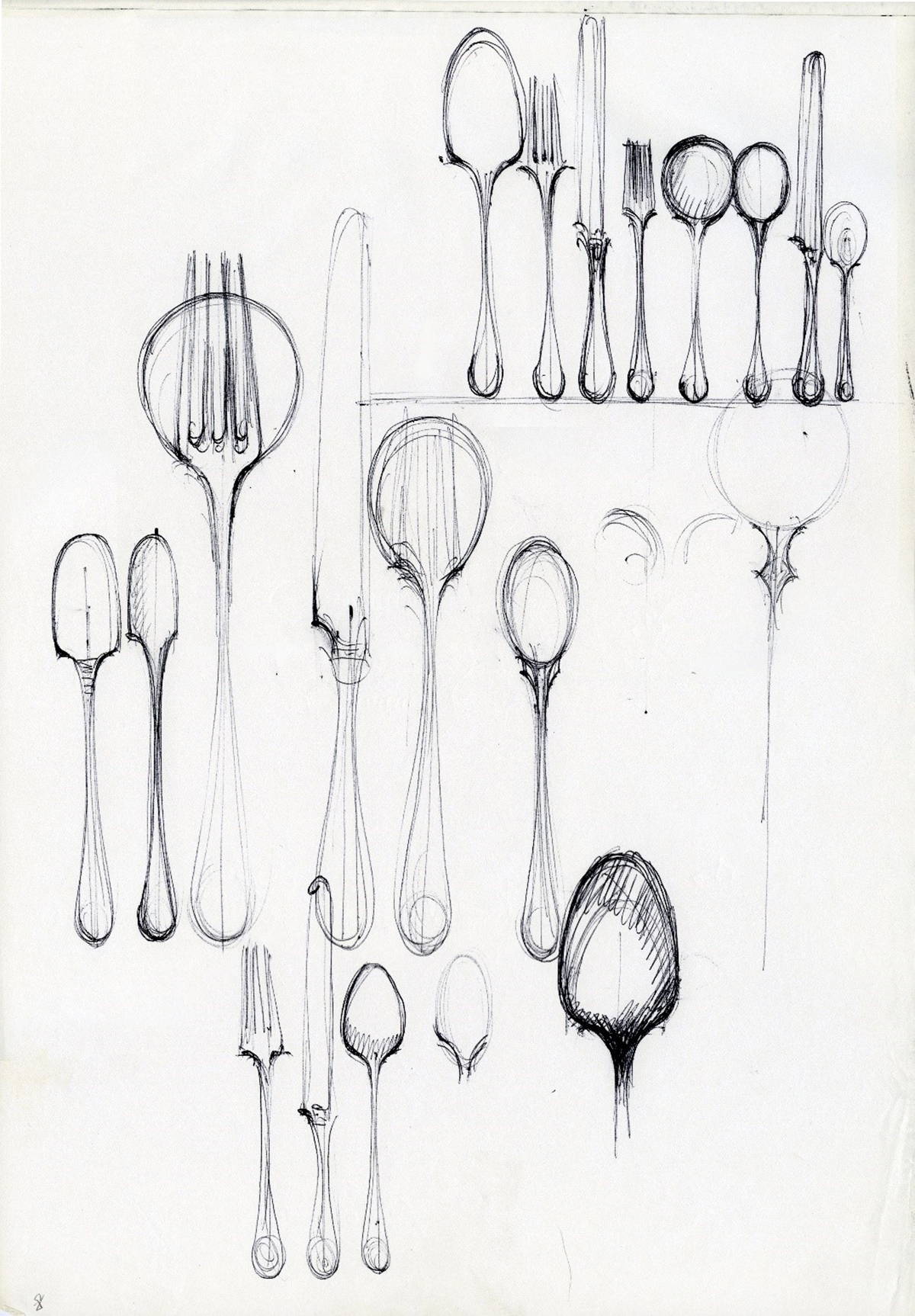 ---
Sketches for Premier, c.1984
Premier was made with hollow handled knives. The feeling of lightness which this technique produces is today often associated with inexpensive cutlery, when in fact, as a process, it is far more labour intensive and therefore more costly to produce. Alveston was originally produced in this same way, and RWI, both the forerunners of today's pattern RW2. Robert Welch wrote about the process of manufacture in his sketchbooks: "Hollow handled knives with forged bolsters are very difficult to model as prototypes. In the early design stages the first models are often made in wood, or carved out of solid aluminium bar. However if we decide to make up the knife as a close replica of a finished manufactured piece, we have to follow parts of the factory process by utilising, wherever possible, existing hot stampings which are modified to suit the new design. The sketches, (…) show off some of the processes in making of a knife in the true Sheffield tradition with no concessions for cost savings (…) because our knives are made to such high standards it is inevitable that these are by far the most expensive item in a place setting."
---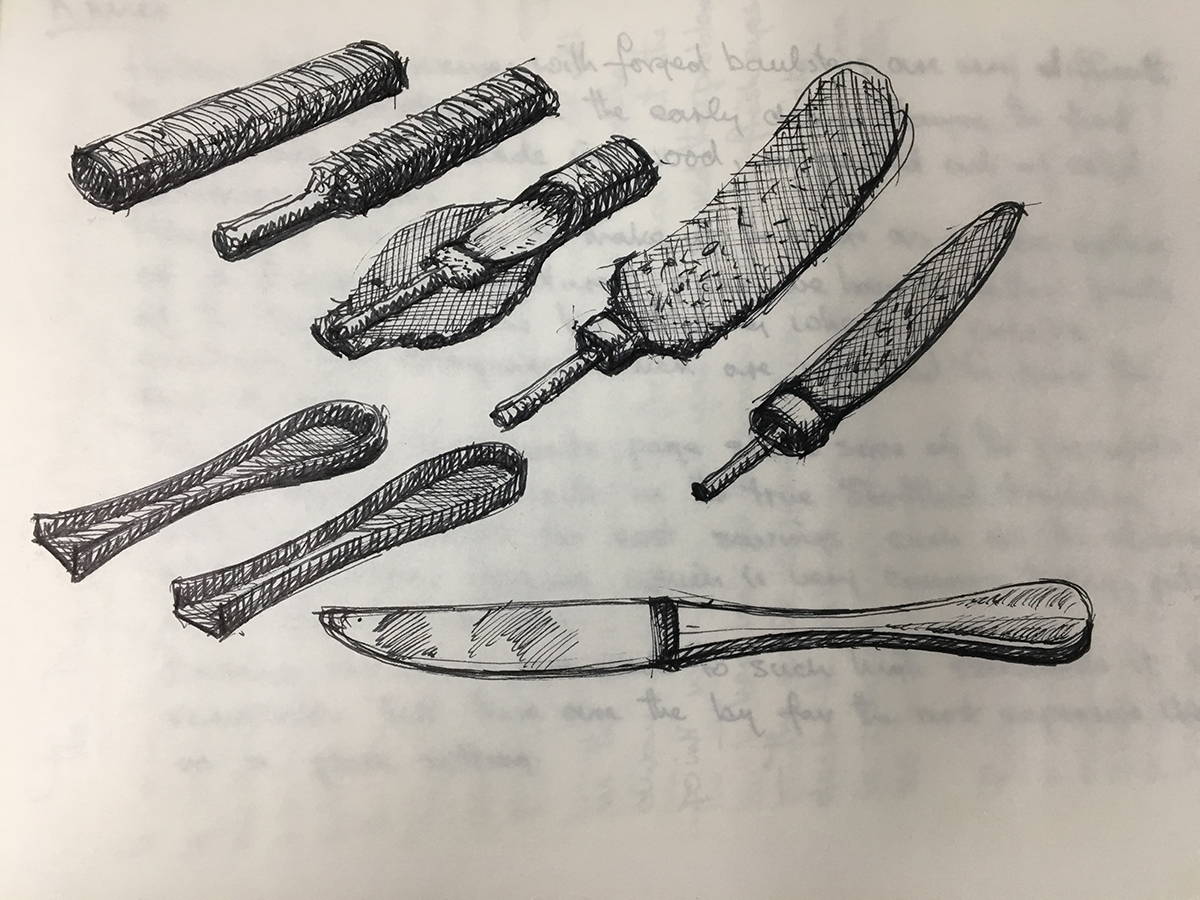 ---
Sketches illustrating the manufacture of hollow handled Alveston and RW2, 1990s
As RW2 is a recreation of Alveston, the modern replica being heavier and a little larger, so Radford was a recreation of Premier. It was restyled, renamed and re-launched in memory of Robert in 2003, Radford was his middle name, with help from his friend, chief silversmith, model maker and draftsman of over 40 years, John Limbrey Radford remains a classical English design, but owes its origins to the contours and balance of traditional eighteenth century cutlery, a heritage which imbues it with timeless appeal. With its sculptural simplicity, RW2 evokes a mid-century modern aesthetic.
An iconic pattern with a distinct Scandinavian influence, it remains a design classic sixty years on. I think we should give the last word to Robert Welch, as he certainly knew his cutlery: "I think it is abundantly clear that any major departure from traditional forms in cutlery usually produces unhappy results that will not stand the test of time, but within the limitations of established forms the designer must strive to express his individuality in subtleties of proportion and fine detail." Robert Welch, 1963.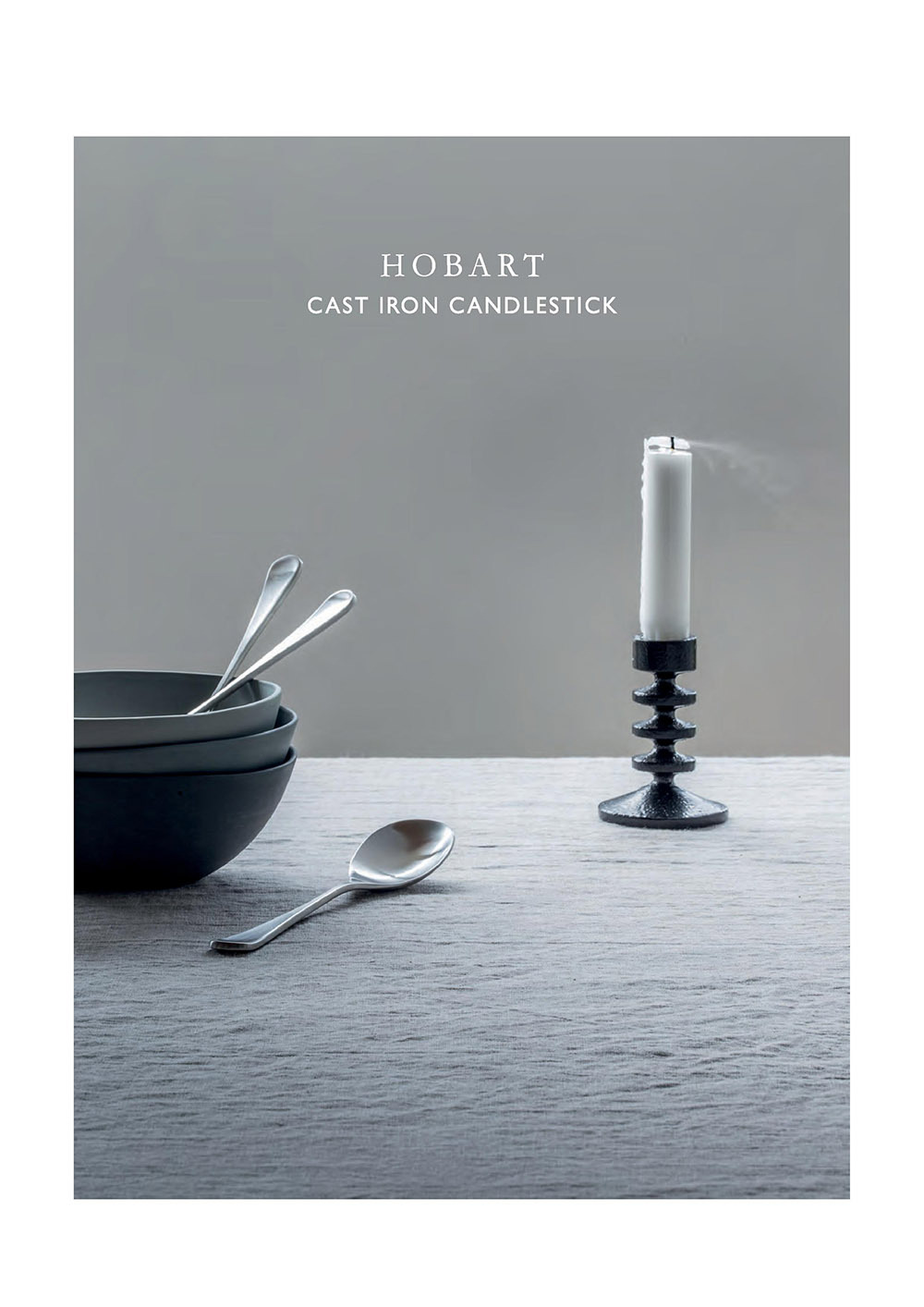 In the early 1960s Robert Welch designed his first piece in cast iron, a candleholder he named Hobart. Cast iron was an important addition to Robert Welch's portfolio, complementing his designs in silver and steel. At first Hobart was produced in small numbers,
the initial order was only two dozen, but after displaying them in his studio and home the designs popularity grew and led to a second order of one-hundred. Robert sold the designs himself out of a suitcase for a year, and initial buyers included Liberty and Heals.