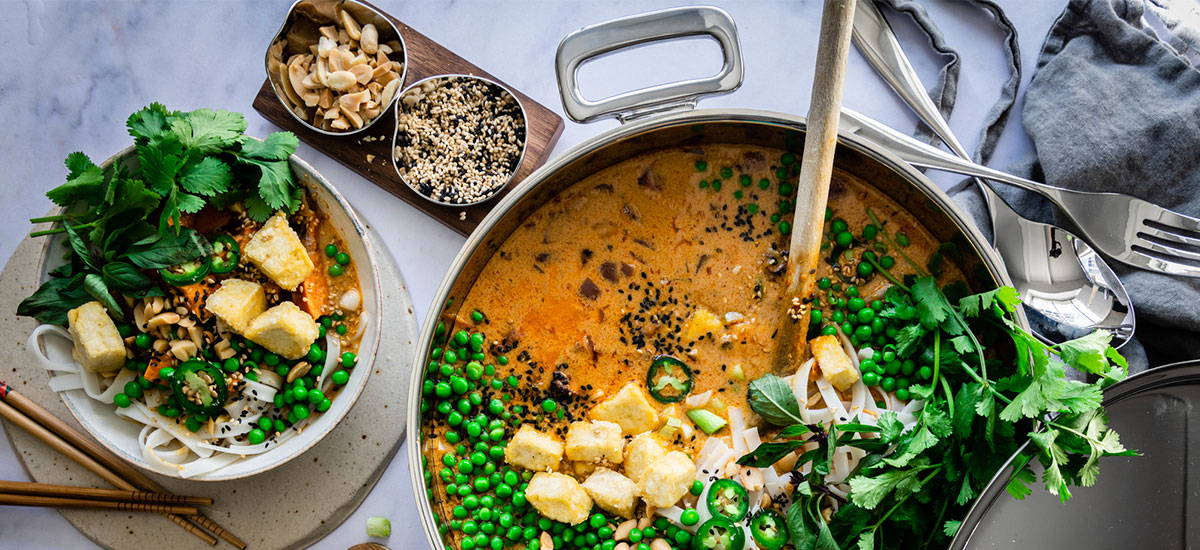 TASTY AROMATIC THAI NOODLE CURRY
This Thai noodle curry has been created exclusively by Natalie Penny, and uses mainly pantry ingredients and long life vegetables such as sweet potato and frozen peas.
Feel free to also substitute any fresh or frozen vegetables you may have to either replace or become an addition to the dish. If tofu isn't for you, then make an equally tasty substitute of prawns or diced chicken.
- 1 large sweet potato diced
- 2 tbs light oil
- 1 red/white onion diced fresh or frozen
- 1 thumb sized piece of ginger peeled grated (optional)
- 4 fat garlic cloves crushed (optional)
- 2 tablespoons of chopped coriander stalks (optional)
- 4 to 6 tablespoons of Thai yellow or red Curry paste
- 2 to 3 Kaffir lime Leaves fresh or dried (optional)
- 1 tablespoon Caster/palm sugar
- 2 tins of full fat coconut milk
- 300 mil of vegetable stock
- 1 tbs tamari sauce
- 200g rice noodles
- Juice of 1 lime
- 200g frozen peas or veg of choice
For the tofu:
- 280g extra firm tofu diced
- 3 tbs cornflour
- Salt and pepper
- 100ml light oil coconut or groundnut
- Fresh herbs, Thai basil, coriander, basil, mint
- Spring onions sliced
- Green chillies sliced
- Lime wedges
- Sesame seeds
- Toasted peanuts roughly chopped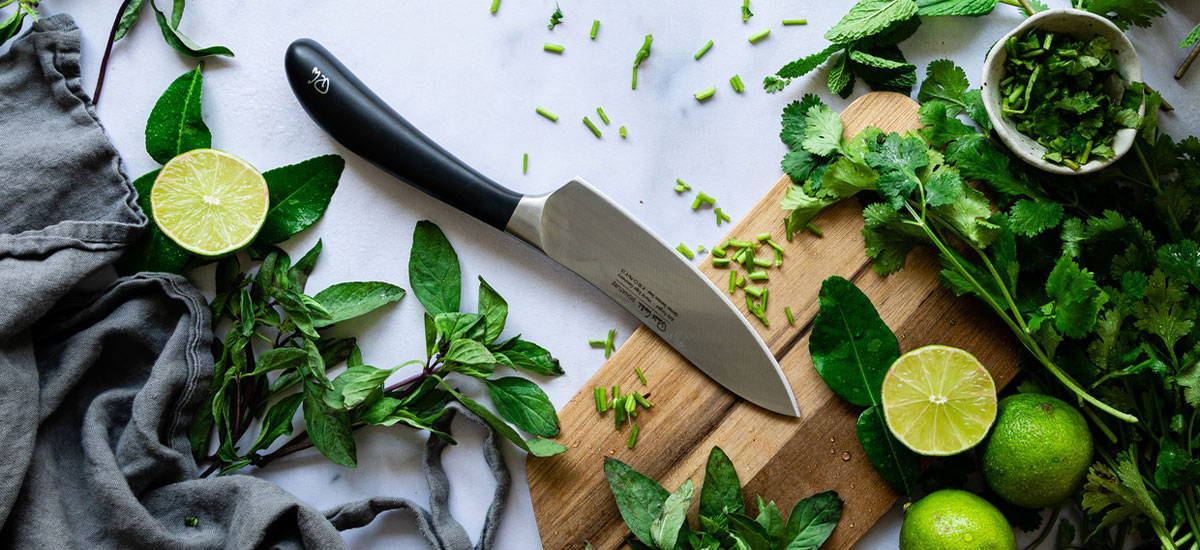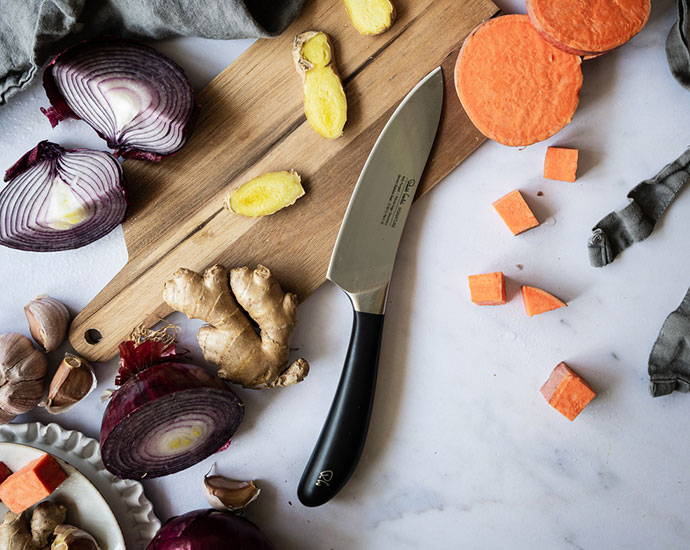 1 - Pre heat the oven to 180°C. Line a baking tray with parchment or foil and add the diced sweet potatoes, season with salt and pepper and drizzle with 1 tbs of light oil. Place in the preheated oven and cook for about 20 minutes until soft and slightly caramelised in places.
2 - In a large casserole pan, add the diced onion and 1 tbs of light oil, sauté until soft and translucent. Add in the garlic and ginger if using and cook for a further minute or two on a low heat.
3 - Add in the coriander stalks and kaffir lime leaves if using and stir to combine, follow this with the curry paste. Add 3-6 tbs depending on how hot you like it. Stir to combine and cook for a minute or so until fragrant.
4 - Pour in the coconut milk and vegetable stock and bring to a boil and reduce immediately. Add in the caster sugar, tamari sauce and juice of 1 lime. Allow to cook for 15 minutes on a low heat.
5 - Your sweet potatoes should be ready and if so, remove from the oven and set aside.
6 -Taste your curry to check for seasoning, it may need a little salt, sugar, or lime.
7 - Cook the rice noodles per packet instructions.
8 - Add your diced tofu to a small bowl and combine with the cornflour and a good grind of black pepper and ½ tsp sea salt.
9 - Heat a small pan with the oil. When the oil is hot fry the tofu in batches until crisp, drain on kitchen towel and set aside in the oven on a low heat while preparing to serve.
10 - When you are ready to serve add in the sweet potato, frozen peas or any other fresh or frozen veg you maybe using and cook for a further minute or two until cooked and heated through.
11 - Divide the noodles between 4 bowls, top with ladles of curry, crispy tofu and any fresh herbs or spring onions if using. Finish with sesame seeds and toasted peanuts and a wedge of lime.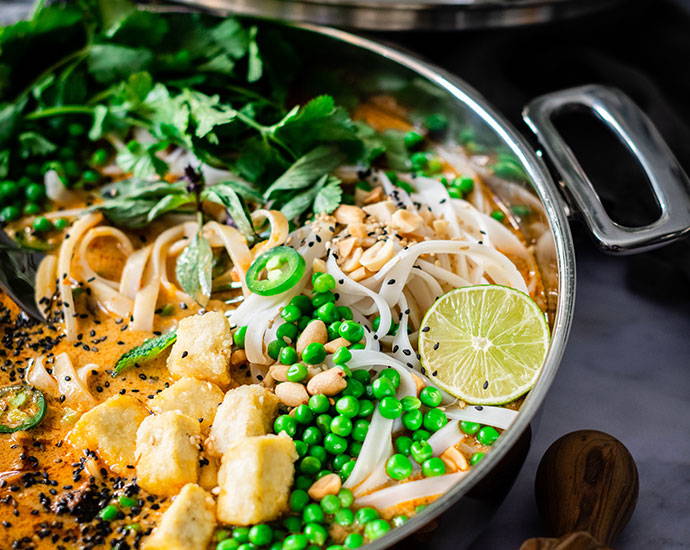 ---