Packed full of flavourful spices, this citrus cake is perfect to enjoy as a post dinner treat. Serve and slice at the table and enjoy with the whole family.
---
COOKING TIME:
20-25 minutes
---
For the cake:
- 200g unsalted butter, softened
- 200g golden caster sugar
- 200g ground almonds
- 80g soft breadcrumbs
- 1 tsp baking powder
- ¼ tsp salt
- ½ tsp ground cinnamon
- 3 cardamom pods, crushed and seeds ground to a fine powder (or ½ tsp ready-ground cardamom)
- 3 eggs
- Zest of 1 lemon, 1 large orange and 1 lime
For the citrus syrup:
- Juice of 1 large orange
- Juice of 1 lime
- Juice of ½ a lemon
- 2 star anise
- 1 cinnamon stick
- 3 cardamom pods
- 1 tsp orange flower water (Optional)
- 50g golden caster sugar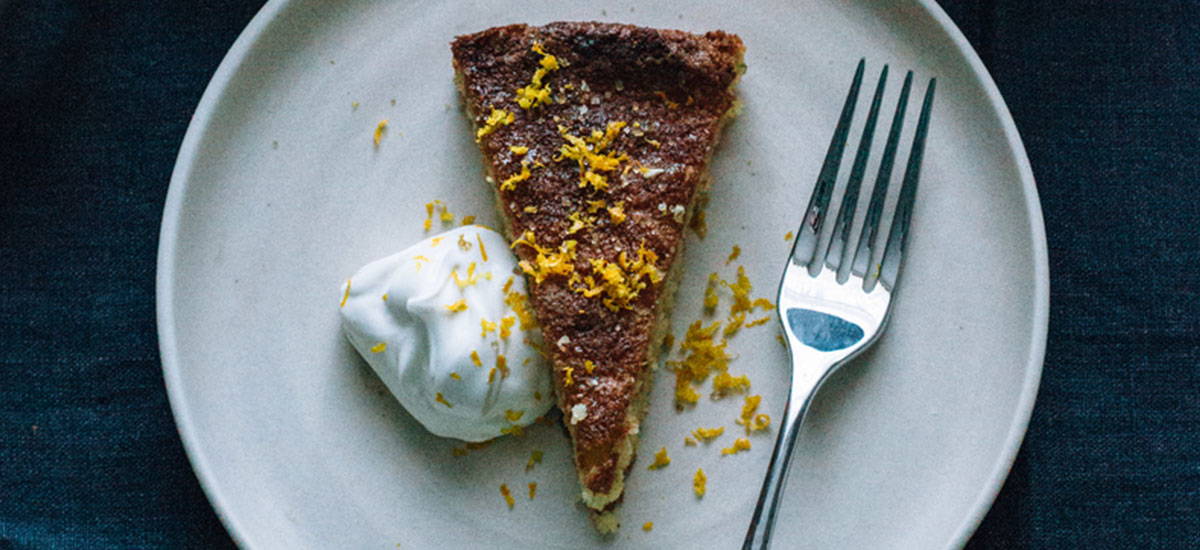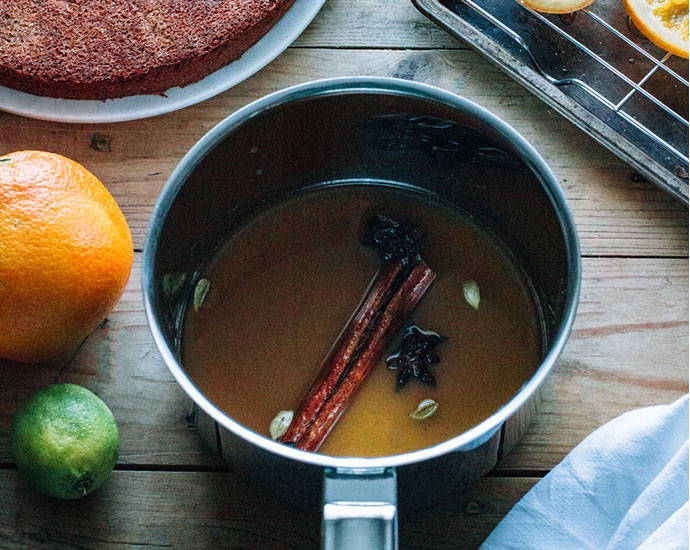 1 - Preheat the oven to 180C/160C Fan. Grease and line a 23cm loose-bottom cake tin.
2 - In the bowl of a freestanding mixer, combine the butter and sugar and beat until pale and fluffy. In a separate bowl, mix together the ground almonds, baking powder, breadcrumbs, salt, ground cinnamon and ground cardamom.
3 - Slowly add the eggs to the sugar and butter mixture, one at a time, alternating with a tablespoon of the ground almond mixture. Make sure each egg is fully incorporated into the batter before adding the next one.
4 - Fold in the remaining ground almond mixture, followed by the lemon, orange and lime zest.
5 - Spoon the batter into the prepared cake tin and even it out with a spatula. Bake in the preheated oven for 25-30 minutes, until a skewer inserted in the centre of the cake comes out clean. Leave to cool completely in the cake tin.
6 - While the cake is baking, make the spiced citrus syrup. Combine all the ingredients in a medium sauce pan and bring to a simmer. Let it cook until the sugar has dissolved and it's turned slightly golden. Remove from the heat and leave the spices in the pan to infuse the syrup until you're ready to use it.
7 - Once the cake has nearly cooled down, pierce multiple times with a skewer, leaving a space of about 3 cm between each piercing. Remove the spices from the syrup and the pour half of the syrup over the cake, letting it soak into the holes. Focus especially on the edges of the cake. Leave the cake to absorb the syrup for about 5 minutes, before pouring over the rest.
8 - Remove from the tin, serve the cake with mascarpone or crème fraiche and candied orange, and enjoy!
---