SIMPLE TOMATO & MOZZARELLA PIZZA
Include the whole family in creating a simple tomato and mozzarella pizza that can form the base to any additional toppings you have in your cupboards. Adult and child friendly, this is a great way to involve our children in preparations and can be made in advance of dinner time!
For the pizza dough:
- 500g strong bread flour, plus a little extra for dusting
- 10g salt
- 2 tbsp extra virgin olive oil, plus extra for greasing
- 1 tsp instant dried yeast
- 320ml lukewarm water
For the tomato sauce:
- 1 tbsp extra virgin olive oil
- 400g tin chopped tomatoes
- 1 large garlic clove, sliced
- 1⁄2 tsp sugar
- salt and freshly ground black pepper
Topping (per pizza):
- 1 mozzarella ball
- 200g fresh tomatoes, sliced,
- a handful of basil leaves/tarragon leaves or sprinkle of dried herbs
- salt and freshly ground black pepper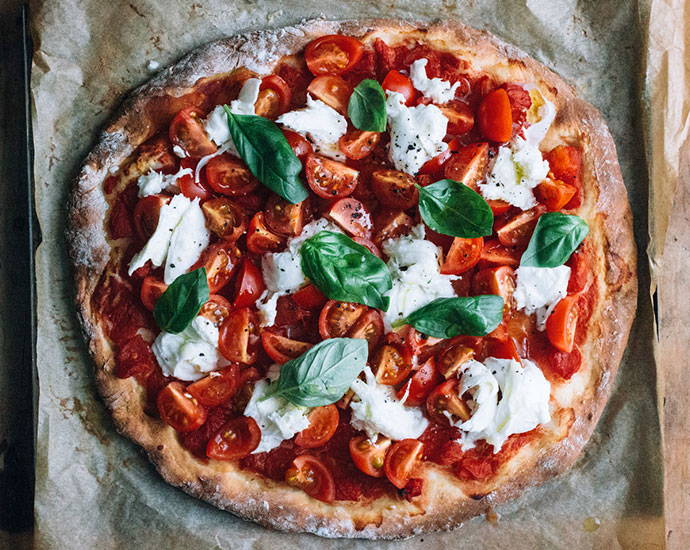 1 - Start by making the tomato sauce. Heat the olive oil in a pan over a medium heat. When hot, add the sliced garlic, let it sizzle for a few seconds and then add the tinned tomatoes, half a tin of water and sugar. Continue to cook, stirring regularly, for about 30 minutes. Once cooked, put to one side.
2 -To make the pizza dough, place the flour, salt, and olive oil in the bowl of a food processor fitted with a dough hook. In a jug, combine the dried yeast with the water, whisking to dissolve. Pour the yeast mixture over the flour and turn on the machine, allowing it to run for about minutes. If you don't have a food processor, you can always do this step by hand by kneading the dough on a lightly floured surface for about 10 minutes - a great way to include children! The dough should be soft, smooth and pliable.
3 -Place the dough in a bowl lightly greased with olive oil, cover with a damp tea towel and leave to prove for about 3 hours at room temperature or overnight in the fridge.
4 -Preheat the oven to 220C and place a baking sheet (or three if you have the space) inside to warm up.
5 -Turn the dough out onto a lightly floured surface and knock back. Divide into three pieces, dust with a little more flour and then roll out each piece as thinly as possible. Remove the hot baking sheet from the oven and carefully transfer a piece of rolled out dough onto it. Top the pizza as quickly as possible with the tomato sauce and sliced tomatoes. Bake in the preheated oven for about 10 minutes until it's crisp and golden at the edges. Scatter over the mozzarella and tarragon/basil. Season with salt and freshly ground black pepper. Serve straight away.
OTHER TOPPING IDEAS:
Taleggio, wild mushrooms and rocket Harissa, goat's cheese and red onion, Ricotta, prosciutto and artichoke heart.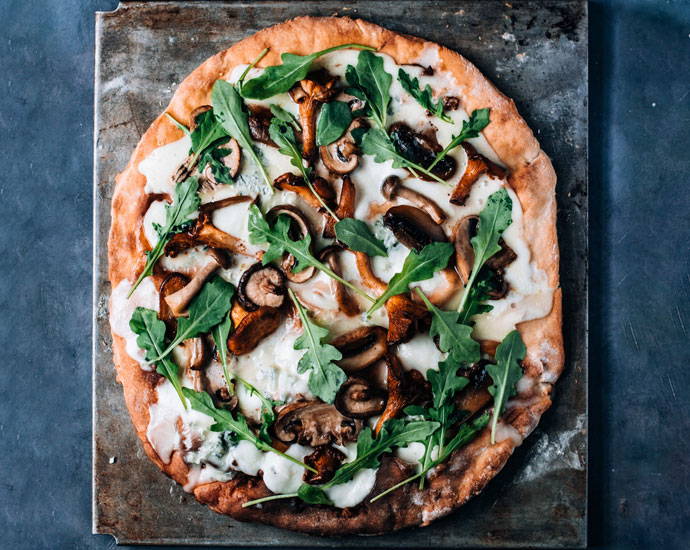 ---