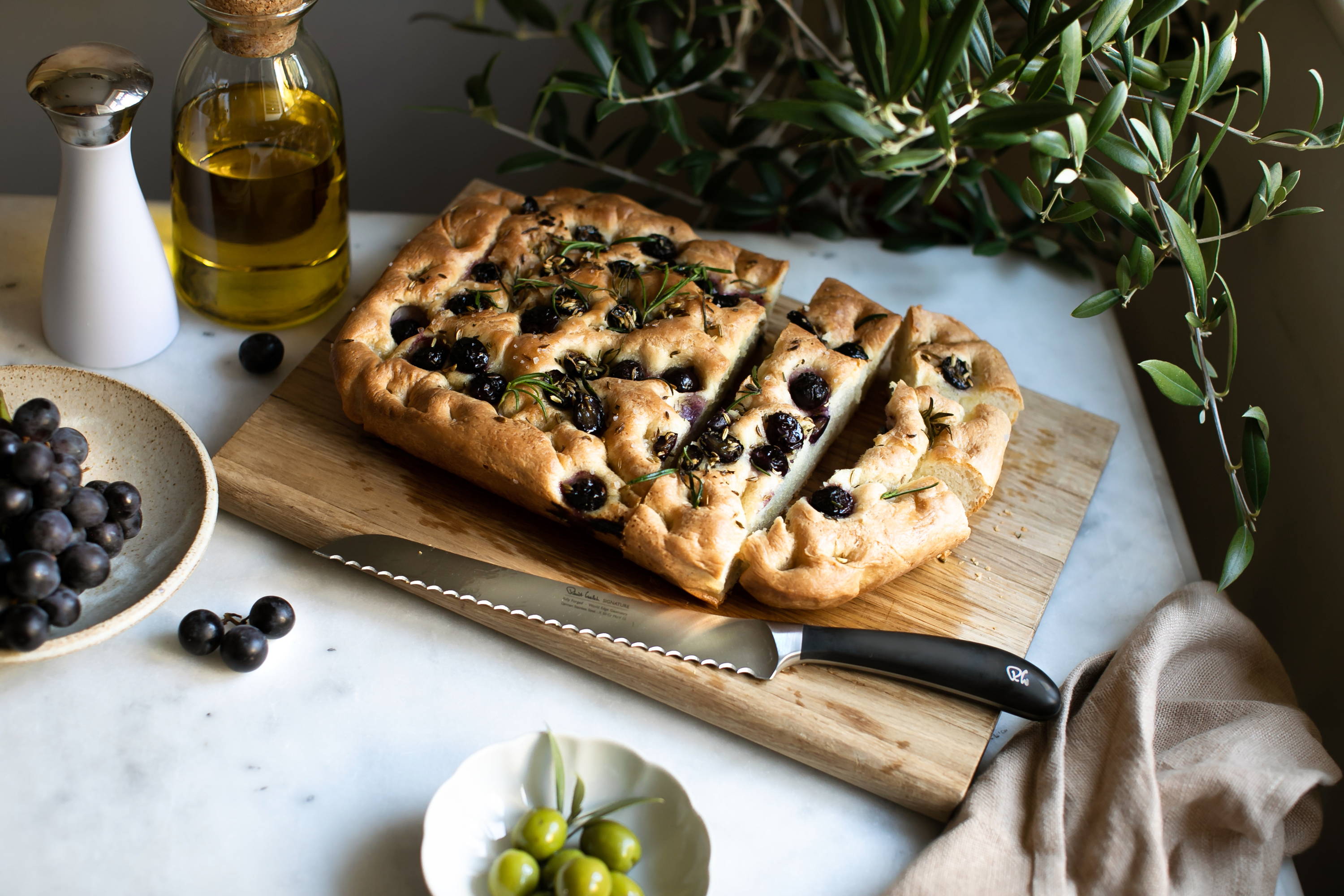 RED GRAPE, ROSEMARY & FENNEL SEED FOCACCIA
Perfect for a picnic or as a vegan accompaniment to any al fresco meal, this impressive focaccia will become a family favourite. It is a great recipe to make with kids and is ideal for easy summer entertaining, either as a side or sliced through the centre to make a tasty sandwich.
Use our large, cast iron pestle & mortar to crush the fennel seeds and our best-selling bread knife will ensure you slice the finished loaf with finesse.
SERVES:
Makes 1 focaccia loaf
COOKING TIME:
Prep time: 20 minutes + resting time
Bake time: 30 - 40 minutes
- 500g strong white bread flour  
- 1 sachet of fast action yeast (7g) 
- 1 tsp sea salt + extra for sprinkling
- 50ml olive oil + extra for drizzling and serving
- 325ml lukewarm water
- 1 tbsp fennel seeds
- A small bunch of Rosemary
- Red or black seedless grapes, approximately 15-20, left whole or chopped in half 
Also needed - a roasting pan or deep baking tray approximately 30 x 20cm.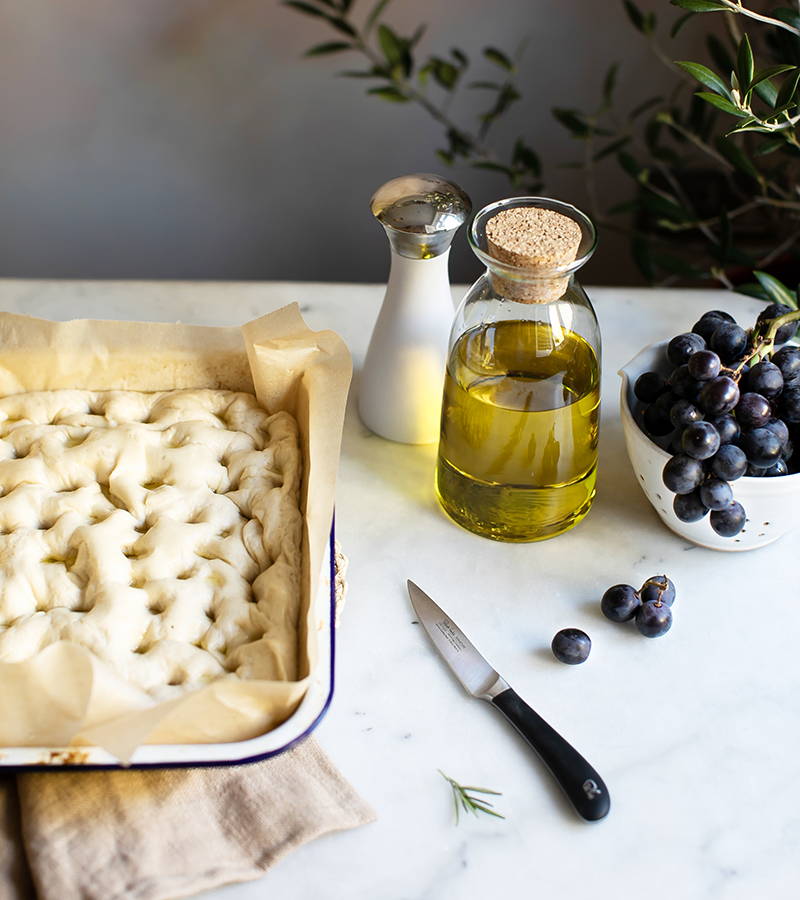 1 - Preheat the oven to 220ºC / 200ºC fan (425ºF / 390ºF fan).
2 - In a large bowl add the flour and make a well in the centre. Place the yeast to one side of the well and 1 teaspoon salt on the other side. Pour the water and 50ml of oil into the centre and mix all together using your hands or a food mixer with a dough hook. 
3 - Knead together for approximately 10 minutes until a soft, springy and a smooth dough is formed. Lightly oil the inside of a large bowl and add the ball of dough. Drizzle a little oil on top and rub over so a thin layer of oil covers the top of the dough. Cover with a clean tea towel and place somewhere warm and draft free. Leave to rest for approximately 1 hour.  
4 - After resting for an hour the dough should have risen to double the size. Lightly oil a tray or roasting pan and line with baking parchment, carefully tip the risen dough into the pan and gently smooth out to the corners, avoid pressing too firmly.
5 - Cover with the clean tea towel and leave to rest in a warm place for 45 minutes.
6 - After the dough has rested, drizzle with olive oil. Using clean fingertips, poke the top of the dough to create a dimpled texture. Allow to rest again, covered, for 30 minutes.
7 - Meanwhile, mix the grapes with a tablespoon of olive oil in a small bowl. Remove the leaves from 4-5 sprigs of rosemary, discard the tough stalks and very finely chop the leaves. Crush the fennel seeds lightly with the back of a spoon or in a pestle and mortar. Add both the rosemary and fennel seeds to the bowl of oiled grapes and stir to combine.
8 - When the dough has rested for half an hour, spoon the grape mixture over the top, push small rosemary sprig tops into the dough and sprinkle with a pinch of coarse sea salt. 
9 - Place in the preheated oven and bake for 30 - 40 minutes. The focaccia is baked when the top is a golden brown crust and the base will sound hollow when tapped.
10 - Allow to cool in the tin for 5 minutes before placing bread on a cooling rack. Brush the top with a little more oil while still warm and scatter over some fresh rosemary.