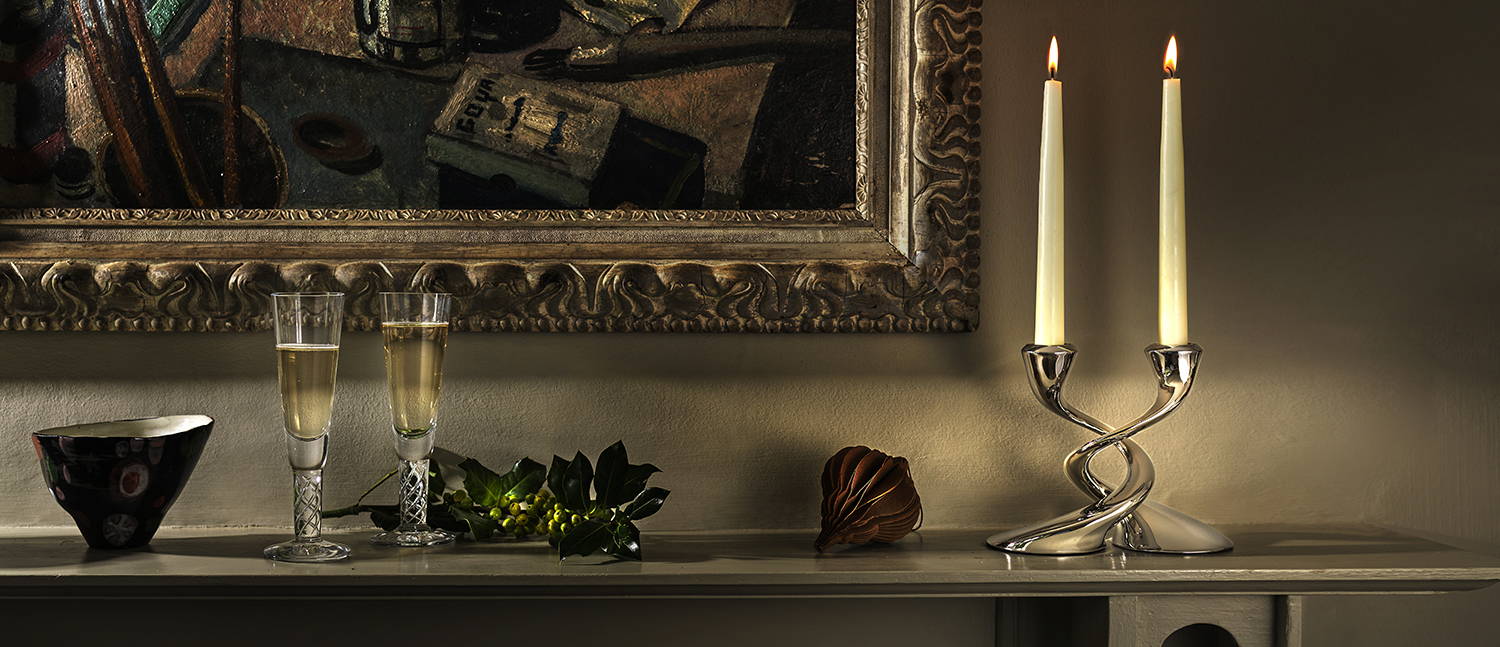 LIGHTING THE HOME FOR 70 YEARS
Why candlelight is so special to us.
There's nothing quite like candlelight, especially at this time of year. Is it any wonder that for centuries, during the darker months, humans have been creating their own cheered sense of comfort indoors whilst the environment outside becomes less than hospitable?
It reminds us that daylight will return in time but, for now, we can rest and enjoy simple indoor pleasures. Nourishing food, good company and a cosy blanket – the similarity with the Scandinavian notion of Hygge is not coincidental.
The butcher, the baker, the candlestick maker…
Candlelight is very special to Robert Welch Designs. We have been designing, making and selling candlesticks from Chipping Campden for nearly 70 years, over 50 years from our Studio Shop on the town's High Street alongside the other more customary trades.
During the 1950s many were handmade in silver, but designs in stainless steel and cast iron were soon added, creating an eclectic collection of candleholders, tealight holders, candlesticks and candelabra to light the home.
Most of Robert Welch's early silver candlestick designs are not part of our archive collection. Individually commissioned and made to order, often the only remaining record is a glass plate negative or photograph. These were taken by Robert to record each unique design that left the workshop. His silversmithing, however, inspired his product design work and it has sometimes been possible to see connections between the one-off silver pieces and mass-produced designs that he would have been working on at the same time. Perhaps the most surprising success of this cross-pollination were the cast iron designs of the 1960s, now known as Hobart, the full story of which can be read here - Hobart at Sixty: A Design Cast in Iron. However, Cast Iron wasn't the only success to be inspired by work in silver.
"It has long been my conviction that each area can enrich the other to a very important degree. Silver design is 'carte blanche', anything can be made. (…) On the other hand, industrial products may be designed to embody warmth of feeling and tactility which transcends the impersonalised methods of production; and the silver workshop can become the laboratory of design and research for industrial forms."
Robert Welch
The Cotswold town we still call home.
In his final year studying silversmithing at the Royal College of Art, and influenced by visits to Scandinavia, Robert Welch had already begun designing cutlery and tableware for production in stainless steel.
He was actively encouraged by tutors to explore the possibilities of this material. He hand-made his final pieces in gilding metal but sent them away to be satin chrome plated to give the appearance of stainless steel with a brushed finish. Their originality attracted the interest of West Midlands-based J & J Wiggin, manufacturers of Old Hall Tableware, who appointed him as their consultant designer. He needed to be able to visit their Old Hall works near Birmingham once a week, so he began scouring the Midlands for a potential base.
He looked around a closed cinema, an empty workshop in Birmingham's Jewellery Quarter and a disused fire station. In 1955, however, Robert Welch, then aged 26, rented the top floor of the 18th century silk mill at Chipping Campden for 10 shillings a week. Formerly a silk spinning mill, this remnant of the industrial revolution had housed the workshops of C. R. Ashbee's (1863-1942) Guild of Handicraft in the early 20th century, part of the Arts & Crafts movement - a reaction against the dominance of the machine. Robert Welch was to use this space to reunite craft and industry.
"I believe that it is possible to blend the best of these two worlds, the old and the new, the unique and the multiple, hand and machine, to the mutual advantage of each other."
Robert Welch
This belief is illustrated by the following two pieces which were both made in the late 1950s, at which time both silver and stainless steel were dual sides of the same coin for Robert Welch. He later referred to these years as his 'two-pronged life'.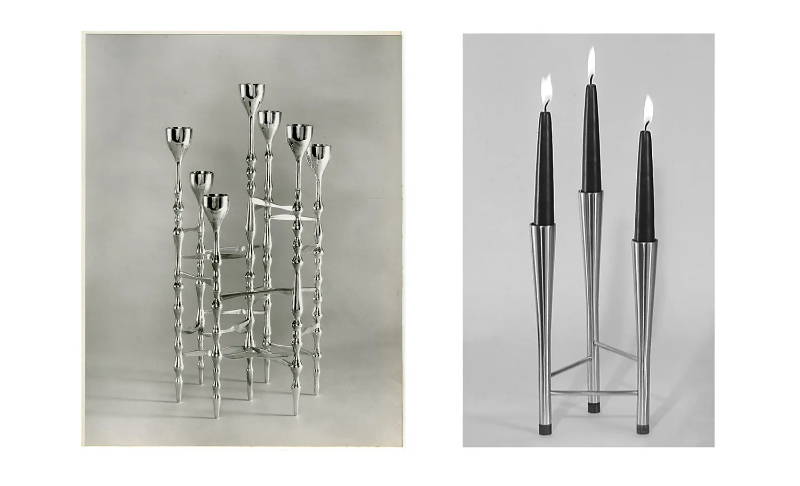 The similarities only came became apparent when researching the 2015 book, Robert Welch: Design, Craft and Industry. The Smithsonian seven-branch candelabra on the left happened to be a few pages away from the Campden triple candle holder in the layout, as the book is chronological. It was suddenly clear that Campden, a restrained, tubular design, must have been inspired by this undulous, free-form creation.
The silver candelabra was Robert Welch's first to have been made without sketches, although a model was made by turning doweling rods on a lathe, and was said to have been inspired by an exhibition of Jackson Pollock paintings that he had recently visited in London. The catalogue for the exhibition remains in the archive.
The Smithsonian candelabra was created to tour Britain and America as part of the British Artist Craftsmen exhibition of 1959.
The Campden triple candle holder was part of Robert Welch's first original range of stainless steel tableware for Old Hall Tableware, named after the town where his studio/workshop was based, a place we still call home to this day.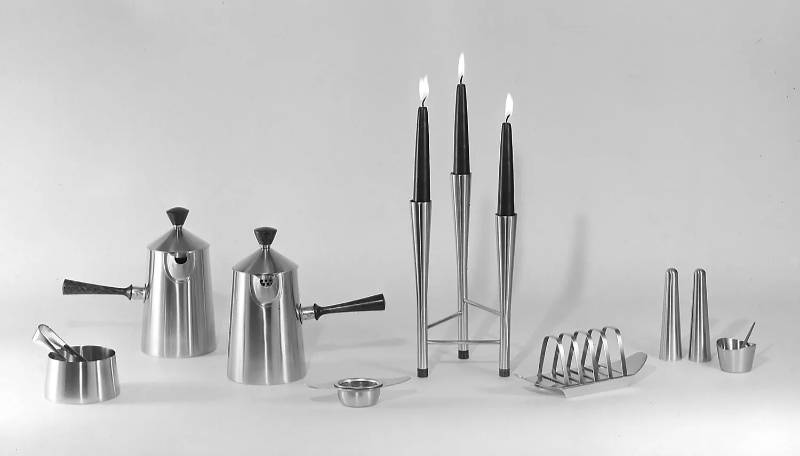 Candlelight in recent centuries has been used more for ceremonial, religious or spiritual reasons, rather than practical ones. The rarity of use makes candlesticks, whether institutional or domestic, all the more special. Candlelight evokes the warmth and safety of home and our candleholders have found their way into many homes over the last seventy years.