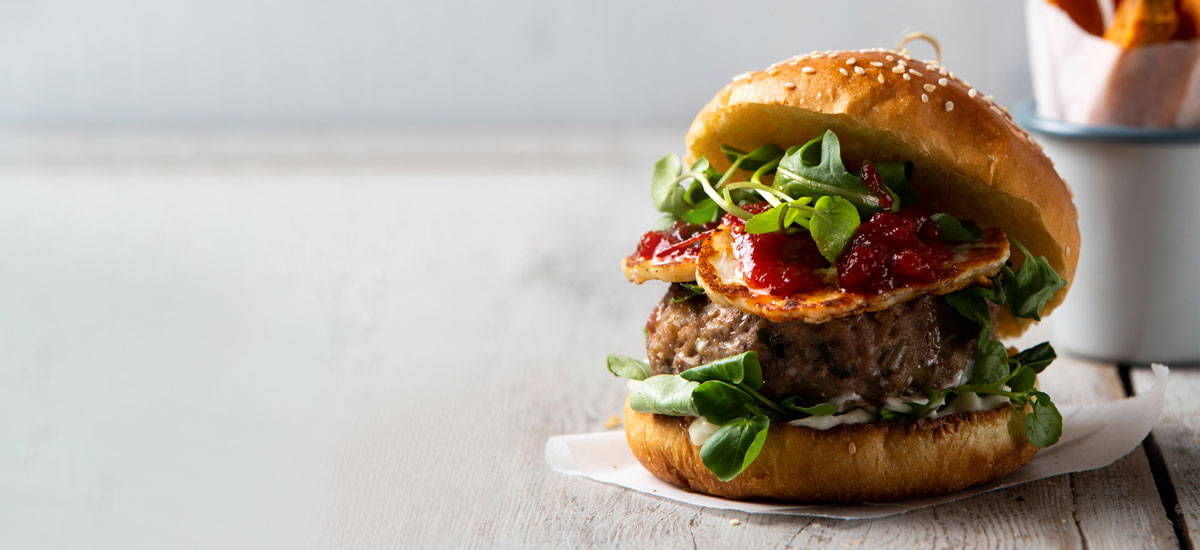 LAMB BURGERS WITH SWEET POTATO FRIES
Take a break from beef, with these tasty lamb burgers. Quick and easy to make, the burgers can be made in advance and are perfect for barbecuing.
Couple with sweet potato fries and a side salad for a crowd pleasing dinner.  
---
COOKING TIME:
15 minutes prep + 30 minutes chilling time
Cook time - 25 minutes
---
For the lamb burgers:
- 500g of organic lamb mince
- 1 small handful of fresh mint, finely chopped
- 1 tbsp of Dijon mustard
- 1 egg
- 1 garlic clove, crushed
- 1 small shallot, finely chopped
- Handful of breadcrumbs
- Sea salt & pepper to taste
- 1 of tbsp olive oil
To serve and garnish:
- 4 seeded brioche buns, halved and toasted
- Mayonnaise
- Rocket, watercress and spinach leaves
- 2 slices of halloumi per burger, grilled
- 1 - 2 pickles, thinly sliced
- Tomato relish
For the sweet potato fries:
- 2 large sweet potatoes
- 2 tbsp of olive oil
- 1 tsp of cinnamon
- 1½ tsp of smoked paprika
- Sea salt to taste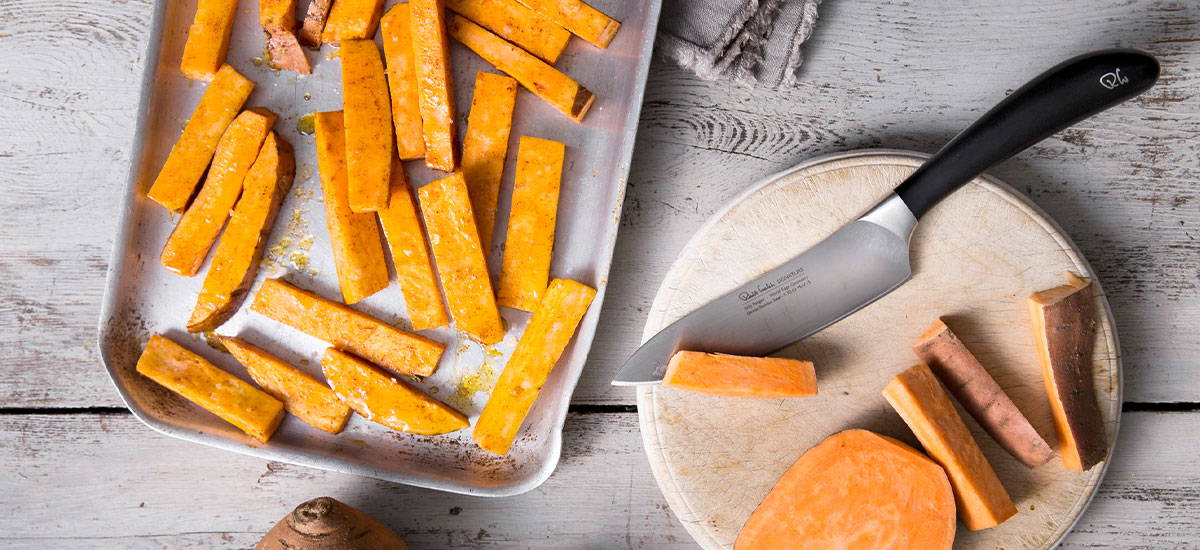 1 - Line a baking tray with parchment.
2 - In a large bowl add all the ingredients except the olive oil. Mix to combine and break down the mince.
3 - Once thoroughly combined, separate into four equal parts and roll each into a ball, place on the baking tray and flatten to shape into a burger pattie. These will make large, thick burgers. Chill for 30 mins.
4 - Heat the oil in the Robert Welch Campden Cookware Saute Pan, then add the patties, depending on the thickness and how well done you'd like them cook for 3-4 minutes each side for medium or 4-5 minutes for well done. Check before removing from the pan with a skewer to see if they need more time.
5 - Toast the buns, add a layer of mayonnaise and some greenery. Add the burger pattie, followed by the halloumi, 3-4 slices of pickle, a teaspoon of relish, more greenery and the seeded bun top. Hold together with a burger skewer. Serve immediately with the sweet potato fries.
For the sweet potato fries:
1 - Pre heat the oven to 200°C FAN 180°C Gas mark 6
7 - Scrub and cut the potatoes into thick chips with the Robert Welch 14cm Cooks Knife. Place in a bowl and add the olive oil, cinnamon and paprika, toss until evenly coated and then tip out onto a large baking tray, spread them out so they cook evenly.
8 - Place in the oven for 25 mins, turn halfway through. Serve immediately with the burgers.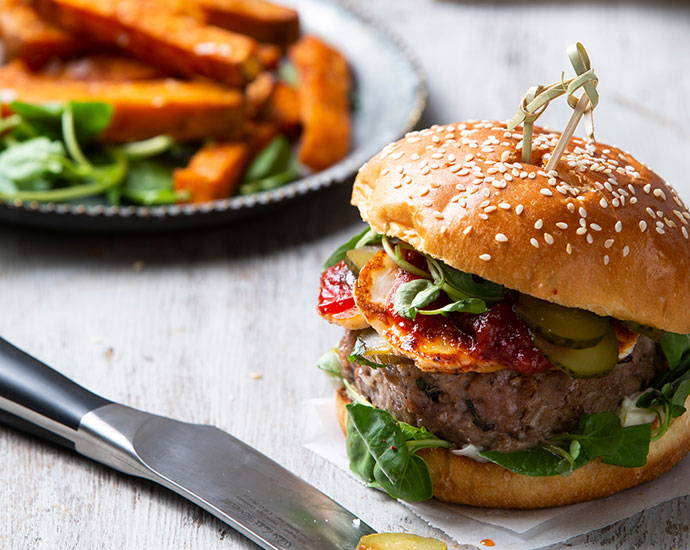 ---