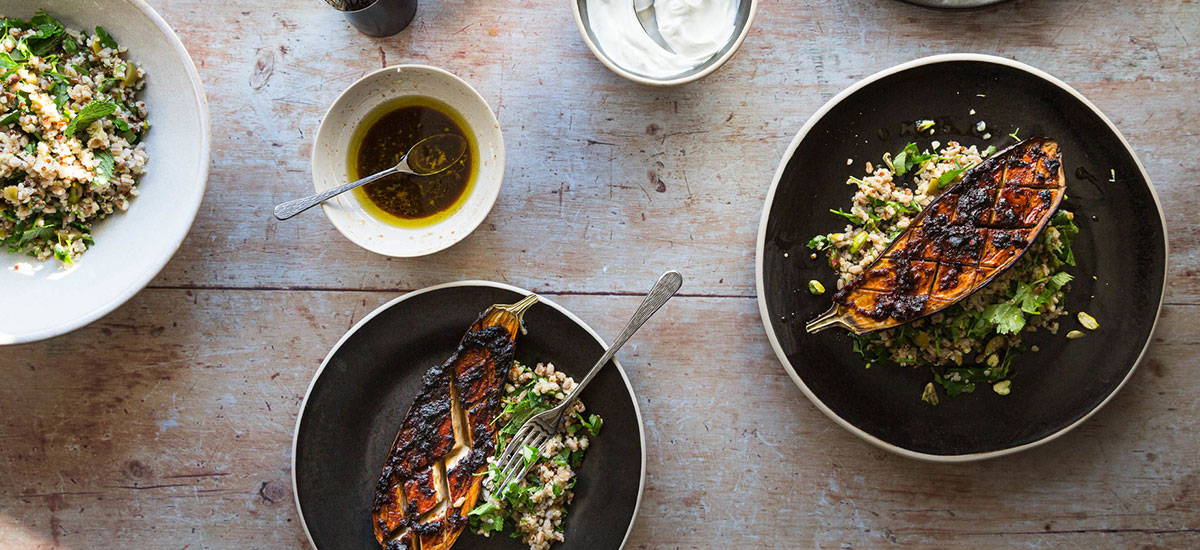 HARISSA ROAST AUBERGINE WITH HERB & GRAIN SALAD
No-hassle cooking is the prerequisite to every midweek supper, this recipe from Cygnet Kitchen is both simple but packed full of flavour!
For the herb & grain salad:
- 100g farro
- 120g bulgar wheat & quinoa mixed grains
- small bunch flat leaf parsley, finely chopped
- small bunch coriander, finely chopped
- small handful mint leaves, chopped
- 50g shelled pistachios, chopped
- 10 pitted green olives, chopped
- 4 tablespoons extra virgin olive oil
- 1 tablespoon red wine vinegar
- 1 & 1/2 tablespoons pomegranate molasses
- 1 garlic clove, peeled and crushed
- juice of 1/2 lemon
For the harissa roast aubergines:
- 2 aubergines
- 1 tablespoon rose harissa
- 2 cloves garlic, peeled and crushed
- 2 tablespoons pomegranate molasses
- finely grated rind of 2 lemons
- drizzle of olive oil
To serve:
- Greek yogurt (optional)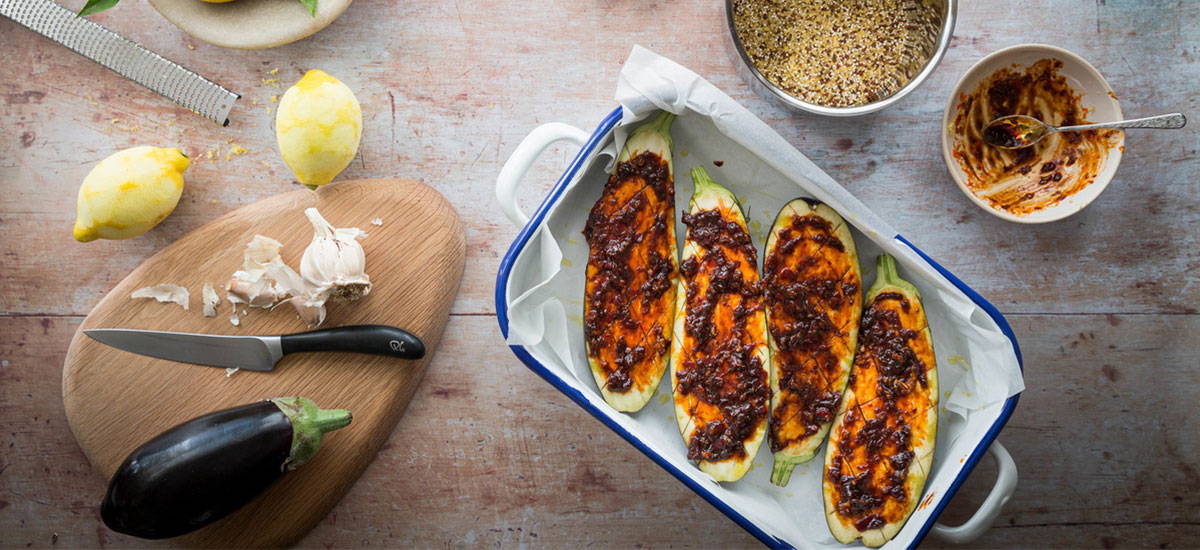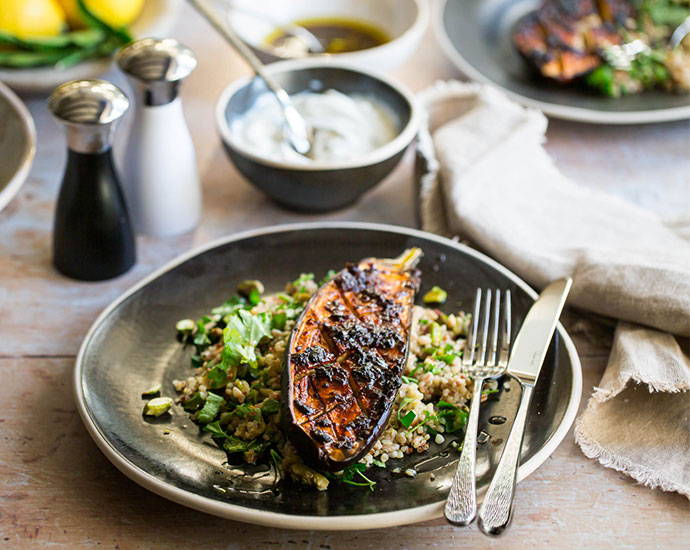 1 -Pre-heat the oven to 180C/160C fan/ Gas 4
2 - Line an oven tray with baking paper. Cut the two aubergines in half and make diagonal cuts in the flesh with a sharp knife, taking care not to cut through the skin. Place on tray flesh side up.
3 - Mix together the harissa, garlic, pomegranate molasses and lemon rind. Spoon on top of the aubergine flesh and drizzle with olive oil.
4 - Place the tray in the oven and bake for 1 hour, or until soft.
5 - Meanwhile, make the salad. Cook the faro and bulgar wheat mix according to packet instructions. Drain and set aside in a bowl to cool.
6 - When the grains have cooled and you are ready to serve, add the herbs, pistachios and olives to the bowl.
7 - In another small bowl add the olive oil, red wine vinegar, pomegranate molasses, garlic clove and lemon juice and mix together to make the dressing.
8- Just before serving, add the dressing to the salad and stir thoroughly. Serve with the roast aubergine and a dollop of yogurt if using.
---
Note: This Salad is vegan if you serve without the yoghurt.
---