Sometimes it's just not worth messing with a perfectly good recipe...
---
SERVES:
makes six 8-inch (20cm) diameter
pancakes approx
---
- 30g salted butter (keep the rest of the block to grease the pan)
- 150g plain flour (sifted)
- 320ml skimmed milk
- 1 large egg (room temperature)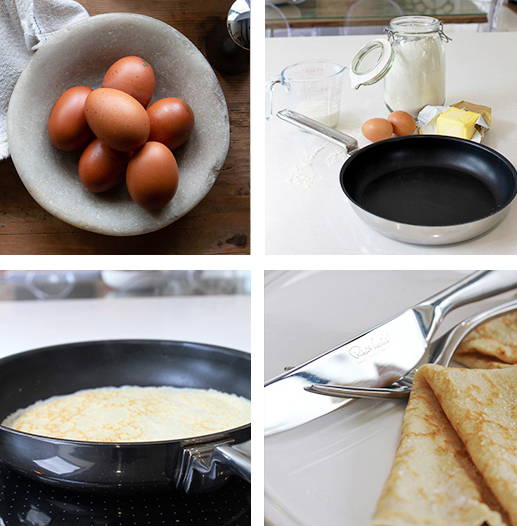 1 - Melt the 30g butter and leave aside.
2 - Sift the flour in a bowl and then mix in the milk and egg (ideally in a blender to get good aeration). Pour batter into a jug and stir in the melted butter.
3 - Place your 8-inch pancake pan or 24cm frying pan on medium heat until warmed.
4 - Use the block of butter to grease the surface of the non-stick pan until the entire surface is covered and slightly bubbling. Then wipe out with a paper towel.
5 - Repeat this again and when the butter is bubbling pour 2–3 tablespoons of batter into the pan then quickly swirl the batter so that it forms a quick, thin pancake covering the base of the pan. After a minute, flip the pancake, or use the non-stick server/turner, and cook for another 30 seconds up to a minute on the new side.
6 - Repeat steps 4 & 5 until you have used up your batter.
7 - Perfect pancakes should be lightly browned and slightly crispy at the edges (adjust the temperature and amount of butter to avoid burning).
8 - Sprinkle or spread with your favourite fillings and flavours and enjoy!
---