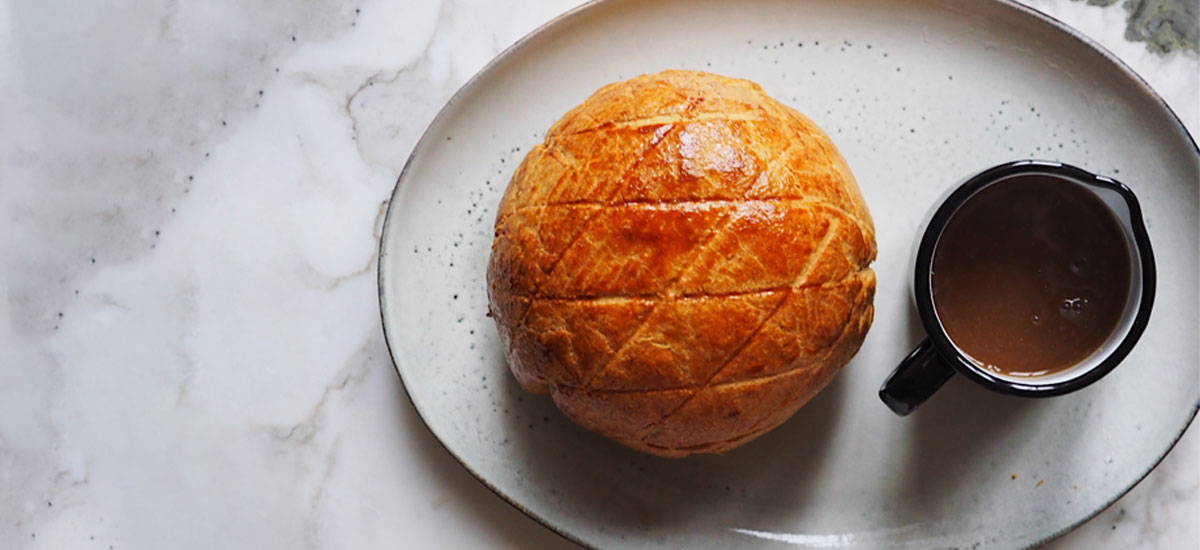 This vegetarian recipe is the perfect addition to a Christmas feast and comes from cook and food writer, Anna Barnett.  
---
COOKING TIME:
Preparation - 30 minutes
Cooking time - 1.5 hours
---
- 1 celeriac – peeled and shaped into a even round
- 4 tbsp cranberry sauce/chutney
- 200g spinach – wilted and drained
Mushroom filling:
- 350g chestnut mushrooms – cleaned and roughly chopped
- generous glug of oil
- generous knob of butter
- sprinkle of sea salt flakes
- several turns of freshly ground black pepper
- 3 sprigs of thyme – leaves removed from stalk
- 2 sprigs of sages – leaves finely chopped
Shortcrust pastry
- 250g plain flour
- 120g unsalted butter – cubed
- 1tbsp Dijon mustard
- 2 egg yolks
- sprinkle of sea salt flakes
- several turns of freshly ground black pepper
- 1 egg – whisked
---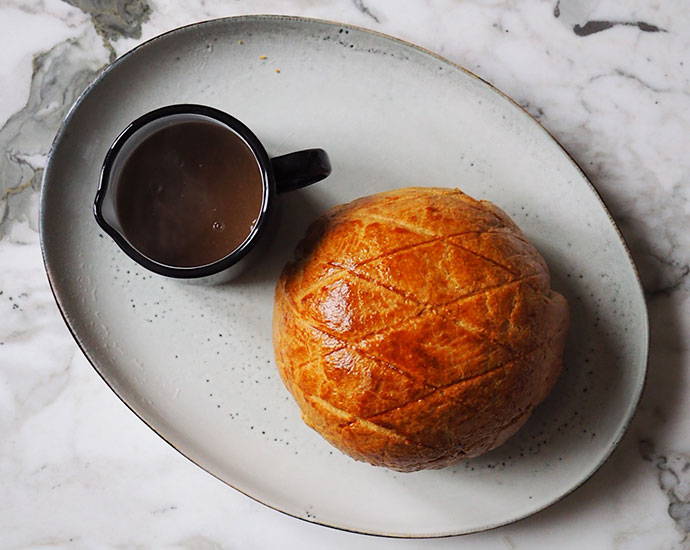 1 - Preheat your oven to 190 degrees Celsius.
2 - Begin by making your pastry. Using a stand mixer use the k beater to combine the flour, seasoning and butter. Mix until it begins to come together in a rough crumb then add in the Dijon and egg yolks. You want to be mindful to not over-beat. The larger the lumps of butter the flakier the pastry will be. If you need a little extra moisture add in a tablespoon at a time of ice cold water. Once the pastry has almost come together, use your hands to push it together into a ball, wrap in parchment and chill in the fridge for half an hour.
3 - Clean, peel and prepare the celeriac. I used the peeler to even out the shape (this is purely for aesthetics). Place in a steamer and steam for 30-40 minutes or until a knife or skewer easily pierces the whole way through. Allow to cool and dry off.
4 - Next thoroughly wash the spinach and place in a frying pan allowing to wilt. Remove from the heat and once cooled drain off any excess moisture using a sieve, muslin cloth or even a clean tea towel. You want the spinach to be as dry as possible.
5 - Roughly chop the mushrooms. Place in a large frying pan over a high heat, add a knob of butter and good glug of oil plus seasoning and once hot add in the mushrooms and cook for a 8-10 minutes until soft. Add in your herbs and taste for seasoning, adjusting accordingly.
6 - Allow to cool a little then blitz to a rough paste.
7 - Once your celeriac is cooked, roll out your pastry, checking that it's wide enough to fully cover the celeriac. Roll out a little more if need be.
8 - Take the celeriac and add a layer of cranberry sauce or chutney and the mustard. Next add on the mushroom pate applying an even layer all round. Next cover with the spinach again evenly layering. Finally add on the pastry covering it as evenly as possible. It will overlap around the sides but you can smooth this out or even cut away some of the excess pastry. Place it with the smooth side up on a layer of parchment paper on a tray, carve in whatever designs you might like to add then with a pastry brush add a layer of egg wash over the pastry.
9 - Bake for 30-35 minutes or until the pastry is golden and cooked through. Slice and serve.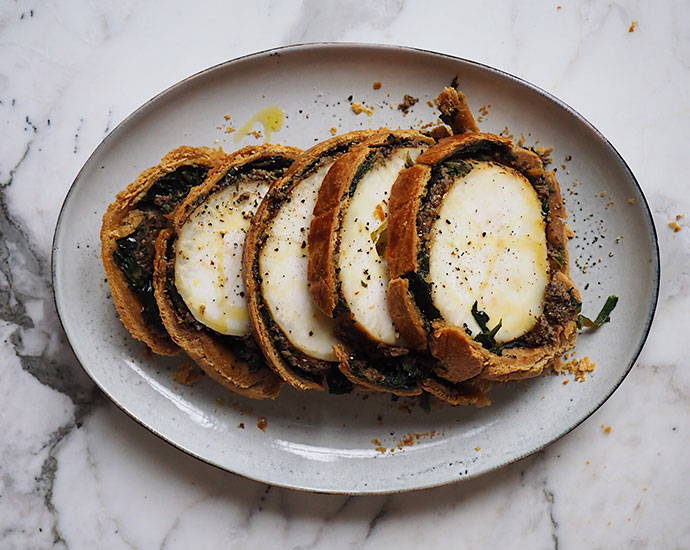 ---