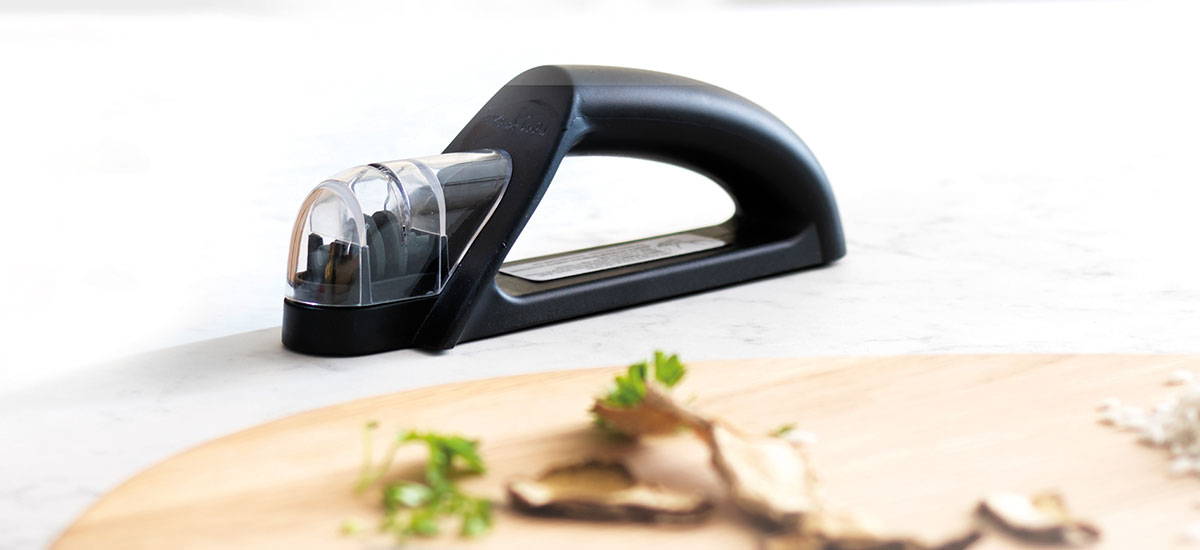 BANISH BLUNT KITCHEN KNIVES WITH THE SIGNATURE HAND-HELD KNIFE SHARPENER

A sharp set of kitchen knives not only makes cooking enjoyable but also keeps you safe.
With daily use taking its toll on delicate blade edges, even the toughest of kitchen knife blade edges will become dulled over time.
---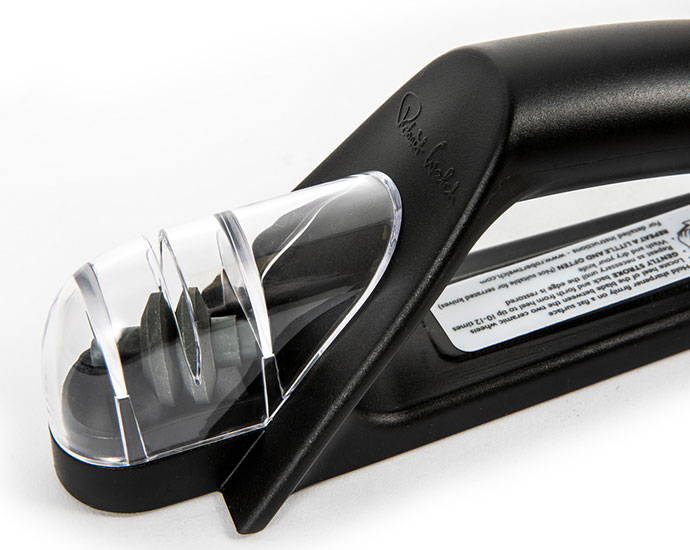 Traditional sharpening methods, including steels and whetstones, can do more damage than good if performed without the necessary skills. Whilst professional knife sharpening services often provide results initially, this type of sharpening can take its toll on the cutting edge over time. Sending your knives off to be sharpened is an incredible inconvenience and can be very costly when sharpening a full set every 12-18 months.
The Robert Welch Signature hand-held knife sharpener is the perfect solution for dull and blunt knives. Unlike other sharpening methods that strip away metal from the blade edge, the ceramic sharpening wheel has been designed to quickly and easily hone blade edges back to a 15° angle with just a few gentle strokes, for superior sharpness and performance.
HONING VS SHARPENING
Often confused for sharpening, honing your blade is one of the main aspects of good knife care and should be completed before your knives become too blunt. When sharpening a knife you are essentially stripping away metal, and this can be quite destructive to the cutting edge over time. Honing is the gentle straightening out of an already-sharp blade edge. We recommend honing your knives on a little and often basis, with eight to 10 strokes through the Signature hand-held knife sharpener as often as your knives require, home chefs usually tell us this is every three to four weeks.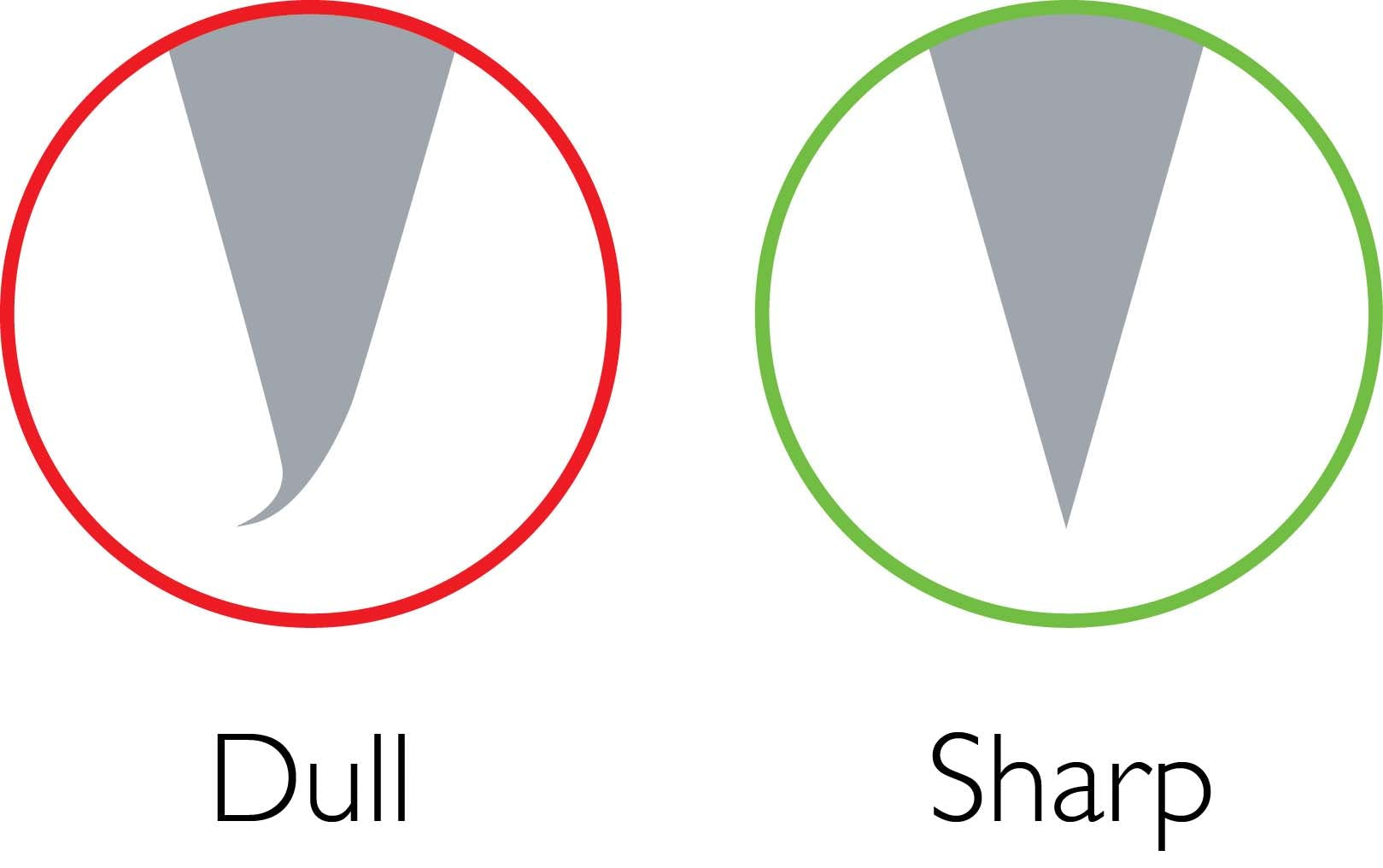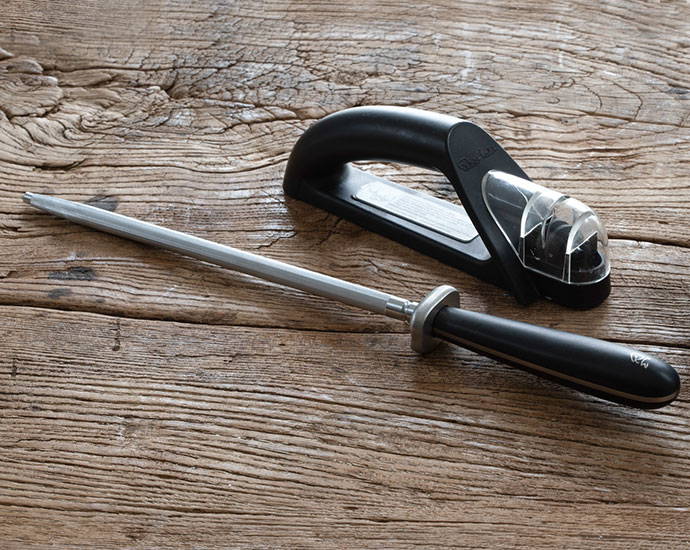 ---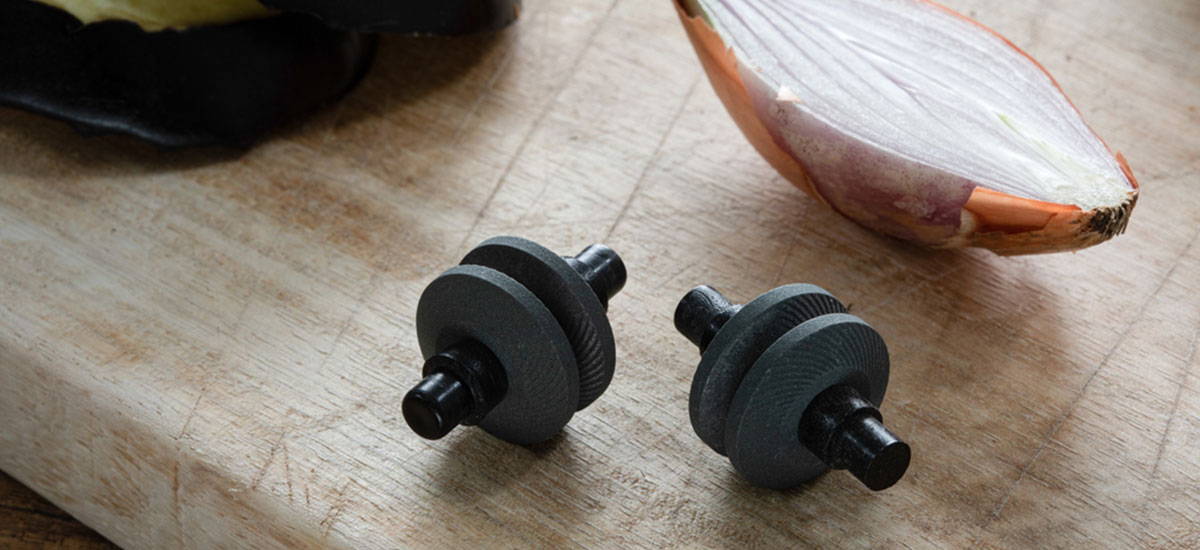 Originally released in 2007, the Signature hand-held knife sharpener is part of the million selling Signature kitchen knife range and is trusted by professional chefs and home cooks around the globe. The ceramic wheel was updated in 2016 and is now manufactured with an advanced ceramic from the Kyocera company in Japan. This material is tough enough to ensure up-to two years worth of honing from one wheel with regular use.
SUITABLE FOR ALL STAINLESS STEEL KITCHEN KNIVES
Whilst the Signature hand-held knife sharpener was specifically designed to sharpen the 15° angle of the Signature knife range, it will hone any plain edged stainless steel knife back from dull to a superior sharpness.


AWARD-WINNING DESIGN
The same technology is also built into the multi-award winning Signature knife block – an all-in-one solution for storing and sharpening your kitchen knives.


INDEPENDENTLY TESTED
The Signature knife range has been independently tested by CATRA in Sheffield to ISO standards and has been rated within the top 1% of branded kitchen knives.
Throughout 2016 our in-house design team had a new advanced wheel continuously sharpening a Signature knife, with impressive results. Design director, Paul deBretton Gordon said "The new advanced ceramic wheel has performed beyond our expectations. It's gentle enough for the DIN 1.4116 German stainless steel found in our Signature kitchen knives but tough enough to ensure up-to 24 months of regular use before needing to be replaced."
---