THE STORY OF LIMBREY: A HISTORY OF HEAL'S SILVER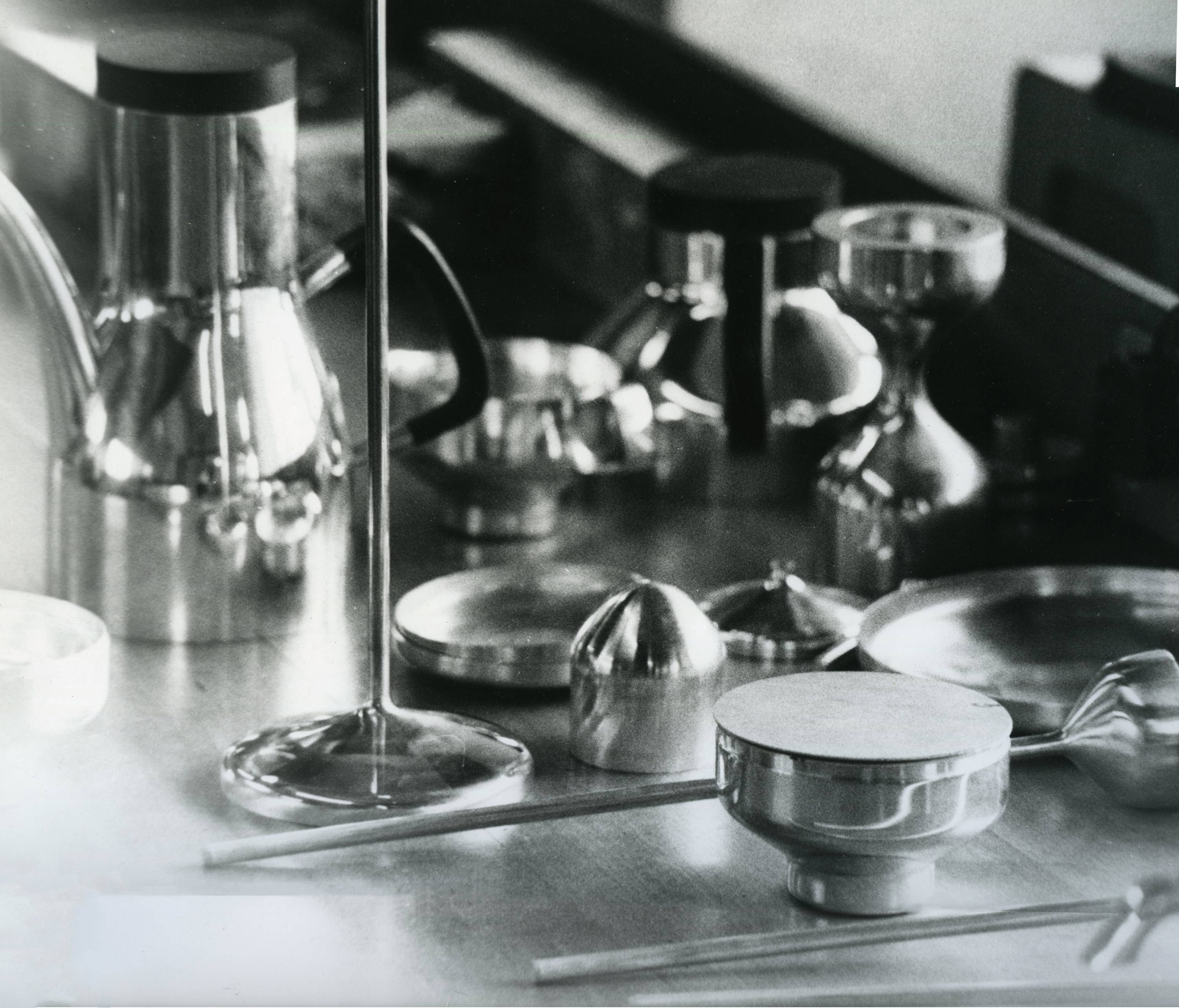 In 1963 Robert Welch was commissioned to design a range of domestic table silver for the London-based design retailer Heal's, who were introducing British shoppers to mid-century Modern and Scandinavian design during the 1960s. Robert's silver designs were displayed in their 'Present Choice Department'; pieces could be ordered by a London clientele and were made to order in his Chipping Campden workshop.
The Heal's silver was the first silverware which Robert Welch designed for a commercial market. Previously he had only produced unique individual commisions in silver. For Robert the Heal's collection was of great importance, it made silver a viable concern, established the style of the workshop and led onto the opening of his Studio Shop in Chipping Campden.
Robert Welch and John Limbrey first met as students of Silversmithing at Birmingham College of Art. After National Service, Robert enrolled at the Royal College of Art and John found employment in the London workshop of R. E. Stone in the attic of 20 Garrick Street, Covent Garden. He joined a small team of some of the most skilled silversmiths in Britain, but poor career prospects for silversmiths in the 1950s, bed-sitter life in London and an interest in design led to restlessness.
He visited Chipping Campden and the story goes that, when he knocked on the door of his old friend's studio and said 'what a nice place to work, do you want any help?' he secured himself a job for life.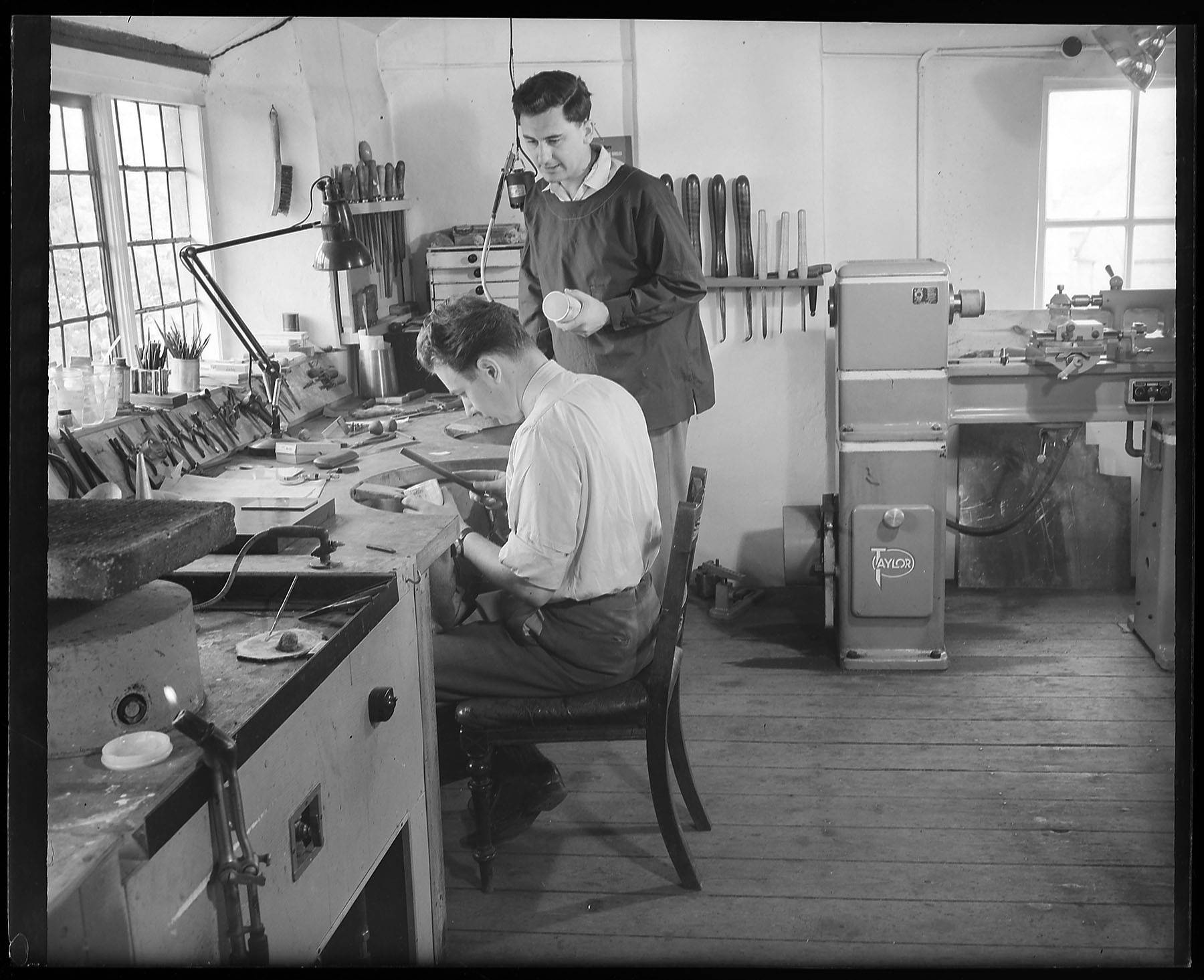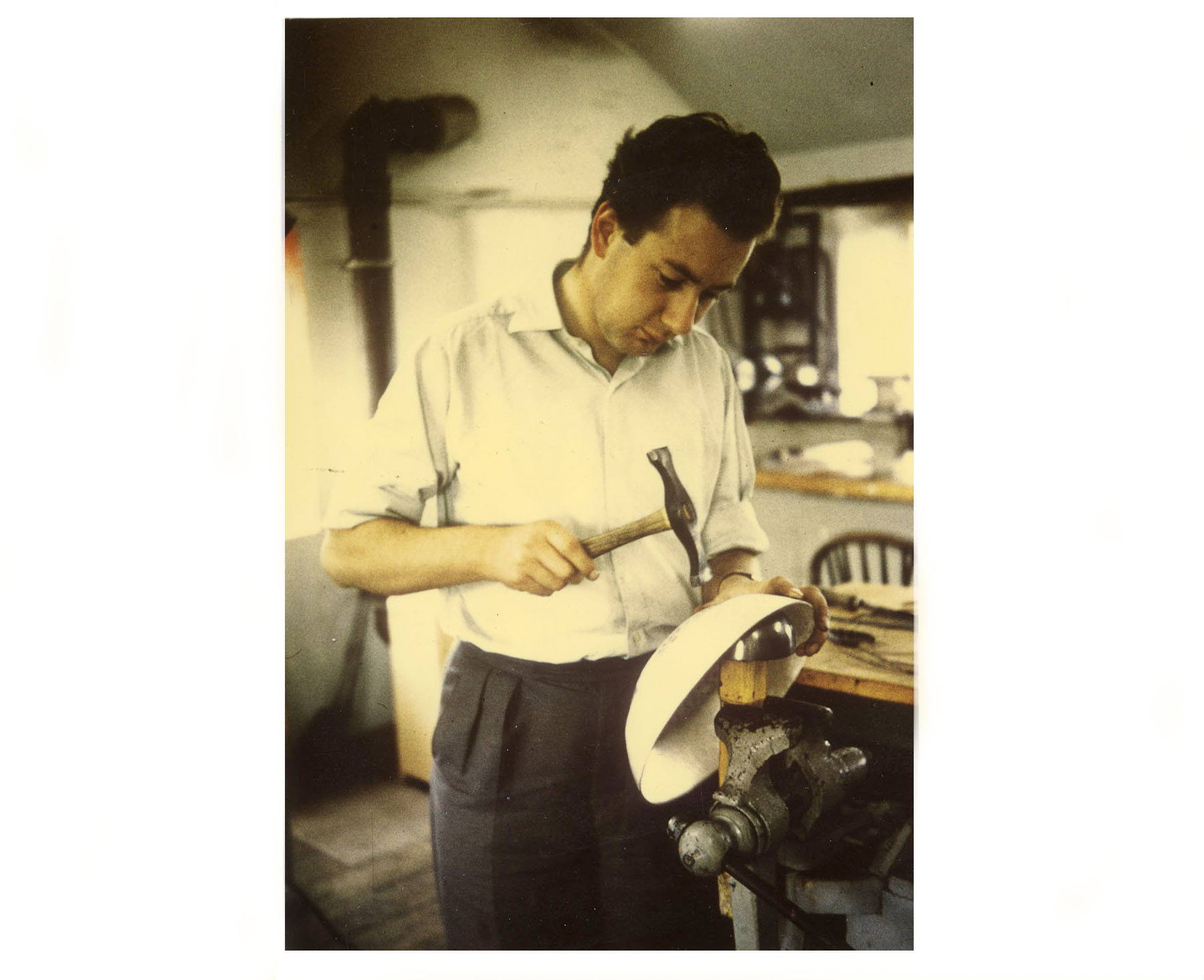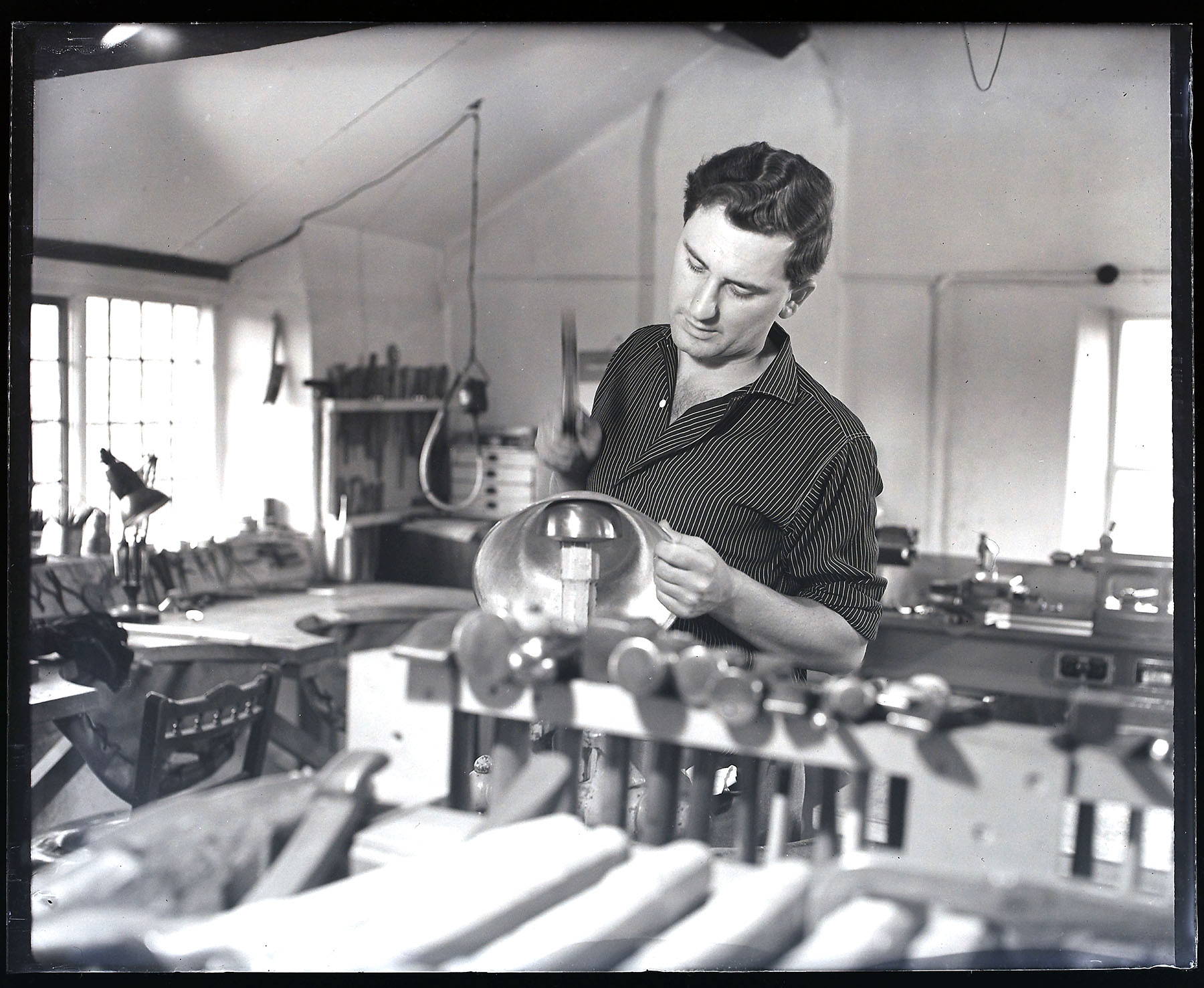 l-r: Robert Welch and John Limbrey (John seated) in the workshop, John (in colour) and Robert (black and white) raising silver bowls
By 1963-4 John Limbrey was Robert Welch's chief silversmith and model maker, a position that wasn't without its challenges. Hand-making silver for sale through a retail outlet meant that Robert and his team had to consider production costs and consistancy, and adapt techniques to meet demand. Whilst this new way of working was a departure, the venture in batch production was very successful. On several occassions items from the collection were selected as Government gifts and chosen for the tables of British embassies.
All the componants of the Heal's silver pieces were formed by spinning which, unlike hand raising, ensures that many regular pieces can be produced in less time. Spinning "is a process of metal forming on a lathe to which is mounted a wooden or metal form of the desired shape. A flat circle of silver is burnished over the form by using long-handled blunt tools. Sometimes this process leaves slight ripples on the surface of the silver and they are removed by gently hammering the surface, a process known as planishing." Crawford, A. (1973). Design in a Cotswold Workshop, p.32.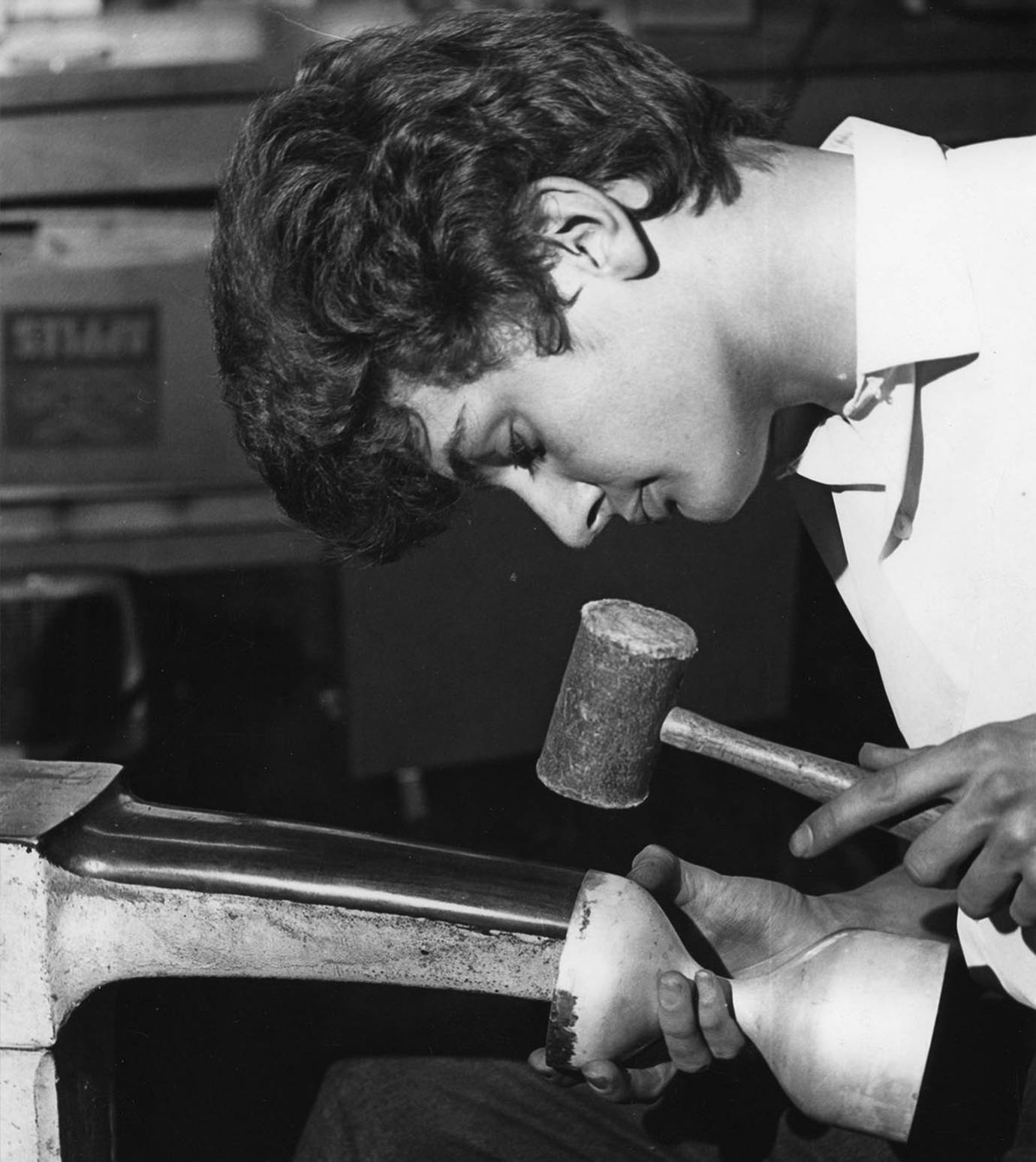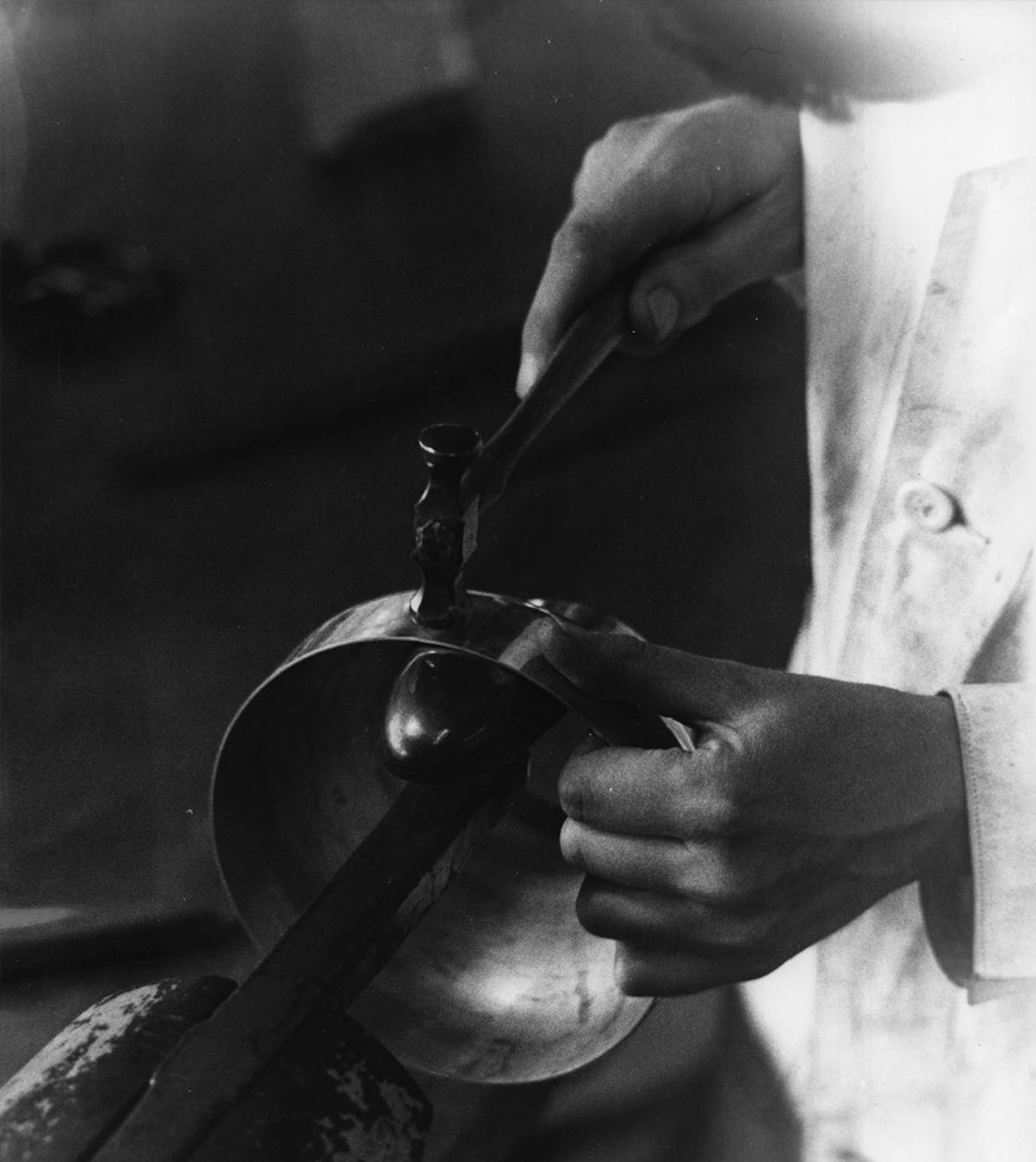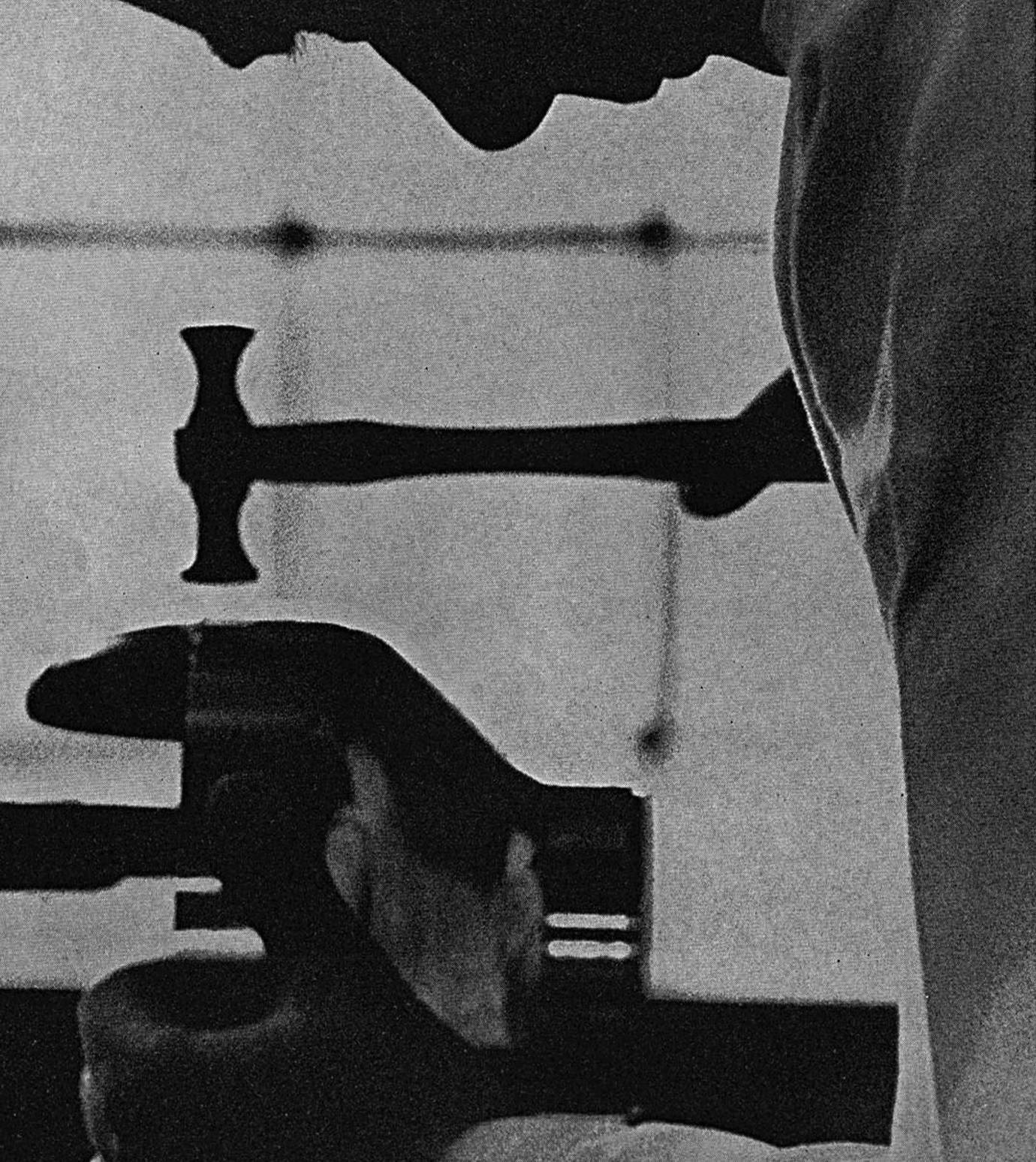 l-r: Silversmith's at work in the Robert Welch workshop at the Old Silk Mill, Chipping Campden, planishing pieces from the Heal's silver range
In 1964 Heal's was the window for the pieces of silver made in the Campden Workshop, by 1969 the Chipping Campden Studio Shop had made this concept into a permanent retail platform.
Robert Welch and John Limbrey went onto successfully design, make and sell silver to the domestic market from this base, something which had all but died out other than in the antiques trade.
John Limbrey not only worked with Robert Welch Designs for 55 years, but in Robert's own words 'he showed an instant understanding and appreciation of the problems involved in the designing of products which are to be mass produced, in addition to commanding a superlative standard of craftsmanship in hand-made silverware (…) he has made all the ecclesiastical silverware since 1958 and the majority of the domestic silver items.'
The Heal's range was unified by the soft undulating curve of silver, rosewood flat-topped lids and handles mounted in silver sockets. Our Limbrey Range is based on the forms and contours of these original designs, but reconsidered to ensure the stainless steel and walnut versions stand up to 21st century living. The best example of this is the magnetic wooden base of the bowl, which can be removed so that the stainless steel bowl can be washed separately.
The aesthetic of the Heal's silver and ethos behind its manufacture are as much of an inspiration to our design team today as they ever were, perhaps more so as, after Robert's death, the designers continued to work alongside John Limbrey for several years.
The Limbrey Range has its roots in his legacy, and takes his name in recognition of his long-standing relationship with Robert Welch and his family, and his significant place in our story.