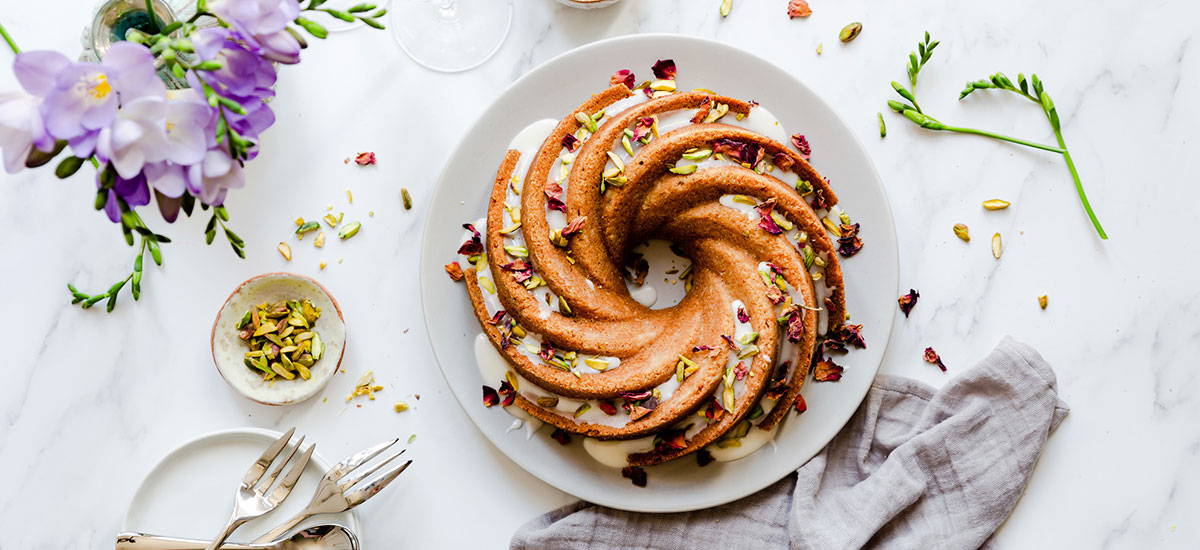 Created for us by Anna Wierzbinska, this enchanting cake adorned with the floral scent of rose water and citrus. A sprinkling of dried rose petals, if available adds to the speciality and will enhance any celebration you have planned!
---
COOKING TIME:
Preparation - 25 minutes
Bake - 35 minutes
---
For the cake:
- 150g plain flour, plus extra for dusting
- 2 tsp baking powder
- 1⁄2 tsp bicarbonate of soda
- 1⁄2 tsp ground cardamom
- 100g ground almonds
- 100g ground pistachios
3 tbsp soured cream or natural yoghurt
- 200g unsalted butter, softened, plus extra melted for greasing
- 200g golden caster sugar
- 3 large eggs, beaten
- 1⁄2 lemon (zest and juice)
- 1⁄2 orange (zest and juice)
- 2 tsp rosewater
For the glaze:
- 150 icing sugar
- 1⁄2 lemon, juice only
- 1 tbsp orange juice
- a few drops rosewater
- 1 tbsp edible dried rose petals (optional)
- 25g chopped pistachios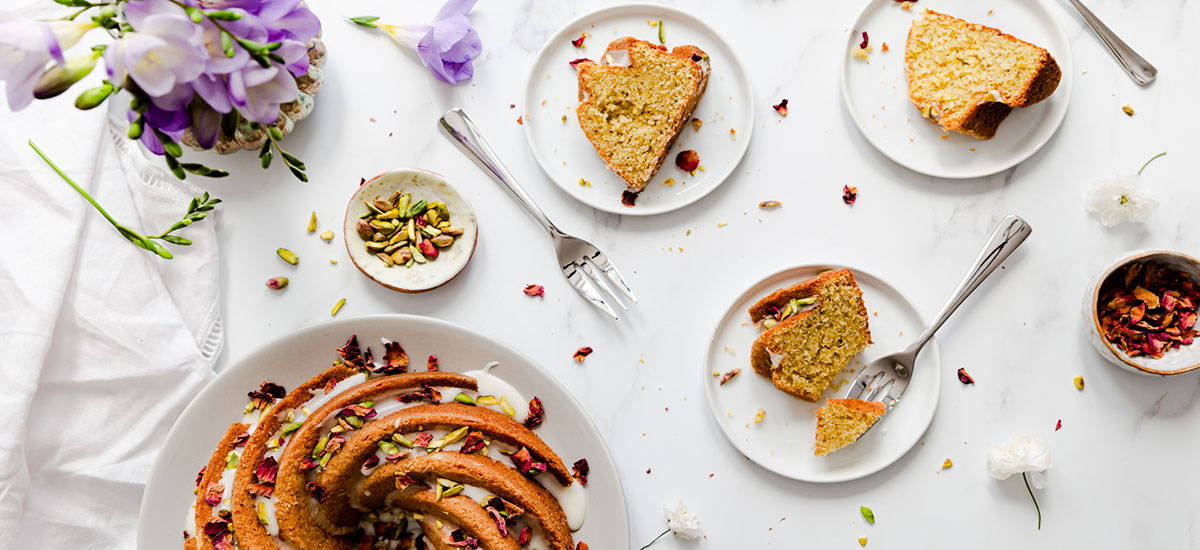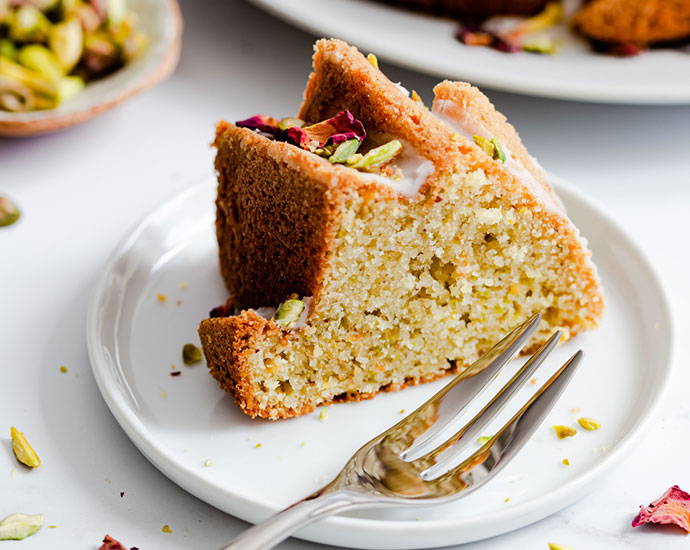 *You will need 23-25cm bundt tin*
1 -Preheat the oven to 170C/160C Fan. Brush the bundt tin with melted butter, being careful to get into every corner, and dust with flour, shaking to coat the tin, then turn it upside-down and tap to remove excess flour.
2 - Sift the flour, baking powder, bicarbonate of soda and cardamom into the bowl. Add the ground almonds and pistachios, mix and set aside.
3 - In a bowl or freestanding mixer, cream together the butter and sugar for about 5 minutes, until pale and light (alternatively use a large mixing bowl and a hand-held electric mixer). Gradually add the eggs, mixing well and scraping down the sides of the bowl with a rubber spatula between each addition. Add the lemon and orange zests, juices and rosewater and mix again. Add sour cream, then tip in the dry ingredients and give it a final stir.
4 - Spoon the batter into prepared tin and spread evenly using spatula or back of the spoon.
5 - Bake for 35–40 minutes, or until the cake is well risen and a skewer inserted into the middle comes out clean. Leave to cool in the tin for 1–2 minutes, then carefully turn out onto a wire rack to cool completely
6 -To make the glaze, mix the icing sugar with enough lemon and orange juice to make a smooth, thick but pourable icing. Add a few drops of rosewater to taste. Carefully spoon the icing over the cake, allowing it to run down the sides. Leave for 3–5 minutes for the icing to set slightly and then scatter with rose petals and pistachios.
7 -Leave to set completely before serving.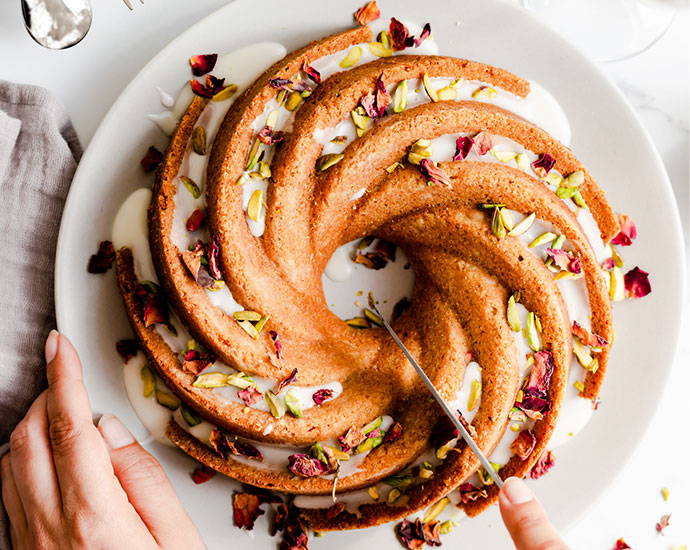 ---