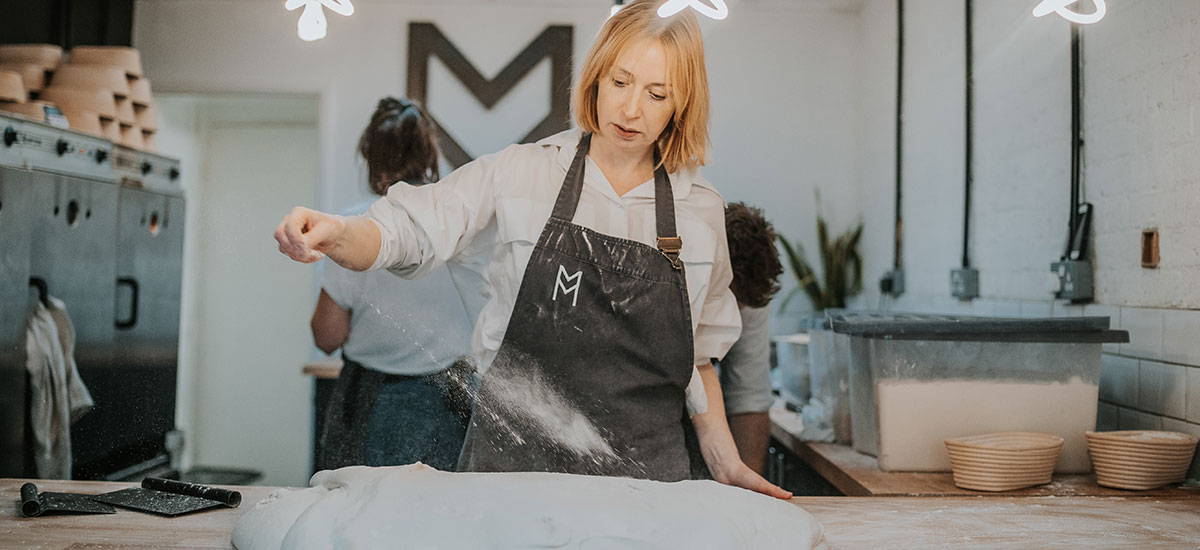 MINI MISS BREAD: SIGNATURE WALDEN WHITE SOURDOUGH
An Artisan Bakery and Shop in Saffron Walden, Essex, Mini Miss Bread is our go-to for all things baking related!
​Producing small batch, high quality artisan sourdough and pastries on site in their shop, together with selling a carefully curated selection of luxury kitchen accessories, ceramics and complementary deli foods, we have collaborated with Mini Miss Bread to share their Signature Sourdough recipe.
---
MAKES:
1 x 800g approx. loaf (post bake weight)
---
For the cake:
- A round banneton or a medium sized bowl lined with a tea towel to prove your dough in
- A dough knife
- A lame
- A large casserole dish or dutch oven
- Rice flour, for dusting
- 105g active sourdough leaven
- 515g organic strong white bread flour
- 350ml water at room temperature
- 11g sea salt
NOTE: For this recipe you will need to have an established sourdough starter/mother. If you don't have one, we give our starter away to anyone that asks at the shop in Saffron Walden. Alternatively try asking your local bakery or even have a go at making your own. There are lots of recipes available on the internet.
---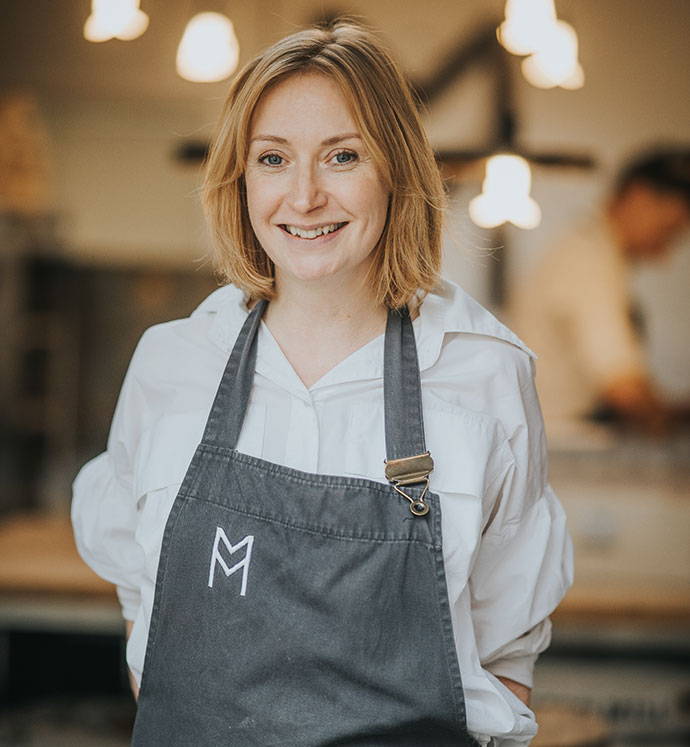 1 - Start by dissolving your leaven in the water. Mix it in until it becomes a milky fluid.
2 - Mix in the flour until there are no dry lumps left.
3 - Cover with a damp towel and leave for half an hour. This is called autolyse and give your flour time to really soak up the water
4 - Add a splash of water to your salt and mix this into the dough until you can no longer feel any grains of salt.
5 - Cover with the damp towel and leave for another half an hour.
6 - Now you are going to do the first of four rounds of 'stretch and folds'. We do these to help add strength to our dough. Grab the top edge of your dough, pull it upwards so it stretches (but not so much that it tears) and then fold it down over your dough so the top edge is now at the bottom edge closest to you. Rotate your bowl 45 degrees and do the same stretch and fold again. Top edge up and over to meet the bottom edge. Rotate another 45 degrees, stretch and fold and then rotate 45 degrees one last time, stretch, fold and then cover with your damp cloth. Set your timer for half an hour.
Repeat this round of four stretch and folds another 3 times at half hourly intervals. By the end you should have done 4 rounds of stretch and folds over the space of 1.5 hours (e.g. 1pm, 1.30pm, 2pm, 2.30pm).
Now leave your dough for approximately two hours to prove. The amount of time is dependent on the temperature of your room. If it's a hot day it may only need 1.5 hours. If it's cold it may need 3 hours. You want your dough to increase in size by about a third, have a nice jelly-like wobble to it and bubbles are beginning to form on the surface.
Tip your dough out onto a lightly floured work surface. Work your way around the edges of the dough and fold them into the middle before flipping it over. Use your hands or a dough knife to shape the dough into a round by creating tension underneath to tighten it into a ball with a taught surface.
Coat your banneton or lined bowl with a generous amount of rice flour. This will stop it from sticking when you tip it out. Use your dough knife to pick up your dough and place it seam side up in your banneton/bowl. Cover with the damp cloth and put it in your fridge overnight.
---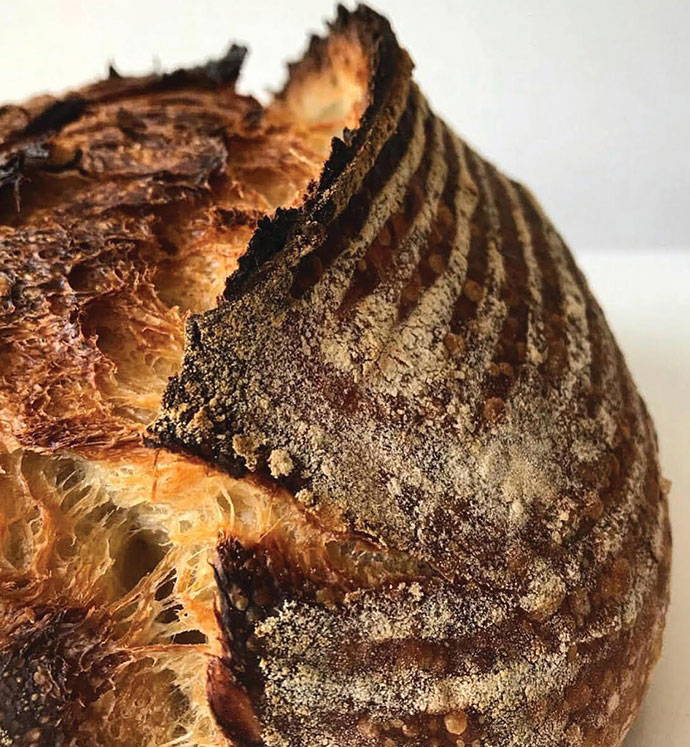 Pre heat your oven and casserole to its highest temperature for at least 1.5 hours prior to baking.
Remove your loaf from the fridge. It should have risen by about an inch or more. Use a knife to ease the dough away from the edges of the banneton/bowl and then tip it out onto a sheet of non-stick baking paper.
Use your lame to score your loaf. This will ensure an even rise. A simple 1cm deep cut along the top of your loaf, at a 45 degree angle, is suffice.
Carefully remove your casserole dish from the oven. Remove the lid and place to one side (with the oven gloves on top to avoid you picking up the hot handle by mistake).
Gently lift the loaf up using the edges of the baking paper and CAREFULLY place it in the casserole dish, ensuring you don't touch the edges of the dish. Using your oven gloves replace the lid and put the dish into the oven.
THE BAKE:
Bake for 30 minutes. At this point carefully remove the lid from the casserole dish and return the uncovered loaf to the oven for a final 15-20 minutes, until the crust has reached your preferred colour. If you have a thermometer the internal temperature should be at least 97 degrees c.
Carefully remove your loaf from the casserole dish onto a cooling rack. Allow to cool completely before slicing. ENJOY.
Video tutorials demonstrating each of the above steps are available on the @minimissbread Instagram account.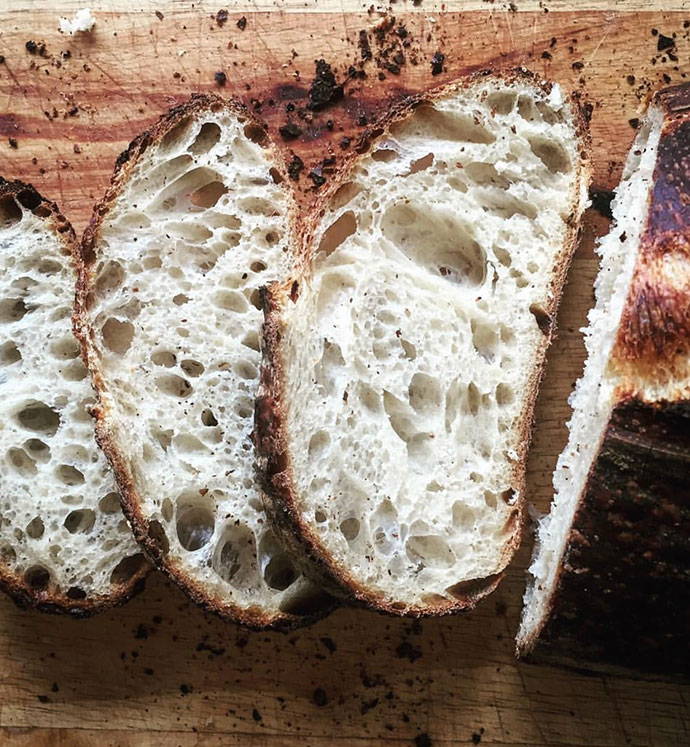 ---