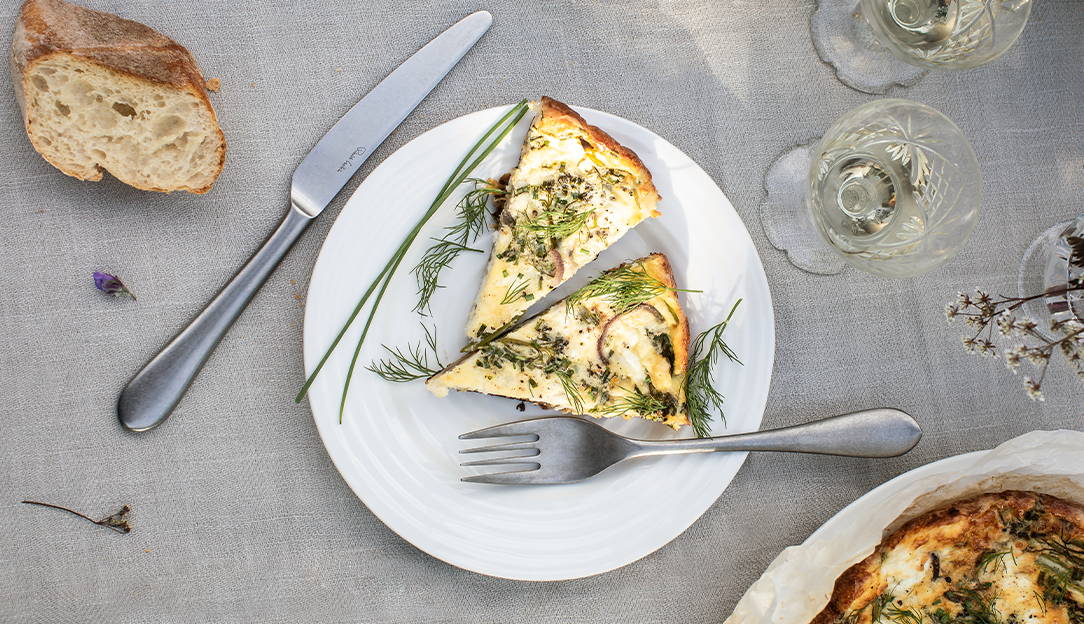 This healthy baked egg dish will become firm a favourite recipe for easy summer entertaining. Light, fluffy, and flavoured with salty feta and whatever herbs you can pick in the garden, this dish can be eaten hot or cold. Serve with a fresh side salad and hot, buttery new potatoes. Great for lunchbox leftovers the next day too!
Use our Campden Non-Stick Frying Pan 28cm which is oven safe to 250 degrees (480°F). Once cooked, tip the frittata out onto an Oak Classic Chopping Board 30cm and cut using a serrated knife to portion up. Our best-selling bread knife or the 12cm serrated utility knife will ensure you cut neat wedges of this frittata & its fillings.
---
MAKES:
4-6 as a main dish with sides
---
- 6 large eggs- 1 red onion, peeled and cut into slices
- 1-2 garlic cloves, peeled and chopped finely
- 2 large or 3 medium sized white potatoes, peeled and coarsely grated
- 100g Feta cheese, crumbled into small chunks
- 1-2 tbsp olive oil
- 75ml buttermilk or milk alternative
- Approximately 125g - florets from 1 small head of broccoli or 5-6 stems of tenderstem broccoli or broccolini
- Handful of chopped fresh mixed herbs such as dill, basil, parsley, coriander, tarragon, chives, mint. Use stronger tasting herbs such as mint and coriander sparingly.
- Seasoning
You will also need a skillet or oven proof frying pan.
---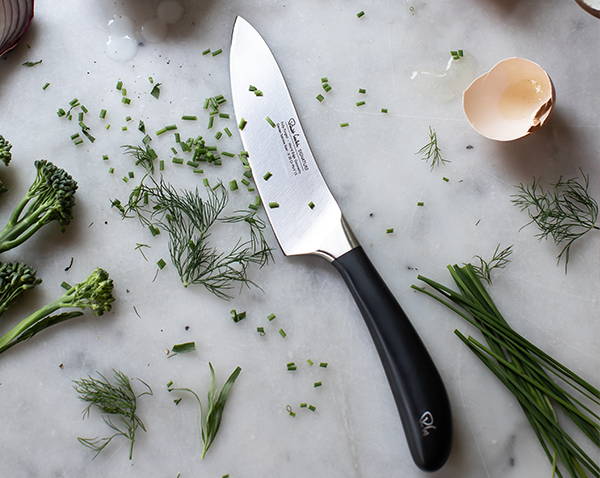 1 - Preheat oven to 200ºC/180ºC fan/400ºF
2 - Heat the olive oil in a pan or skillet over a medium heat. Add the onion and garlic and sauté gently for a few minutes until softened. Add the grated potato and cook gently, stirring the pan, for 5 minutes or so, until the potato has softened.
3 - Slice the broccoli in half lengthways if too thick and add to the pan. Continue cooking and stirring for a further 5 minutes.
4 - Make sure the ingredients in the pan are evenly spaced out, once the egg is added it will be harder to reposition the vegetables.
5 - Add the feta chunks to the pan dotting around the vegetables to have an even layer.
6 - Whisk the eggs together in a large measuring jug. Add the buttermilk and the chopped herbs, along with a pinch of sea salt and freshly ground black pepper and stir to combine.
7 - Pour the egg mixture over the vegetables in the pan, make sure it covers the base and the broccoli etc. completely.
8 - Cook gently for 5-10 minutes over medium heat until the edges have just begun to set, but the centre is still runny. Remove from the heat and place into the pre heated oven.
9 - Cook in the oven for a further 10-15 minutes or until the centre has cooked through and the edges have just begun to brown.
10 - Remove from the oven and serve with a side salad or fresh herbs. Can be eaten hot or cold.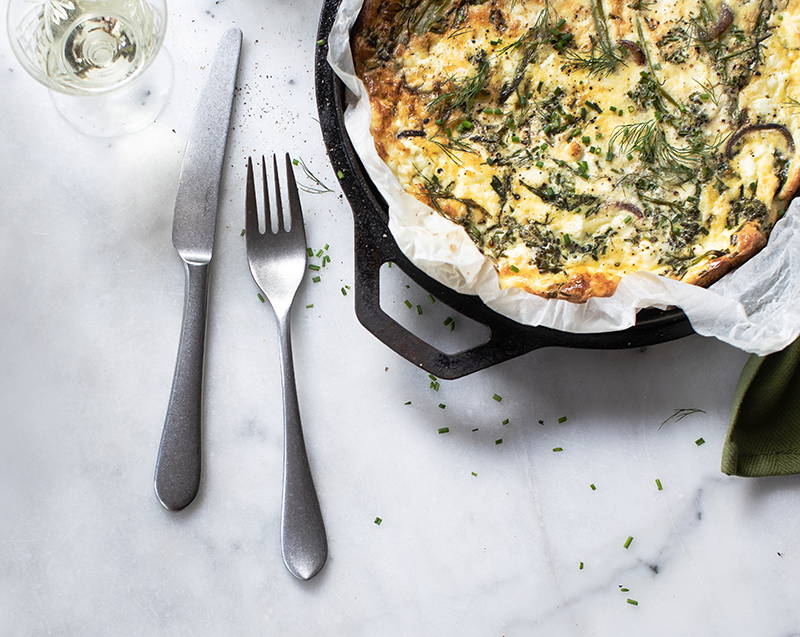 ---
• To avoid the frittata sticking to the pan, consider lining with a piece of baking parchment. N.B. Baking parchment should not be used if cooking over a gas flame.
• Remove the vegetables to another dish after cooking to line the pan. Either return the hot vegetables back into the lined pan then add the feta and eggs, or mix cooled vegetables with the whisked eggs and pour back into the lined pan then add the feta.
• Serve hot or cold, with a side salad, fragrant fresh herbs and buttery new potatoes.
• Any leftover frittata will keep in a sealed container in the fridge for a couple of days.