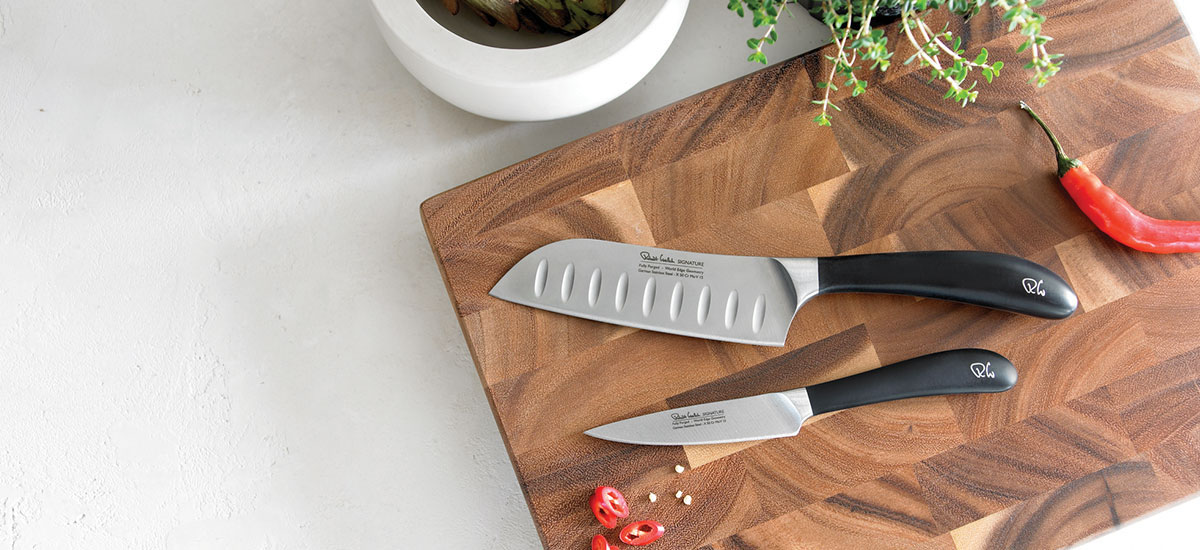 TOP TIPS: HOW TO USE AND MAINTAIN YOUR SIGNATURE KNIVES
When we first considered designing a knife range, it was important to us that the knives were the best that they could possibly be. The design process for the knife range started with rigorous questioning about function, manufacture, durability and ease of use. This meticulous process enabled our design team to decide how they could create a range of beautiful, functional and timeless products. The knife range was developed alongside professional chefs, who rigorously tried and tested a selection of knives produced using different types of steel, and with a variation of different edges, until the right combination of steel and edge was found. After three years, the Signature Knife Collection was perfected, featuring 'World Edge Geometry', a combination of fully forged German stainless steel with a hand-applied 15° Japanese-style edge, for superior sharpness. Signature knives are now used by both professional and amateur chefs alike.
Paul deBretton Gordon, Head Designer at Robert Welch, was an integral part of this design process. Paul shares some of the knowledge he picked up along the way in these top tips for using and maintaining your knives:
---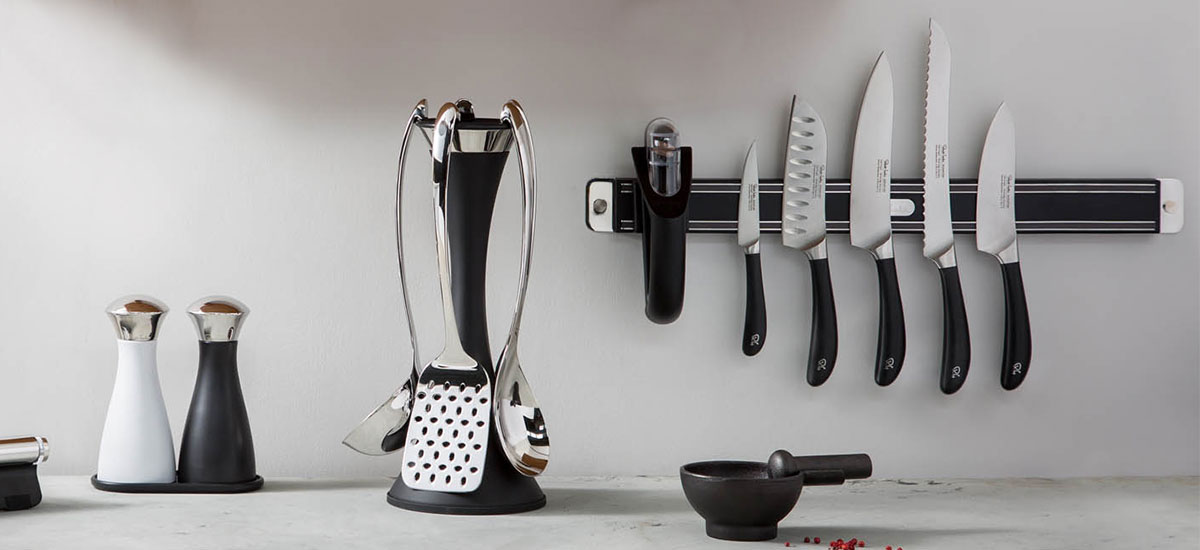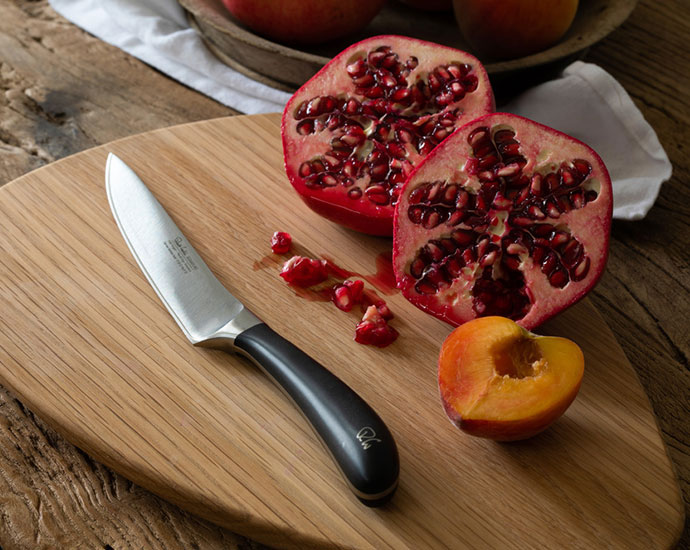 1. Consider the surface that you use the knife on. Always use knives on a pliable surface, such as a wood or acrylic chopping board. Hard surfaces, such as glass, marble or granite can damage the blades, whereas softer materials like wood and acrylic are far less damaging.
2. Ditch the dishwasher. Most manufacturers claim that their knives are dishwasher safe, and they are. However, if knives are washed by hand, using warm soapy water, and then dried individually, they will stay sharper for longer. Washing knives by hand like this minimises the damage to the blade
3. Keep them sharp. When it comes to sharpening, it really is up to the individual. We've have developed a hand-held sharpener which is easy to use, but some people prefer a traditional steel. Whatever your preferred method, knives should be honed and sharpened regularly to keep their cutting edge. With careful sharpening, knives can be maintained indefinitely.
4. Choose the right blade. Different types of blade have been developed over time for specific uses. A different food type can require a different blade design; it's important to have the right knife for the task. For example, the scallops along the blade of the Santoku knife are designed to prevent thin slices from sticking to the blade; ideal for sushi and precision cutting. However, if you were chopping herbs, the curved blade of the Cook's knife is best as it lends itself to a rocking motion, ideal for fast and efficient cutting, which prevents the herbs from being crushed. Preparation is much easier and safer if the right tools are used for the right job.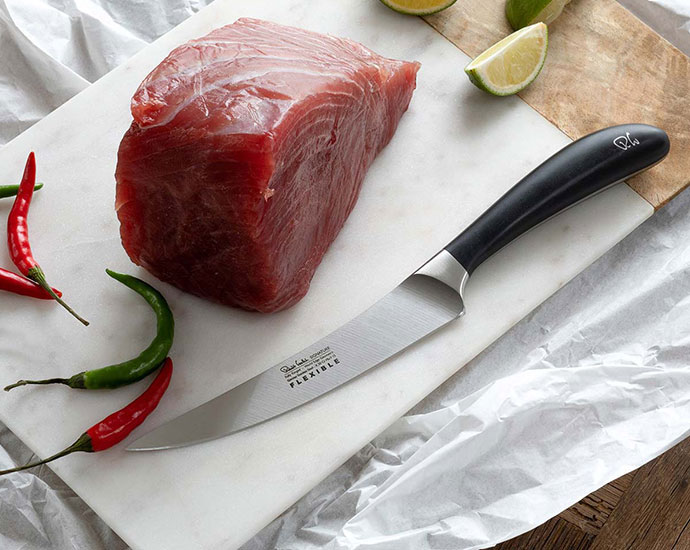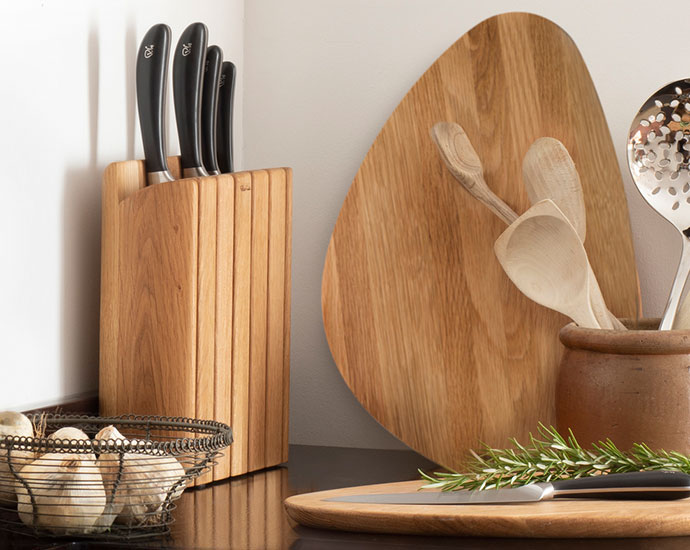 5. Store your knives correctly. There are different ways to store knives; chefs will use a roll or case to transport their blades, but at home people tend to use a knife block, magnetic rack or drawer. If you're keeping knives in a drawer then invest in some sheathes to cover the blades. This will protect the blade from clashing with other tools in the drawer but will also protect your hand from cuts if you reach in without looking!
Explore the Signature Knife Collection here.
---