This 'How-To' video, part of our knife skills series, features chef Will Greenstock, who shares his tips and skills for using Santoku knives. Discover how to dice carrots, slice peppers and bulky vegetables, shred cabbage and slice a pineapple with the varying blade sizes available in the Santoku range.
Our Signature knives are designed for purpose and practicality and to be useful in everyday preparations. The specially hardened, high-quality, German stainless steel is durable, easy to clean and maintain. Stainless steel itself is both a recycled material and fully recyclable.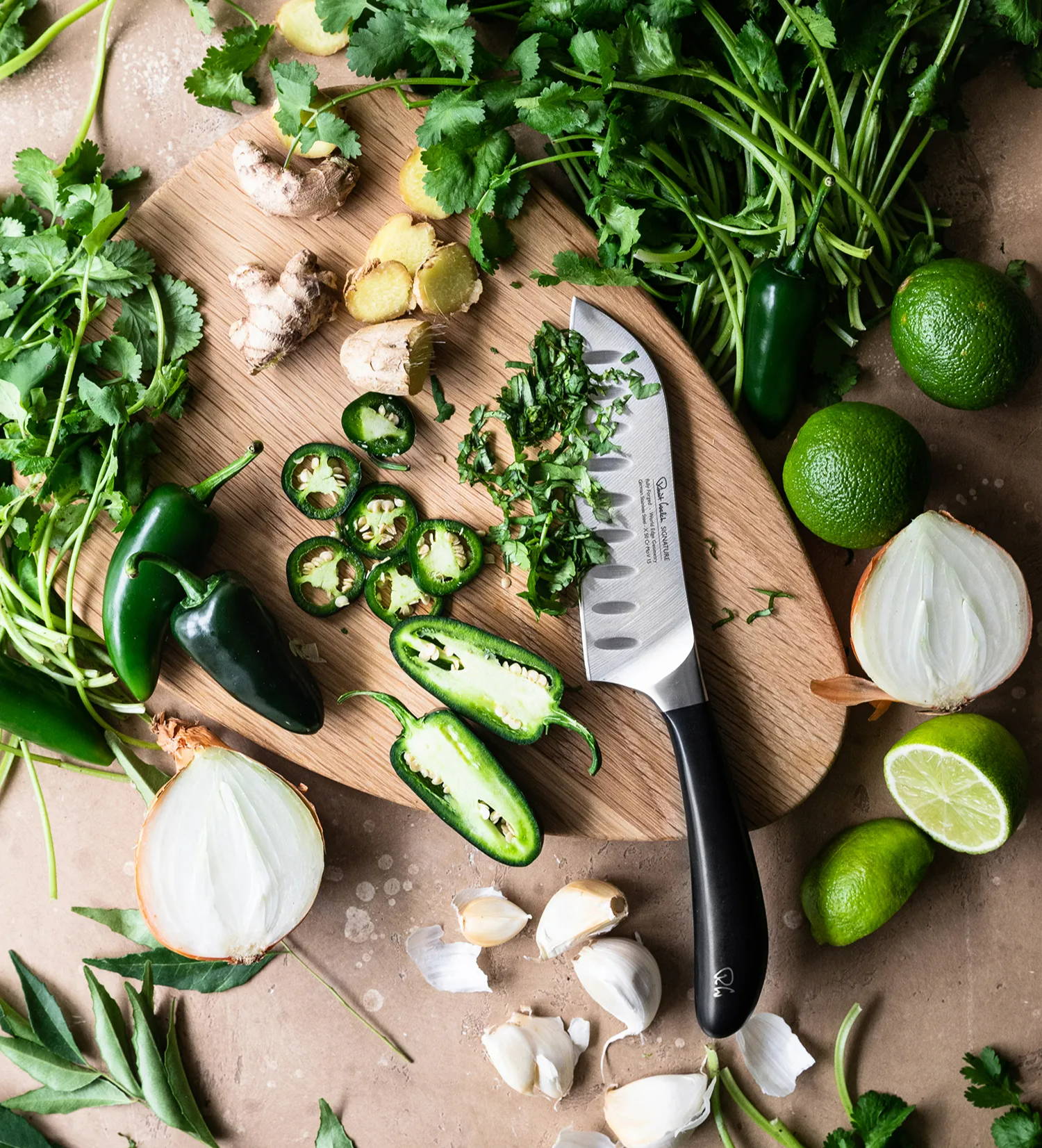 Looking after your knives is simple and effective to maintain them over time, either washing by hand or in the dishwasher, follow our tips below:
Washing by hand (recommended):
1 - Rinse the Signature knives to remove any traces of food.
2 - Wash gently in warm, soapy, water with a soft cloth. There is no need to soak your Signature knives.
3 - Thoroughly dry stainless steel knives individually.
4 - For the best finish, apply a non-abrasive metal polish.
In the dishwasher:
1 - Ensure your dishwasher setting are set as per the manufacturers' instructions for water hardness in your area.
2 - Maintain the appropriate salt and rinse aid levels in your dishwasher.
3 - Before placing in the dishwasher, rinse Signature knives to remove all traces of food.
4 - Wash stainless steel Signature knives separately to other metals, such as silver, in order to keep them in optimum condition.
5 - The best detergents for Signature knives are free from chlorides and citrus additives.
6 - Standard dishwasher programmes are recommended, there is no need to rinse and hold Signature knives.
7 - Occasional application of mineral oil to the handles of kitchen knives will maintain their colour. Remove any excess oil before use.
THE SIGNATURE KNIFE COLLECTION
Choosing the perfect kitchen knife for the task at hand makes preparing a meal easier. When you know how to pick the best knife for the job, it allows you to keep control and slice, chop, dice or cut consistently which helps food cook evenly and improves the look, texture, and flavour of a finished dish.
We've grouped our knives into categories according to 'use' to make it easier to select the right knife for its required purpose.
We've grouped our knives under 'uses' to help choose the right knife for its required purpose:
1 - Peeling & Trimming: Small intricate work needs a knife with a shorter blade. Best for preparing fruits and vegetables of all sizes.
2 - Chopping: A cook's knife is a great all-purpose choice. Preparing root vegetables to perfection, use the curved blade and weight behind this knife for a two-step rock and chop action. This is the ideal choice for preparing meat, hard vegetables, herbs, nuts, and salads and is a great allrounder to start a collection.  
3 - Dicing: A Santoku knife is ideal for dicing and slicing – the scalloped hollows on the blade push food from the blade ensuring that it doesn't stick.
4 - Boning & Filleting: A flexible utility knife is ideal for filleting fish. While a rigid utility knife is best for boning and preparing raw meat.
5 - Slicing: A range of knives with specially adapted blades. From bread knives with their serrated edges ensuring straight neat slices to knives for slicing delicate foods.
6 - Carving: A carving knife has a long-curved blade for ensuring delicate slices of meat, poultry, and fish in a single slice, as well as Sunday lunch theatrics.
Discover our Signature Knife Collection.