POACHED PEARS WITH BAY SALTED CARAMEL
With the change in season upon us we're embracing the colder weather and retreating to the kitchen. In this recipe from Cygnet Kitchen we're using Pears to create this delicious poached recipe, with indulgent bay salted caramel to accompany.
Perfect for picking during the Autumn, we're drawn to the Blush variety but any firm pear will work well.
- 1 vanilla pod, split lengthways
- 1 cinnamon stick
- 1 star anise
- 300g caster sugar
- 2 strips of orange peel (use potato peeler)
- 4 firm, ripe pears, peeled (I used Blush variety)
For the bay salted caramel sauce:
- 85g unsalted butter
- 150g caster sugar
- 3 fresh bay leaves
- 250ml double cream
- 1 teaspoon Malden Sea Salt flakes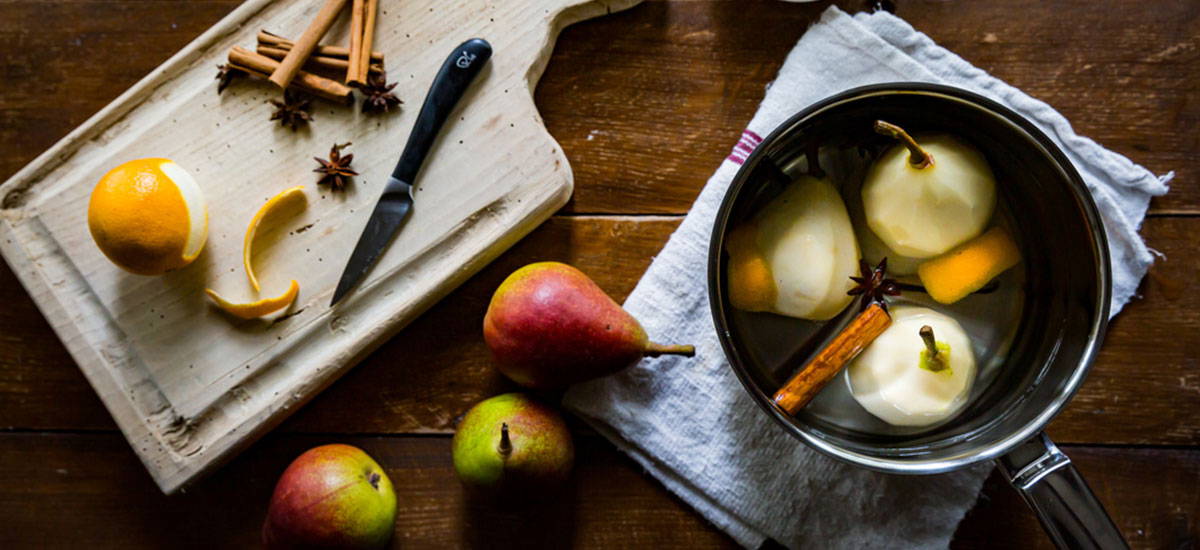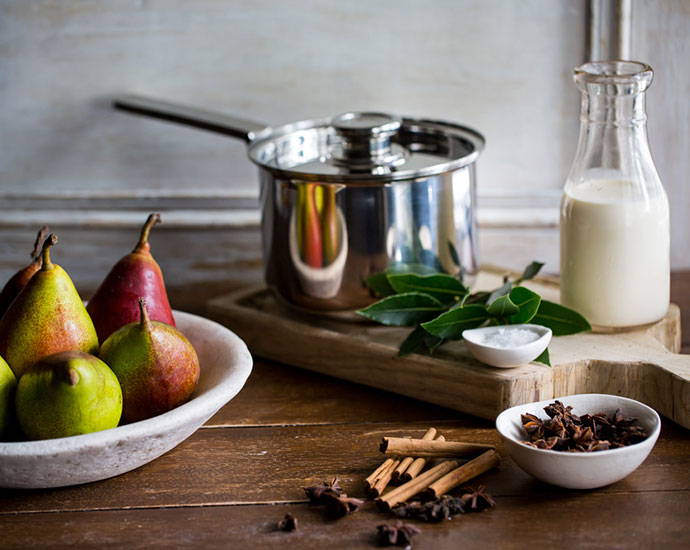 1 - Take a medium size saucepan (one that will hold the four pears) and half fill it with water.
2 - Add the vanilla pod, cinnamon stick, star anise, caster sugar and orange peel and place over a medium heat. Bring to a boil, add the pears and reduce the heat to allow the pears to simmer for 15 minutes or until soft. Remove from the heat and leave the pears in the poaching liquid while you make the caramel sauce.
3 - Place a small saucepan over a medium heat and add the butter. When the butter has melted, add the sugar and bay leaves, stirring frequently until the mixture is a deep golden brown caramel.
4 - Remove from the heat and immediately whisk in half of the double cream (the mixture will bubble up furiously and may splatter so be sure to wear an oven mitt).
5 - Stir in the rest of the cream and salt and mix until the caramel is smooth.
6 - Carefully drain the pears and serve on plates or bowls, drizzled with the bay salted caramel sauce.
---